Plan to take a break in Malacca with family this school holiday?
Fret not. Here are 10 of the best hotels in Malacca for families. Some are quite expensive, but most are affordably priced, with some under RM 100.
But most importantly all of them are well equipped with swimming pools.
1. Amverton Heritage Resort
Price : RM 180++
This is among the best hotels in Malacca for kids and families.
It is located near the Ayer Keroh toll area, so it is near to the Malacca Zoo, Crocodile Farm, Botanical Garden and Tasik Ayer Keroh. Thus, taking the kids to the Night Safari at the zoo or Ayer Keroh lake will be a breeze.
The resort not only has a pool for adults but there's a mini waterpark within the hotel area.The pools are complete with water slides and are large enough for your kids to let off their steam.
The rooms in Amverton are dated. But the size is decent enough to accommodate a small family.
2. The Pines Melaka
Price : RM 260++
The Pines is located within Bandar Hilir, which is within the Malacca city area. The hotel is just 10 minutes drive to the Shore Mall, known for kids attractions such as the Oceanarium, Toy Museum, 3D Park and the Sky Tower.
For mom and dads there is a salt water pool with the view of the Malacca Straits. There is also a pool for kids although the size is small and mostly only suitable for those under 7 years of age.
But because it is a relatively new hotel, the facilities are modern. Your room is large enough to accommodate a family with 2 adults and 2 kids. Some rooms come with a verandah, and some are equipped with sofa beds — handy for a small family.
If your wife wants her own private pool, pick the Poolside Suite. With a personal pool, your whole family can swim and play anytime of the day with total privacy.
3. A Famosa Resort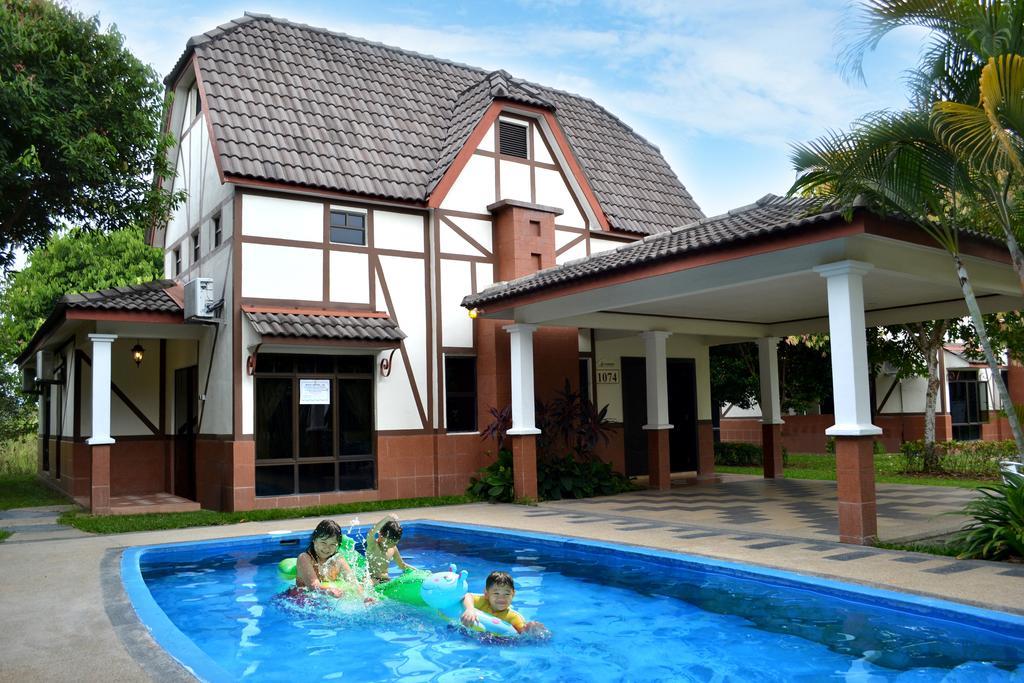 Price : RM 350++
The accommodations in the A Famosa Resort are perfect for large families looking for a place to celebrate a family day. It is built in the A Famosa Resort, meaning that your families will be able to enjoy the resort's water theme park, safari and other attractions in it anytime of the day. And since the park is near to the A Famosa Freeport, shopping should be easy too.
The rooms in the A Famosa Resort are large, and could accommodate from 4 to 12 persons. If you want something extra for your family, we suggest booking villas that are equipped with private pools.
The A Famosa Resort, unfortunately, is 45 minutes away from the Melaka town. If you plan to explore Malacca, you will need to drive.
But if all you want is a relaxing holiday with theme parks within your accommodation, do consider this resort.
If you prefer the Malay version of the article, you may read it here : 10 Hotel di Melaka Yg Best Untuk Anak dan Keluarga (Semuanya ada Pool).
4. Holiday Inn Melaka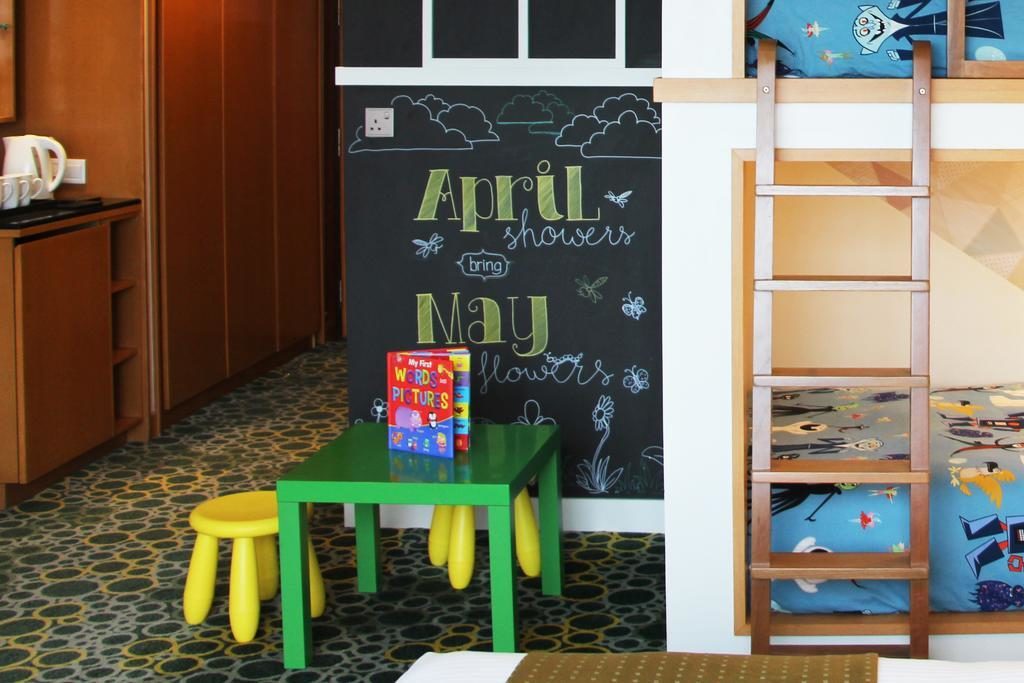 Price : RM 250++
The Holiday Inn Melaka is near to the Mahkota Parade and other Bandar Hilir attractions such as the Taming Sari Tower, Stadthuys and the A Famosa ruin. So, getting to these historical attractions should not be a problem.
The hotel has a pool for kids and adults. But since it is an international chain, you are not allowed to swim in your t-shirt. Get ready with a swimsuit.
The feature that makes this hotel suitable for those with kids are the Family Suites. It has a double decker bed for kids, and some private play areas for them. If your kids are under 8 years of age, the suite will be heaven for them.
For sightseeing, there is a free shuttle to get you anywhere in the city.
5. Bayou Lagoon Park Resort
Price : RM 260++
This is among the best hotels in Melaka for kids.
But the drawback is it is in the Bukit Katil area. Thus, to explore Malacca's major attractions you need to drive for more than 30 minutes. Having said that, staying here with your kids will probably mean spending most of their days and nights around the pool, except for lunch or dinner.
The apartments here are equipped with small kitchens, sinks, fridges and kettles. They are functional and enough for you to dine in with your little ones.
As there are 2 rooms per apartment, you can have some privacy and comfort during your vacation.
6. Novotel Melaka
Price : RM 250++
This is the perfect hotel for a young family with one or two small kids under 7 years of age.
The hotel has a pool for kids, although the size is tiny. And it also has a Kids Rooms for your little ones to spend some time playing indoors.
The rooms in Novotel Melaka are modern and are decently sized.
If you and your family want to stay in a modern, international chain hotel while you stay in Melaka and want an accommodation that is within walking distance to most attractions, this is one of your best options.
7. Ibis Melaka
Price : RM 170++
The Ibis Melaka is not only comfortable for kids, but also for you and your significant other. The rooms here are large and modern. Parking is plenty, and the gym facilities are relatively new. It is also just 700 meters away from the A Famosa ruin and 10 minutes walking distance from the Jonker Walk or River Cruise area.
For your little ones, there is a pool attached to a simple playground for them. And rest assured that you can also enjoy a good swim as the kids pool is built right next to the adult's.
In short, for those holidaying in Malacca with kids under 9 years of age, this is one of the best hotels for every single family member.
8. The Shore Hotel and Residence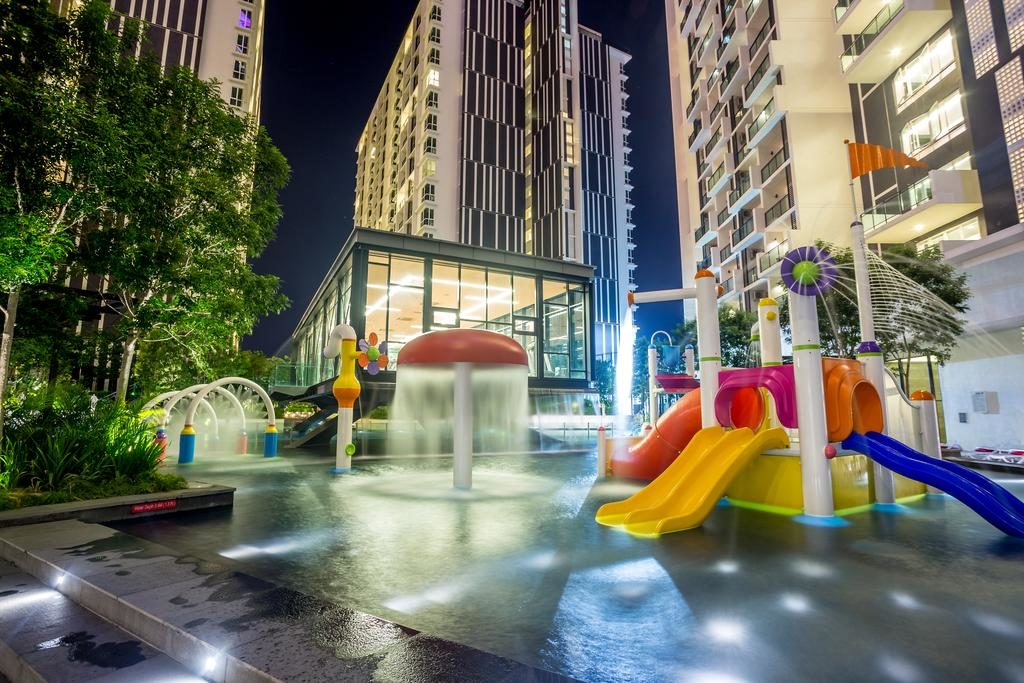 Price : RM 185++
The Shore Hotel and Residence is a 4 star hotel built in The Shore mall. Hence, the first benefit of staying here is easy access to attractions in the same building. We are talking about the Sky Tower, Oceanarium, Toy Museum and 3D Park.
There are 2 adult swimming pools here — one indoor and another outdoor. And there is another one for your kids.
Apart from the pools, the hotel is well equipped with jacuzzis, gym, and a tennis court should you still want to exercise during your holiday.
The rooms here are large, and most come with balconies. You will either get the view of the Malacca river or the town area. But should you plan to see the rest of the city area, you need to drive as attractions like the Jonker Walk and A Famosa ruins are within 1km away from the hotel.
9. Parkland Residence Melaka
Price : RM 380++
The Parkland Residence Melaka is actually a condominium rented to tourists, hence you will see a few residences in the area offered in hotel booking sites like Agoda and Booking.
Most apartments here have 3 rooms, suitable for a larger family wanting to be in the same room during their holiday in Melaka, and it could accommodate around 12 guests at one time.
Your apartment normally comes with 2 bathrooms, a balcony, living room and a kitchen equipped with a fridge.
For adults, there are gyms and pools. Kids can also enjoy a large size pool made for them.
The drawback of staying here is you need to drive to explore the town's main attractions (like the Stadthuys and Jonker Walk) as they are around 3 km away.
10. Platinum Hotels and Suites
Price : RM 85++
For those of you who are planning to take a break in Melaka with your little ones but the budget is tight, don't worry. You could still stay in a hotel that has a kids pool for under RM 100.
For you, your swimming pool is indoor, and for your little ones, the pool is at the rooftop area.
With this hotel being in the Pulau Melaka area, going to attractions like the Masjid Selat is easy. Melaka's major attractions like the A Famosa ruins and Melaka Parade are only 10 minutes drive away.
With such an affordable room, and a pool just for kids, we believe this is one of the best family friendly budget hotels in the Melaka city.
So, there you go. Those are the top 10 best hotels in Melaka for families and kids that we have compiled for Malaysians.
Which one is your pick?