Planning a vacation in Cameron Highlands but on a tight budget?
No worries! There are actually some great budget hotels available here.
Let's take a look at the best options you have.
The Best Budget Hotels in Cameron Highlands
In Brinchang
Here are the best cheap hotels in Brinchang, Cameron Highlands — perfect for exploring the various attractions in the area.
Wan Alyasa Hotel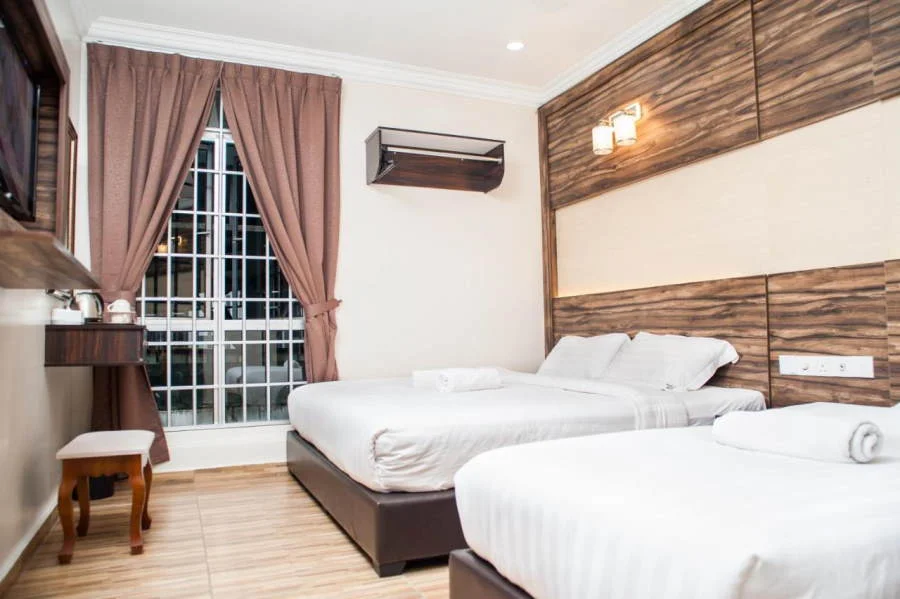 The rooms at Wan Alyasa Hotel are small, but they are among the best for budget hotels below RM 100 here.
The hotel is situated in a convenient shoplot area, with a 7-Eleven store and a steamboat restaurant right nearby.
Here, a free basement parking is provided, ensuring a worry-free stay.
And the hotel's is also by a main road — making it easy for you to explore Cameron anytime of the day.
Tip: It is close to the Cameron Centrum Mall.
Cool Mama Hotel
This is a new hotel built in the Cameron Centrum Mall.
The interior decor combines modern and classic styles, creating a unique ambiance.
But the best part is, since it's in a mall, you'll have no trouble finding a variety of dining options, anytime of the day.
In short, you'll get the best of both worlds – a good budget room in the most strategic location in Cameron Highlands.
Tip: Rooms are limited, so book early to secure a budget-friendly double room.
Snooze Too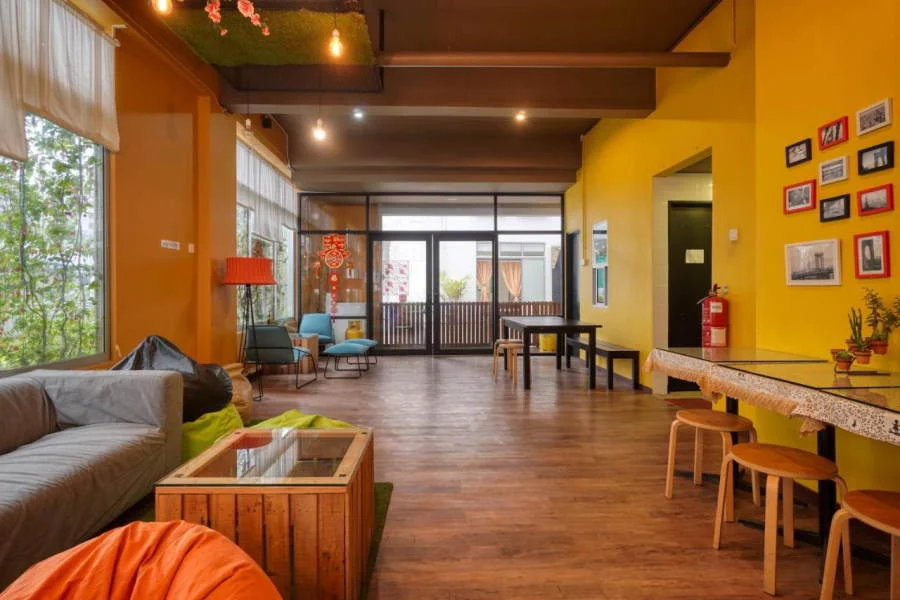 While this budget hotel may not be very cheap, we have included it here because it is relatively new.
We love its modern and cheerful style, which is quite rare among hotels in Cameron Highlands (that often have a more old-school vibe).
Its location is also convenient, right by a main road, making it easy to explore the area.
Tip: It is close to the Cameron Centrum Mall.
Haji Saudi
This hotel is located next to the budget hotel Wan Alyasa, so it's also close to a 7 Eleven convenience store and a laundromat.
It's situated by a main road, making it easy to get around to various places.
The rooms are small but cozy, perfect for a comfortable stay.
Another plus point is the hotel typically has security guards on duty.
However, please note that there is no elevator, so it may not be suitable for individuals with mobility issues or knee problems.
Tip: It is close to the Cameron Centrum Mall.
Titiwangsa Hotel
| Normal Price | RM 110 ++ |
| --- | --- |
| | Book |
This budget hotel normally offers complimentary breakfast.
The rooms are spacious, although the furnishings and room amenities may show some signs of age.
Parking is available in front and beside the hotel, though it may be subject to a fee.
With its advantageous location right next to a main road, this hotel also provides easy access to a variety of attractions.
But prices tend to skyrocket during school holidays.
Flora Plus
The rooms at Flora Plus are small, making them more suitable for solo travelers rather than families.
However, the rooms are simple and tidy, providing just enough space for a comfortable rest and sleep.
Being located in an apartment complex by a main road, it is easy to come and go as you please.
Tip: It is close to the Cameron Centrum Mall.
Jasmine Hotel
Looking for an budget hotel right in the heart of the Brinchang town?
Hotel Jasmine is one of the best options available.
The rooms here is somewhat dated, but they are spacious enough to accommodate families.
One drawback is parking might be a challenge.
And additionally, during peak holiday seasons, even the cheaper rooms here tend to increase significantly.
Parkland Hotel
You'll find Parkland Hotel conveniently located in the same row of shoplots as Jasmine Hotel.
The rate is also similar, although the room is much simpler.
The rooms at Parkland Hotel are also more compact, so we recommend it mainly for solo travelers.
Just like Jasmine Hotel, parking may be limited due to its location in a shoplot area.
Note that you'll also come across Parkland Express in the same row, and our review for that hotel is similar.
In Tanah Rata
Here are the best budget hotels in the Tanah Rata area, perfect for those who want to relax and unwind in a location close to the Cameron Highland's town center.
Rose Crest Hill
This is another good budget hotel in theTanah Rata town center.
Despite its old-school style, the rooms are spacious considering the price.
It also has an elevator, making it convenient for families.
Being situated by a main road, it's easy to find nearby dining options, cafes, and ATMs within walking distance.
However, parking may be a bit challenging during peak holiday seasons.
Zetter Suites
If you're looking for an affordable hotel near the Cameron night market, here's a great option for you.
Yes, the room rates may not be as cheap as some other budget hotels on our list.
But we included it in because it's the only hotel near the Golden Hill night market.
The rooms here are spacious and are comfortably furnished.
And the best part is the night market is conveniently located just steps away from your hotel.
Tips : Besides the studio rooms, Zetter Suites also offers family apartments.
Cameronian Inn
The rooms in this budget accommodation are modest in size, fitting the price range.
Parking is available, although it is limited in quantity.
In the evenings, there is a small garden area where you can relax and enjoy tea with friends.
And if you're planning to visit Tanah Rata town, it's just a short 2-3 minute drive away.
Tip: The rooms here come in two types. Some have private bathrooms, while others have shared facilities.
Rovers Inn
| Normal Price | RM 85 ++ |
| --- | --- |
| | Book |
The rooms at Rovers Inn are clean and comfortable, with most of them featuring balconies.
And the price is cheap for the comfort you get.
However, please note that there is no TV in the rooms, so it may be less suitable for those with young children or for those planning to spend a lot of time in the room during their vacation.
Tanah Rata town is conveniently located near the hotel, and it only takes about a 5-minute drive from the hotel to reach the town.
Tip : The hotel does not have an elevator, and the area is hilly. Therefore, if you have any knee issues or difficulty with stairs, it might not be the most suitable option for you.
Gerard's Roomstay
If you don't mind sharing bathroom, Gerard's Roomstay is a great budget accommodation in Tanah Rata.
The rooms are spacious, and some even have a veranda.
It's perfect for those who enjoy socializing and engaging with fellow travelers during their vacation.
However, if you prefer more privacy, it may not be the best option for you.
Father's Guest House
Here's another affordable guest house in Tanah Rata, Cameron Highlands.
The guest house is housed in a shared building, so it's highly likely that you'll come across other guests during your stay.
So if you prioritize privacy or have young children, it may not be the best option.
But if cheap, comfortable room is what you're after, this is one budget stay your should consider.
Important: Most of the rooms here have shared bathrooms, but there are also rooms available with private bathrooms for added privacy.
Hillview Inn
At Hillview Inn, even the most affordable room has a balcony.
And getting to Tanah Rata town is easy, as you can simply walk there.
However, due to its affordable rates and prime location, the rooms below RM 100 tend to sell out quickly.
Make sure you book early, especially when the school holiday is right around the corner.
Arundina Cameron
This budget inn is located in the same area as Hillview Inn, making it easy to walk to the town center.
The guest house, housed in a bungalow, offers a peaceful atmosphere.
Some rooms even have small balconies where you can relax and chat with your partner.
However, it's worth noting that this hotel is quite popular.
Expect the prices to skyrocket when school holidays is right around the corner.
Suria Cameron B
| Normal Price | RM 99 ++ |
| --- | --- |
| | Book |
This budget hotel in Cameron Highlands offers rooms below RM 100, and the room ambiance matches its affordable price.
However, the main highlight of this hotel is its convenient location.
You'll find a mini mart like 7 Eleven, as well as dining options and popular coffee shops like Old Town and Starbucks in close proximity to the hotel.
Please note that this hotel may not be suitable for families or those with mobility issues as the rooms might be located on the third floor, requiring stair access.
Additionally, parking is only available on the roadside.
Alright, so that's the full list of the best affordable hotels in Cameron Highlands that we believe offers the best bang for your bucks.
Some are in Brinchang, for more sightseeing opportunities while others in in the calmer Tanah Rata area.
Now, with all these wonderful options available, which one do your prefer ?