Looking for the best budget hotels in Kota Kinabalu?
You're in luck because the budget rooms in this city are renowned for their excellent value.
Let's see together what KK has to offer.
Best Cheap Hotels in Kota Kinabalu
Around Center Point
If you're looking for easy shopping and convenient access to anywhere, staying at a budget hotel near the Center Point Mall is a good idea.
AC Residence
This hotel is a perfect example of the saying "don't judge a book by its cover."
Despite being located in a shoplot area with a less impressive exterior, the rooms are a whole different story.
Inside, you'll be greeted with elegantly decorated rooms that exceed expectations, especially considering the affordable price.
Plus, its central location in the city makes it convenient for finding dining options.
This budget hotel is conveniently located near Center Point Mall, and attractions such as the Filipino Market, Gaya Street Market, and KK Waterfront are just 1 km away.
To Centerpoint : 500 meters
Important : Take note that this hotel does not have any lifts/elevator.
Cititel Express
The Cititel Express is located in the building next to the AC Residence.
The rooms are compact, making it more suitable for solo travelers.
However, despite its smaller size, the rooms are still clean and comfortable, offering great value for a hotel room under RM 100.
In terms of location, it is conveniently situated near various attractions in the city of KK, ensuring easy access to anywhere you want to go.
To Centerpoint : 650 meters
Dreamtel Hotel
Looking of a budget-friendly hotel near Center Point that includes breakfast?
Look no further.
The room decor here is simple but your room is quite spacious.
Getting a taxi or bus is also convenient as they are available right in front of the hotel.
However, please note that if you're driving, parking is on the roadside, and finding nearby eateries might require a bit of walking.
To Centerpoint : 900 meters
CJ Residence
This is another good budget hotel located near the Center Point.
Despite being housed in a shoplot, the interior design will exceed your expectations.
The room size is perfect for solo travelers or couples, and it comes equipped with a mini fridge and toiletries.
When it comes to dining, you'll find a variety of eateries within the surrounding area.
Just keep in mind that there is no elevator, only stairs.
As a result, it may not be suitable for families with young children or elderly individuals.
To Centerpoint : 150 meters
AJ Residence
This budget hotel has a similar vibe and ambiance to CJ Residence.
Despite the small room size, it feels luxurious.
You'll also find convenient amenities such as a mini fridge, hairdryer, and even a power bank for your use.
However, as with most budget hotels, it is more tailored for solo or couple travelers.
Hence, there is no elevator available.
To Centerpoint : 400 meters
Near the KK Airport
Here are some budget hotels in KK that are conveniently located near the Kota Kinabalu airport, making it easy for your return journey.
Oceania Hotel
Here's another good 3-star hotel where room prices sometimes fall below RM 100.
The rooms here are spacious, modern, and comfortable for a small family.
There are several eateries nearby, and the airport is within 8 km.
However, as the location is away from the city area, having your own transportation is better to make it easy for you to explore the city area.
To KK Airport : 8 kilometers
Putatan Platinum
This budget hotel is near to the KK airport and offers a peaceful stay as it is away from the main road.
The room decor is simple and modest.
But the rooms are surprisingly spacious for its class.
And due to its large size, it is suitable for families, although tiled floor may not be ideal for elderlies or babies.
To KK Airport : 5.5 kilometers
The Atelier
We like this budget hotel near the airport because of its stylish rooms.
Each room has a unique decoration and character.
But they are relatively small, making them more suitable for solo travelers.
A major drawback is there is a pub near to the hotel.
If you are a light sleeper, it is a good idea to bring your earplug for use here.
To KK Airport : 3.5 kilometers
Flypod Hotel
The Flypod hotel is in the same area as The Atelier.
The rooms here are equally neat and comfortable.
But what makes it even more special is that some rooms offer a view of the airport runway.
When it comes to dining, there are several eateries within the same building.
Plus, getting around is easy as it is located on a main road.
To KK Airport : 3.6 kilometers
Tip: Besides being close to KK airport, this hotel is also near to the new Tanjung Aru train station.
Seven Boutique Hotel
This budget hotel is simple yet comfortable.
It's conveniently located near the airport, making it a great choice if you have an early flight.
Finding dining options is easy too, as there are fast food outlets and nearby eateries.
But the hotel's ambiance is nothing to shout about as it is situated within a shoplot area.
To KK Airport : 5 kilometers
Near Pasar Gaya
These are the best budget hotels near the Gaya Market area. Most are within walking distance to the weekend market.
Gaya Center Hotel
The rooms at Gaya Center Hotel may have an old-school vibe.
However, the real highlight is not the rooms but the location.
To enjoy the sunset at the Todak waterfront or catch your ferry at Jesselton Point jetty will only take a 10-minute walk.
The Suria Sabah Mall is also located right next to the hotel.
And if you're looking to buy souvenirs, just walk to the Wisma Merdeka right across your hotel.
The other plus point is the hotel has an elevator, so you don't have to worry about accommodating elderly parents.
To the Gaya Market : 400 meters
Eden 54
| Normal Price | RM 95 ++ |
| --- | --- |
| | Book |
The budget hotel in this shop lot has simple rooms.
But in our opinion, the location is great, even though it can be crowded with vehicles in front.
For dining or shopping, the Suria Sabah mall is located behind the hotel.
And if you want to go snorkeling at the islands in Tunku Abdul Rahman Marine Park, the jetty is less than a 5-minute drive away.
To the Gaya Market : 300 meters
Important: The hotel does not have a lift.
Gaia 95
This budget hotel is located on the Gaya Street.
Hence, it's easy to visit the weekend market as it is within a short walking distance to the area.
The rooms here may not be spacious, but they are modern and simple.
And when it comes to dining options, you'll find it easy here.
Because there are eateries within the same row, or across the street.
To the Gaya Market : 100 meters
Qlio Hotel
This budget hotel is quite small but we like it's modern decor and cheap price.
The location of Qlio is also strategic.
It's not far from the Todak Waterfront, and within walking distance to Gaya Street market.
The elevator and entrance also require a keycard.
Hence, even though it's housed in a shoplot area, single travellers will feel safer.
To the Gaya Market : 400 meters
Sabha Gaya
| Normal Price | RM 99 ++ |
| --- | --- |
| | Book |
The rooms at Sabha Gaya are larger compared to most budget hotels in KK.
And the rooms are simple yet modern.
To explore the attractions in downtown KK, a car is necessary.
But the travel distance is only around 2-5 km.
One downside is that the hotel faces a busy road.
So, it is a good idea to bring earplugs if you are a light sleeper.
To the Gaya Market : 250 meters
The Seraya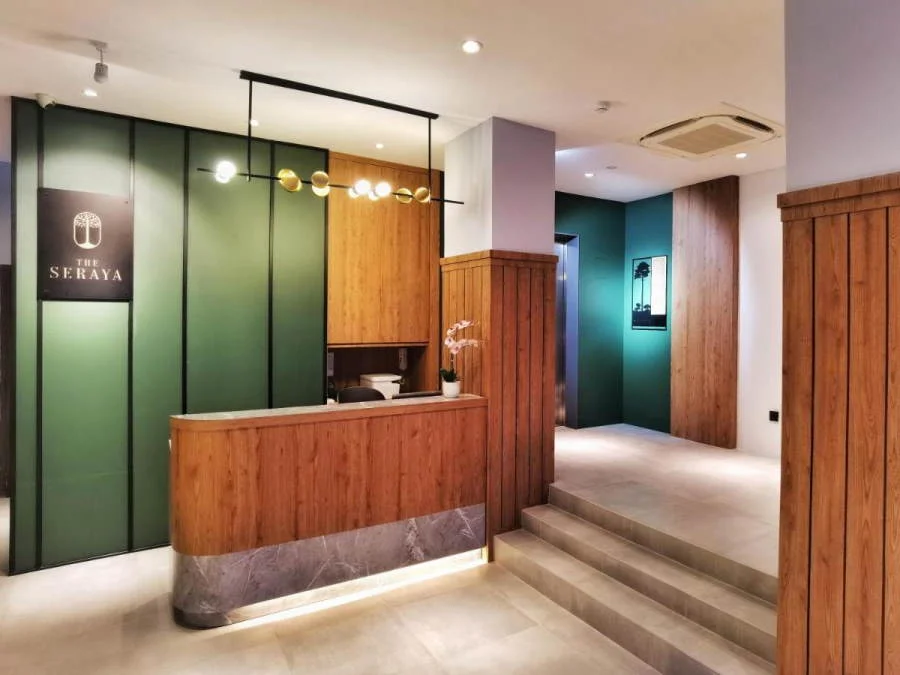 The Seraya is another good budget hotel near the Gaya Street.
It was just opened during the Covid pandemic, so its facilities are still relatively new compared to the other hotels in this list.
If you get hungry, there are KFC and Burger King within walking distance.
And should you need cash, the Public Bank ATM is just across the street.
To the Gaya Market : 250 meters
Other Areas
Here is a list of other good budget hotels in Kota Kinabalu that are not in the areas mentioned above.
Tune Hotel
For those looking for a budget hotel with known standards at an affordable price, Tune Hotel Kota Kinabalu is the answer.
The rooms are compact, but the hotel's convenient location next to 1 Borneo mall makes it easy to find all your vacation needs and grab a quick meal at fast-food restaurants.
However, please note that it takes about 30 minutes to reach the airport from the hotel.
You'll need transportation to visit attractions around the city, as they are approximately a 20-minute drive away.
The Palace
Here's a hotel in KK that occasionally offers room rates below RM 100.
What's more, it has larger rooms compared to most hotels on our list.
The Palace also boasts a pool and gym, perfect for those who want to stay active during their vacation.
Located outside the busy town area, parking is easy, and the atmosphere is more peaceful, making it a great place to relax and unwind.
Stay here if your trip is not tied to public transportations.
Okay, that's all for our list of affordable and fantastic hotels in Kota Kinabalu, Sabah for your upcoming vacation.
In our opinion, the quality of these cheap budget rooms surpasses many hotels on the Peninsula at the same price point.
Now it's up to you to choose the one that suits your preferences.
So, which one suits you?