Looking to enjoy a wonderful vacation in Langkawi without breaking the bank?
No need to worry, we've got you covered!
Here are 20 best budget-friendly hotels in Langkawi that offer the best bang for your bucks.
Best Cheap / Budget Hotels in Langkawi
In Kuah
Arriving in Langkawi by ferry? These great budget hotels are conveniently located near the jetty.
Chill Suites Langkawi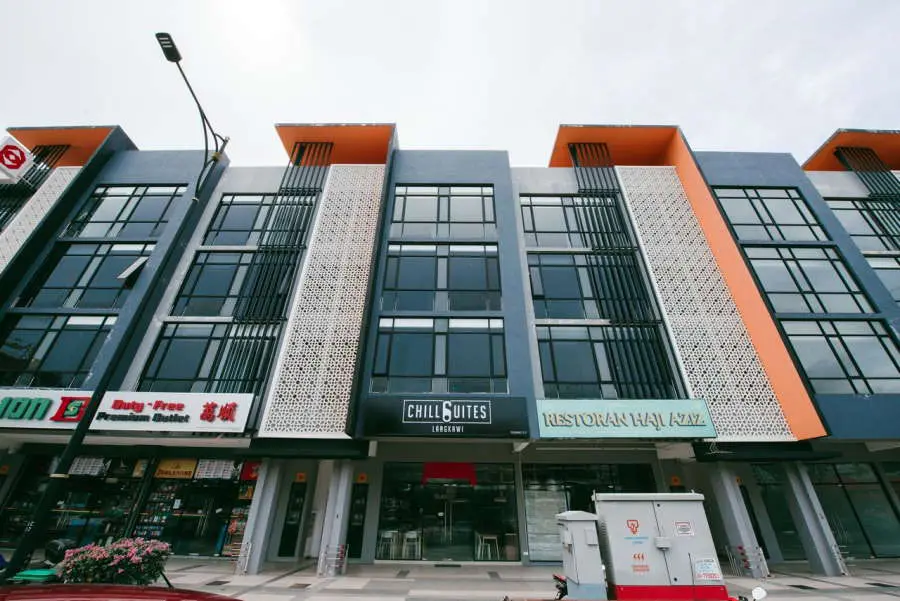 When it comes to good budget hotels in Langkawi, Chill Suites is one of our top pick since it is well known for its comfort and affordability.
The rooms here are modern and spacious, providing all the essential toiletries you need.
You'll also have the convenience of a safe and mini fridge, perfect for storing those duty-free chocolates you'll be bringing back!
If shopping at HIG, capturing memories at Dataran Lang, or exploring the night market in Kuah is on your agenda, you'll only need a short 10-minute drive from this hotel.
Goldsands Hotel
Here's another good budget hotel in Kuah, Langkawi.
It features a swimming pool and a romantic spot to enjoy the sea view, perfect for couples on vacation.
The rooms are more appealing compared to other hotels in the area at the same price range, making it suitable for families.
Conveniently located, you'll have easy access to shopping, dining, and the Kuah night market.
Langkawi Seaview
At the Langkawi Seaview, you not only get spacious rooms, but also a swimming pool and a gym.
Your room also comes with a balcony, a safe box, and a mini fridge.
There is ample parking available, and it only takes a short drive to reach dining and shopping options.
For the amenities of a 4 star hotel, but at a budget hotel price, we think it is an absolute steal.
de Bleu
This is another good budget-friendly Langkawi hotel that offers both comfort and affordability.
The rooms are surprisingly spacious, albeit simple in design.
Your room also comes with amenities like a kettle and minibar, ensuring you have a place to store your duty free chocolates.
When it's time to grab a bite, you'll be delighted to discover the popular Wan Thai restaurant within walking distance of the hotel.
Additionally, there's a laundrymart and ATM on the same street, making your stay even more convenient.
Virtues Inn
This cozy hotel, located in the bustling area of Kuah, was opened in 2019.
As a result, the rooms are fresh and inviting, offering a comfortable stay.
Nearby, you'll find plenty of dining options, banks, and a laundrymart within walking distance.
The vibrant night market in Kuah and HIG shopping area are just a 10-minute drive away.
But while the hotel boasts many strengths, it's important to note that parking here can be a bit challenging.
Motel Seri Mutiara
If you're traveling to Langkawi with a small family, Motel Seri Mutiara in Kuah offers spacious and budget-friendly rooms that are perfect for you.
This motel is ideal for those seeking simplicity and comfort without the need for modern facilities.
The rooms are large and provide ample space for your family to relax and unwind.
However, it's worth mentioning that the motel's location is a bit secluded from the main road.
While the room size is impressive, it may require navigating dark and narrow streets, which might not be the most pleasant experience, especially for a group of girls returning to the room at night.
Simfoni Resort
The Simfoni Resort Langkawi are known for its affordable one-bedroom apartments for families.
Your apartmen is equipped of a small fridge, dining table and a comfortable living space for small families.
There is ample parking available, even though it's located by the roadside.
And if you want to reach the Kuah town area, it's just a 7-minute drive away.
Greenish Langkawi
Here's another budget hotel in Langkawi that features a large swimming pool for a refreshing dip.
Your rooms may be slightly dated, but are spacious and come with balconies.
On top of that, your shopping trip to the Kuah town is easy as the area is within a short drive from the hotel.
Parking at the hotel is also a breeze.
In short, for a budget hotel under RM 150, this is the more well equipped hotel compared to many others in the same area.
The Concept
It wouldn't be right for us to talk about good budget hotels in the island without mentioning The Concept.
Firstly, the rooms are simple yet comfortable.
Secondly, it is a newly opened hotel (late 2021).
Thirdly, it has a small but charming swimming pool, and parking is available for your convenience.
Inside the rooms, you'll find a safety deposit box and a mini fridge that's large enough for a short stay.
Just note that there is no elevator, so request a room on the lower floor if you're traveling with your ageing parents.
In Pantai Cenang
This area is the most popular among tourists as it offers easy access to the beach and a wide selection of restaurants. Here are the best budget hotels in Pantai Cenang, Langkawi.
Cenang Plaza
Among the many budget hotels in Cenang, Langkawi, this is our top pick.
The hotel room may be small, but it's located right by the beach.
Some rooms even have a verandah, perfect for enjoying breathtaking sunset views.
When it comes to dining, you're also in luck.
Cenang Mall and various eateries are within walking distance — making it easy to enjoy the beach and the food anytime of the day without having to drive far.
Malibest Resort
Malibest Resort is located right on the Cenang Beach, giving you a direct beach access.
The rooms here are simple and somewhat dated, but they provide a comfortable stay.
Plus, finding food or fulfilling your holiday needs is easy as there are various dining options and shops within walking distance.
And as you might have guessed, due to the awesome location and cheap price, the hotel is extremely popular.
Book early if cheap room by the sea is the most important criteria for your trip to Langkawi.
Salsa Resort
The Salsa Resort is an affordable family hotel that offers a tranquil setting with a picturesque view of the paddy fields.
Here, you'll enjoy spacious and extra-large rooms, as well as ample parking space.
The resort is conveniently located just a 10-minute drive away from popular attractions like Underwater World, Laman Padi, and the starting point for island hopping adventures.
However, it's important to note that the resort is not within walking distance of the beach.
You'll need to take a short 5-minute drive to reach the beautiful shoreline.
Anjung Villa
Anjung Villa is a good budget hotel for families in Langkawi.
While the rooms are modest, the hotel offers a swimming pool and peaceful surroundings with stunning mountain views.
The villa is near to the Cenang beach area, yet it offers a secluded and tranquil setting away from the bustling main roads.
To explore the local stalls, restaurants, and attractions like the exciting Underwater World, you need to take a short 15-minute drive.
But that's a minor inconvenience easily outweighed by the incredible value and spaciousness this cheap hotel has on offer.
Senari Bay Resort
Here's another budget hotel in Langkawi located right by the beach.
This chalet may be small in size, but it offers a tranquil setting as it's situated away from the bustling areas of Langkawi.
The rooms are a bit older.
But they are spacious and provide ample space for a comfortable stay.
Just note that the beach may not be suitable for swimming.
The water is murky, and the fishermen's boats roam the area as it is near to their jetty.
In Pantai Tengah
Adjacent to Pantai Cenang, this area offers a tranquil setting for a peaceful vacation, away from the busy shopping scene. These are some of the recommended cheap hotels in the area.
Tropical Resort
| Normal Price | RM 130 ++ |
| --- | --- |
| | Book |
This rustic-style resort provides a serene atmosphere, perfect for a peaceful vacation in Langkawi.
Despite its affordable price, it has a swimming pool for both adults and children to enjoy.
Parking is not an issue.
And if you prefer a beach swim, Pantai Tengah is just a short walk away.
Note : The price mentioned above is for the limited availability Deluxe Queen rooms, which are highly sought after and often sold out.
Sassy House
Looking for an cheap and cozy hideaway near the beach, away from the bustling crowds of Cenang?
Look no further than Sassy House!
Here, you'll find spacious rooms and a peaceful atmosphere.
It's conveniently located near the serene Tengah beach, where you can enjoy a more relaxed and uncrowded beach experience.
If you're not seeking extravagance but value generous space, Sassy House is one of the top budget hotels offering comfort and a delightful stay in Langkawi.
Near the Airport
If you're traveling to Langkawi from KL or Penang, chances are you'll arrive by plane. Here are the best budget hotels near the Langkawi airport for under RM 120.
Destini Akef Villa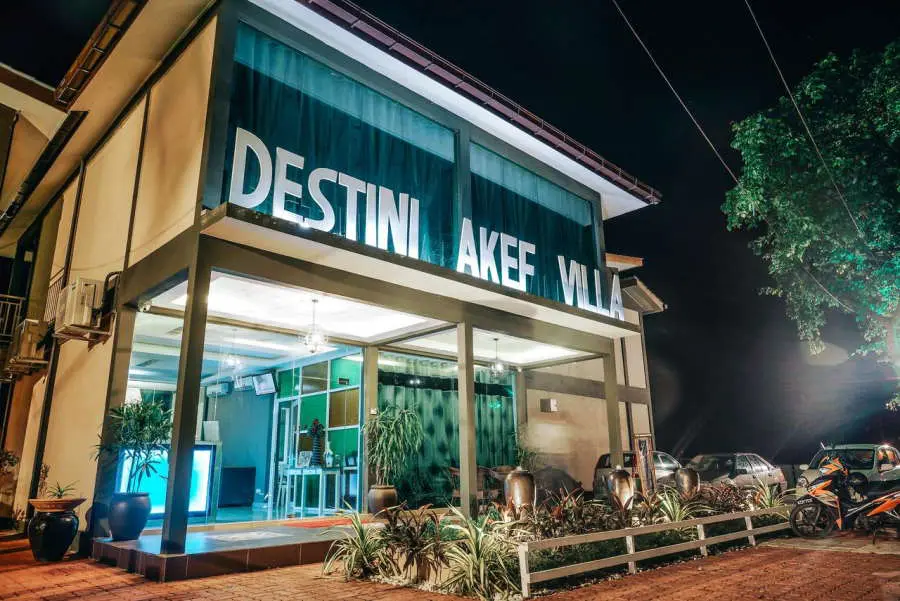 The Destini Akeef Villa is among the good, comfortable budget accommodations near the Langkawi airport for those expecting an early morning departure.
This unique hotel mimics the style of overseas motels, with a central pool that adds to its charm.
Surrounded by peaceful paddy fields, the area offers a serene atmosphere.
The spacious double rooms come with a balcony, and amenities such as a kettle, minibar, and a safe are provided in all its rooms.
Getting to the airport is easy as it is just 10 minutes away while attractions such as the Underwater World is just 15 minutes drive away.
Pondok Muara Chalet
Next to Akeef Villa is this cozy chalet with large family rooms.
Facilities here are limited, but room space is large.
The motel location is between the airport ( 10 minutes driving) and Pantai Cenang, offering you the best of both areas.
Because it is just right by the main road, it is also easy to get anywhere.
Langkawi's attractions like the Paddy Museum, Heli Outpost and Morac Langkawi are just 5 minutes drive away.
Other Areas
Here are other awesome affordable hotels in Langkawi for those seeking comfortable beds and are not particular about the location.
Red Warriors Villa Abadi
Here's another good budget hotel in Langkawi that comes with a swimming pool.
Your room here is comfortable, and it's spacious enough for a family.
Being close to the main road, it's also easy to get around and reach various destinations within the island.
The other good news is if you're heading to the airport or cable car, it's just a short drive of less than 15 minutes away.
Bambu Gateway
If you are looking for a serene and secluded but cheap place to stay during your holiday in Langkawi, this place is perfect.
The area is surrounded not only by paddy fields but also mountains and greeneries and bamboo chalets.
Sure, you may need to drive 15-20 minutes to reach nearby attractions and the Langkawi airport, but trust us, these small sacrifices are totally worth it!
We've curated a sensational list of the best affordable hotels and motels for your dream vacation in Langkawi.
Whether you prefer beachfront bliss or proximity to the airport and town area, we've got you covered.
So, which of these top budget hotels in Langkawi catches your eyes?