Looking for a good hotel in Brinchang, Cameron Highlands?
Look no further!
Here are the best hotels that will offer you the most enjoyable stay in the heart of Cameron Highlands.
Best Hotels in Brinchang, Cameron Highlands
Best Budget Hotels
Here are the best cheap / budget hotels in Brinchang that are under RM 150 on weekdays.
Snooze Too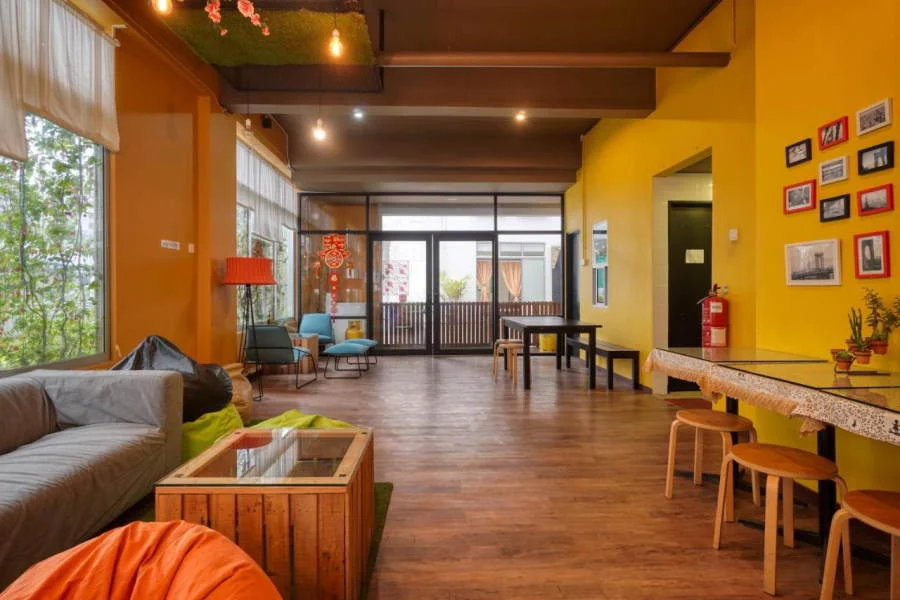 What sets this hotel apart from other budget accommodations is its blend of modern and hipster room ambiance.
The room sizes here are moderate, with some being small and without windows.
If you're a solo traveller, the location and room size should be more than enough for a budget stay around Brinchang.
Wan Alyasa Hotel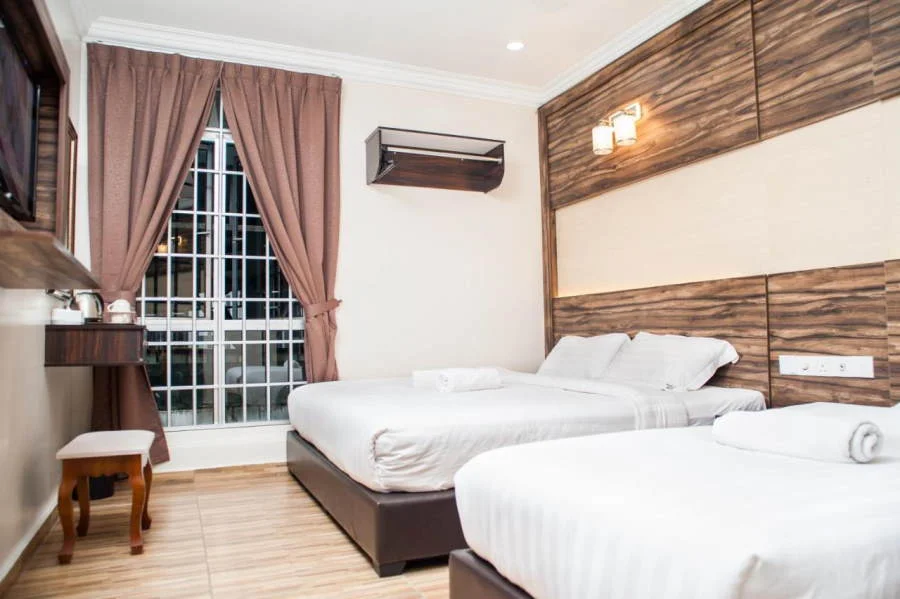 The rooms at Wan Alyasa Hotel are typically under RM 100.
Yes, the rooms here are small, and the hotel is built in a shop-house area, but it offers good value for the price.
Parking is available in the basement area.
And attractions like the Big Red Strawberry Farm and Cactus Valley are within 1 km from the hotel.
If not affected by Covid closures, there is a laundromat, 7-Eleven, and steamboat restaurant located near the hotel, making it convenient for your needs throughout your stay.
Cool Mama Hotel
This newly opened hotel is conveniently located near Cameron Centrum, making it easy to shop or find dinner without the need to drive around.
The rooms have a modern touch with a classic style.
What's great is that the mall is just a short walk away, perfect for you to explore the mall anytime of the day.
Flora Plus
The rooms in this hotel are small and simple.
Thus it is more suitable for solo travelers rather than families.
However, unlike many budget hotels in Cameron Highlands, this one provides ample parking space in the basement and surrounding areas, resolving the common parking issues.
And the location is perfect for exploring Cameron Highlands as it is just by the main road.
Jasmine Hotel
Hotel Jasmine is a budget hotel right in the heart of the Brinchang town.
The room here has an older charm, and the room size they offer is adequate considering the price you pay.
Due to the location, you can walk to eateries and shops anytime of the day.
But take note that parking may be challenging, particularly during school holiday.
Best 3 Star Hotels
Here are the best 3 star hotels for a good family outing in the Cameron Highlands.
Kea Garden Guest House
If you're a fan of Kea Market and want to be surrounded by flowers during your family vacation, give Kea Garden Guest House a try.
You can easily walk to the market to enjoy grilled corn or buy souvenirs.
However, parking can be a bit challenging, and if you're seeking a peaceful getaway, this may not be the ideal choice as Kea Farm is often crowded with people.
Brynton Hotel
If you're on the hunt for a new hotel in Cameron Highlands that's all about convenience, check out the Brynton Hotel.
It's near to the Centrum Mall in Brinchang, making it easy for you to find fast food outlets, pharmacies, and cafes.
The rooms here are modern, although they may not be the largest in size.
In the evenings, you can just leave your car and take a relaxed stroll around the mall with your family, no need to worry about parking or rushing.
Sunlight Suite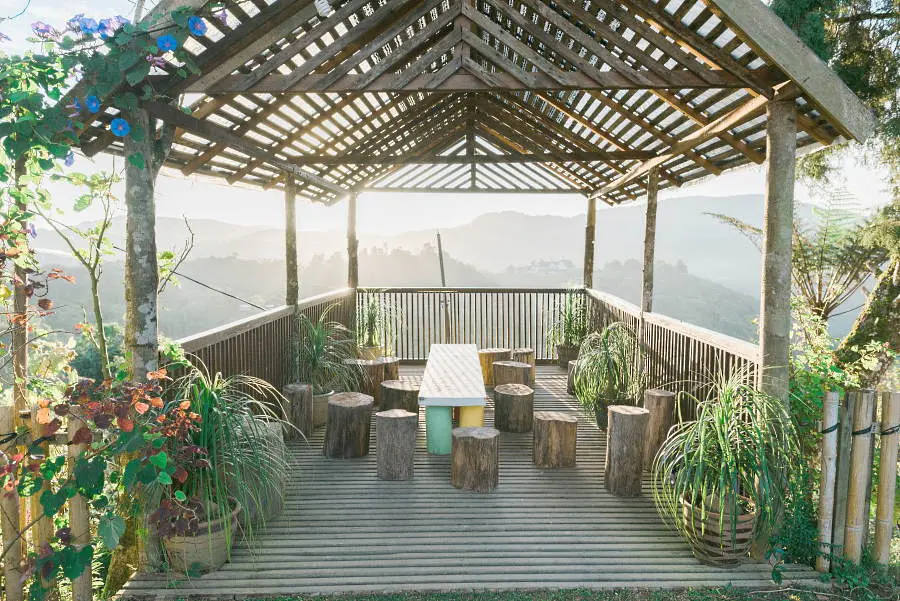 | Normal Price | RM 220 ++ |
| --- | --- |
| | Book |
You'll find this hidden gem of a historic hotel tucked away from the main road of Brinchang – perfect for a serene and peaceful vacation.
The rooms have a classic style, reminiscent of many other historic hotels in Cameron Highlands.
Parking your car here is not a concern.
You'll feels as if the villa is your own private bungalow.
Rosa Pasadena Hotel
The Rosa Pasadena is a hotel located in the heart of Brinchang, Cameron Highlands, making it convenient to find food or shops within walking distance.
The room size is moderate, and the facilities have an older charm.
However, some rooms come with a bathtub, allowing you to enjoy a relaxing hot bath.
The only downside is that, like many other hotels in the town center, parking can be a challenge during peak holiday seasons.
Best Hotel in Brinchang
These are the best hotels in Brinchang that are ideal for families and honeymooners.
Copthorne Hotel
The rooms at Copthorne Hotel are spacious, perfect for families.
What's great is that most of them come with balconies where you can relax with your children or partner.
Depending on the room you get, some may have an older decor, while others have been recently renovated, offering a more modern ambiance.
The hotel is also near the Kea Farm, and there are nearby dining options as well.
In short, we rate it as among the best hotels in Brinchang, Cameron Highlands due to its combination of a great location and comfortable rooms.
Strawberry Park Resort
If you're looking for a peaceful vacation with comfy rooms and balconies to soak in the view, you've got to check out Strawberry Park Hotel in Brinchang.
It's like a hidden gem away from the busy main road, surrounded by beautiful hills and blooming flowers.
The rooms are spacious, giving you plenty of room to unwind.
Plus, they've got a swimming pool and a spa for some extra relaxation.
This is indeed one of the best hotels you'll find in Brinchang.
Okay, that wraps up the list of the best hotels in and around Brinchang, Cameron Highlands for you to book your upcoming vacation.
There are options available in the town area as well as more secluded ones for those seeking privacy during their holiday.
Now, it's your turn to decide.
Which particular hotel above that has caught your eyes?