Are you planning to go to Jalan TAR Kuala Lumpur to look for scarves, baju kurung or baju raya for Eid, wedding or other important occasions? And plan to stay a day around there to complete your shopping?
If so, here are the 10 best hotels around Jalan Tunku Abdul Rahman and Masjid India that are head and shoulder above the others for you to shop and rest.
Let's see the best hotels the area has to offer.
Within the Jalan TAR area
Hotels within this area are perfect for those who are here with the elderly or little kids. They are more crowded but you don't have to walk far to rest after an exhausting clothing hunt.
Silka Maytower
If you are here with a family, we recommend nothing less than the Silka Maytower.
Your room here is big and is fully carpeted. Unlike other hotels in Jalan TAR, Silka Maytower comes with a swimming pool, gym and free breakfast.
The location is totally ideal for you to shop for your baju melayu, baju kurung and other hari raya accessories during Ramadan as it is right opposite the Jakel Mall. And the shopping area of the Jalan Tunku Abdul Rahman is just 3 minutes walk away.
While most hotels in Jalan Masjid India suffer from parking problems, parking in Silka Maytower is easy as it is free and within the hotel building.
In short, this is the best hotel around Jalan Masjid India. You get a superior room, complete hotel facilities and easy access to shopping and parking.
Price : RM 169++
Hotel M Place
This hotel is situated right next to the Kamdar mall, and is considered one of the best hotels in Jalan TAR, if you are not driving.
This hotel is relatively new and your room is modern and comfortable. If you have stayed in other hotels around this area before, you'll notice that the rooms in M Place are head and shoulder above others.
For those of you who are here just as a couple, you'll be happy to know that shopping is easy. It is near to Jakel, SOGO, Semua House and other smaller shops selling your favourite hari raya or deepavali related costumes.
The only problem is parking. There is none at the hotel.
Price : RM 130 ++
Hotel Adya
The Adya Hotel is built right at the Jalan Melayu, or beside the Masjid Jamek LRT. Your room here is comfortable but small, so book it only if you are a solo traveller or a come as a couple.
Having said that, this is among the cheapest hotels in the Jalan TAR area, and is really close to the covered stall areas in Wisma Yakin.
7 Eleven only is a few steps away from your hotel, and exploring Kuala Lumpur via trains is easy as the Masjid Jamek LRT is only steps away.
Like many hotels in Masjid India, there is no parking available. Forget Adya if you are driving.
Price : RM 70++
Grand Campbell
If you are not fussy about your room, but you want a hotel with easy parking and near to the Jalan TAR area, the Grand Campbell is hard to beat.
The room and facilities are not something that can be boasted about, but the main attraction to the hotel is the prime location.
The Sogo mall is just minutes away from the hotel while Jalan TAR is just right behind it. In short, this is the hotel where you can really shop till you drop.
To dine, the famous RSMY House of Real Beriani is near. And so does the famous Mee Rebus Asyik.
Price : RM 130++
Starpoint Hotel
This is one of the hotels where the location is right in the heart of the Jalan TAR area. It is simply perfect for those who love the hustle and bustle of shopping and want to be in the middle of the pulse.
Your room is large but sparse. For dining, the Jalan Masjid India's food court is just 2 minutes away from your hotel.
But because of the location, you may find that noise in the area could be a nuisance, especially when the area is crowded during Ramadan shopping.
If you plan to drive, we do not recommend this hotel. But if you are here via train or buses, and you don't plan to do anything but shop for raya, this is among the hotels to consider.
Price : RM 120++
Around the Vicinity of Jalan TAR
If you love to shop at Masjid India but hate the crowd, here are a few hotels we recommend that are built around the edge of the area.
Big M Hotel
If you are a solo traveller looking for a cheap, safe and comfortable room around Jalan TAR, this is the budget hotel for you.
Your room is relatively small, but very comfortable and is near to everything. The LRT Masjid Jamek is just 2 minutes away and McDonalds is just downstairs.
To get to Lorong Melayu is a 5 minutes walk. For us, the location is perfect for the young. But for the elderlies, walking from here, navigating traffic and carrying large shopping bags is not ideal.
Having said that, young solo travellers will love the fact that MyNews and Guardians are steps away from the hotel. But like most Jalan Masjid Jamek's hotels, there is no parking available.
Price : RM 80++
M Hotel Medan Tuanku
This is another good hotel near the Jalan Masjid India area for those planning to do a solo shopping.
Your room is small, but is made simple and comfortable.
The MyNews mini mart is downstairs, easy for you to buy anything even at night. For lunch or dinner, the famous RSMY House of Real Beriani is just beside the hotel.
To get anywhere, you can get a train at the Bandaraya or Medan Tuanku monorail.
The hotel is quite a distance from Jalan TAR. Be prepared for some exercise. And because of the distance it is not a hotel we recommend for those coming with elderlies.
Price : RM 90++
K Hotel
This hotel is located above the Muaz Textile mall. So if you are really into shopping, this is one of the hotels with good access to the action as the Jalan Masjid India shopping strip is right opposite your hotel.
Even though the room is considered cheap, it is equipped with a safe and mini bar. The room is also large. For us, this accommodation offer a better deal than the T Hotel, once considered among the best priced hotels in the area.
Looking for food is not a problem as there are plenty of mamak eateries around your hotel. For a more comfortable air, you can just go to SOGO and dine at the food court.
The weakness of the hotel is lack of parking.
Price : RM 90++
Prescott Medan Tuanku
If you are here with big families but everyone are healthy and does not mind walking during Ramadan, this is another good hotel around the Masjid Jamek vicinity.
Your room is large, simple but pleasantly decorated. And it is near to the Medan Tuanku monorail station, making it easy for you to explore Bukit Bintang shopping strip anytime of the day.
To get to Jalan TAR is a 10 minutes walk. The hotel has parking for visitors, but the number of bays are limited
Price : RM 110++
Hotel Premiera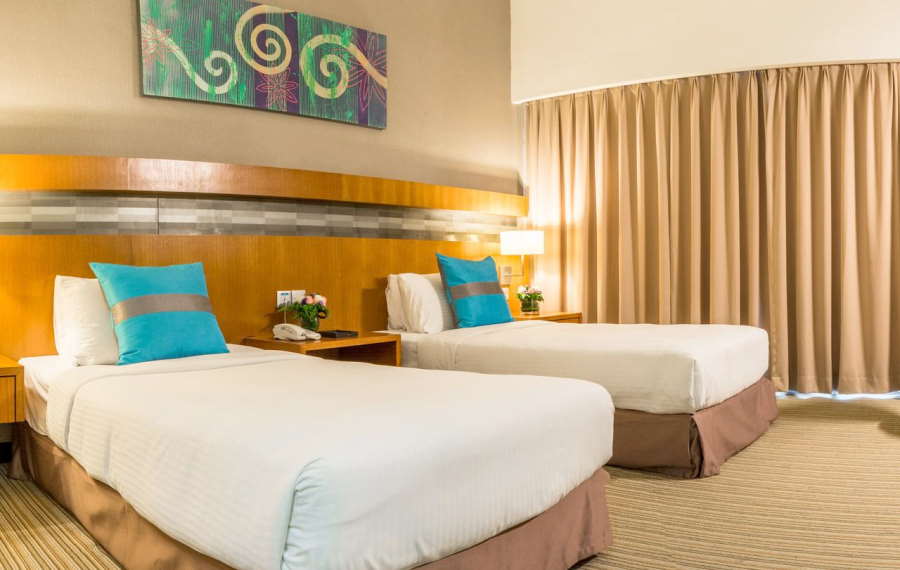 This hotel is near Medan MARA, and is just beside the Pertama Complex. The room is large and is rated 4 stars.
If you are planning to shop for raya in KL with your family, and want a comfortable accommodation nearby SOGO, this is one of the hotels you may consider.
Unfortunately, while the room price is among the highest in the area, you will need to share your parking bay with the government servants working in the Medan MARA building area.
Price : RM 200++
So here you go. We have covered what we believe the 10 best hotels in the Jalan TAR or Masjid India area. Some are perfect for solo travellers but others are built for family.
We think the Silka Maytower is perfect for those wanting to shop during fasting month due to the facilities, vicinity and comfort of the room. That should be your default choice when shopping around Jalan Tunku Abdul Rahman.
What do you think? Which hotel do you prefer to shop for raya?