Are you getting ready to shop for Eid, weddings, or other events at Jalan TAR Kuala Lumpur?
If that's the case, here are the top 10 hotels located around Jalan Tunku Abdul Rahman and Masjid India that outshine the others.
Let's take a look at the cream of the crop in the area.
Best Hotels Around Jalan TAR / Masjid India KL
In Jalan TAR area
Staying at hotels within this area is ideal for those traveling with elderly or young children. Despite being more crowded, it is convenient to have a nearby place to rest after a tiring day of shopping for clothing.
Silka Maytower
If you're looking for the perfect family hotel in the Jalan TAR and Masjid India area, look no further than the Silka Maytower.
Their spacious carpeted rooms offer plenty of space for your whole family, and you'll have access to great amenities like a swimming pool, gym, and complimentary breakfast.
Plus, with Jakel Mall just across the street and Jalan Tunku Abdul Rahman shopping area a quick 3-minute walk away, you'll have easy access to all the baju melayu, baju kurung, and Hari Raya accessories you could ever need.
Unlike other hotels in the area, parking is a breeze at Silka Maytower – it's free and conveniently located within the hotel building.
Hotel M Place
M Place is a fairly new hotel in this area and it offers modern and comfortable rooms.
If you've stayed at other hotels in the area before, you'll definitely notice that the rooms at M Place are much better in comparison.
It's a perfect spot for couples, as it's close to popular shopping destinations such as Jakel, SOGO, Semua House and other smaller shops selling your favourite Hari Raya or Deepavali related costumes.
The only downside to this hotel is the lack of parking, so it's not ideal if you're driving.
Hotel Adya
The Adya Hotel is located in a convenient spot beside the Masjid Jamek LRT station, right in the heart of Jalan Melayu.
Although the rooms may be small, it's perfect for solo travelers or couples.
This hotel is one of the most affordable options in the Jalan TAR area and is in close proximity to the Wisma Yakin covered stall areas.
Additionally, a 7 Eleven store is just a few steps away, and exploring Kuala Lumpur via trains is convenient with the Masjid Jamek LRT station nearby.
However, if you plan on driving, this hotel is not the best option as parking is not available.
Grand Campbell
| Normal Price | RM 130 ++ |
| --- | --- |
| | Book |
If you're not too picky about the room and facilities but looking for a hotel with easy parking and a convenient location near the Jalan TAR area, the Grand Campbell Hotel might be just the one for you.
While the room and facilities may not be exceptional, the hotel's main advantage is its prime location.
The Sogo mall is just a few minutes away, while Jalan TAR is right behind it. So, you can shop to your heart's content!
If you're looking for a place to eat, the famous RSMY House of Real Beriani and Mee Rebus Asyik are nearby.
Starpoint Hotel
If you're a shopaholic who loves the hustle and bustle of shopping, then you'll love this hotel. It's located right in the heart of Jalan TAR.
While the rooms are not overly fancy, they are quite spacious, giving you plenty of room to stretch out and relax after a long day of retail therapy.
And if you're looking for a bite to eat, the food court in Jalan Masjid India is just a stone's throw away.
Now, just a heads up – since this hotel is located in a busy area, it can get a bit noisy, especially during the peak shopping season of Ramadan. So, if you're a light sleeper, you might want to bring some earplugs.
Also, if you're planning on driving, we suggest looking for another hotel. But if you're coming in via public transport, and you're just here to shop 'til you drop, this hotel is definitely worth considering.
NOTE : If you wish to read a Malay version of the article, you may find it here : 11 Hotel Terbaik di Jalan TAR dan Masjid India Untuk Shopping Raya
Around Jalan TAR
If you love to shop at Masjid India but hate the crowd, here are a few hotels we recommend that are built around the edge of the area.
Big M Hotel
Travelling alone? This budget hotel is all you need.
Although the room may be relatively small, it's cozy and well-equipped with everything you need.
Plus, its location couldn't be more convenient – just a 2-minute walk from the LRT Masjid Jamek station and right downstairs from a McDonald's.
While this hotel may not be the best option for elderly travelers due to the need to navigate traffic and carry heavy shopping bags, it's perfect for younger solo travelers.
You'll love the fact that there's a MyNews and Guardian store right next to the hotel, making it easy to grab any essentials you may need.
However, do keep in mind that like most hotels in Jalan Masjid Jamek, there's no parking available.
M Hotel Medan Tuanku
| Normal Price | RM 90 ++ |
| --- | --- |
| | Book |
For solo shoppers looking for a comfortable budget hotel near Jalan Masjid India, this is a great option.
Despite the small size of your room, it is comfortable and well-maintained.
Convenience is key here, with a MyNews mini-mart located on the ground floor and the famous RSMY House of Real Beriani right next door for your meals.
The Bandaraya or Medan Tuanku monorail stations are nearby, making transportation easy.
Keep in mind that the hotel is a bit of a distance from Jalan TAR, so be prepared to do some walking.
It's also worth noting that this hotel may not be ideal for those traveling with older adults due to the distance.
K Hotel
| Normal Price | RM 90 ++ |
| --- | --- |
| | Book |
This hotel is conveniently located above the Muaz Textile mall, making it a great choice for avid shoppers who want easy access to the Jalan Masjid India shopping strip just across the street.
Despite being considered a budget option, the room is equipped with a safe and mini bar, and it's also quite spacious.
We think this hotel offers a better deal than the T Hotel, which was once considered one of the best-priced options in the area.
Finding food won't be a problem either, as there are plenty of mamak eateries in the vicinity, and you can also head to SOGO for more comfortable dining at their food court.
The hotel's main weakness is the lack of parking, so it may not be the best option for those driving.
Prescott Medan Tuanku
If you are here with big families but everyone are healthy and does not mind walking during Ramadan, this is another good hotel around the Masjid Jamek vicinity.
Your room is large, simple but pleasantly decorated. And it is near to the Medan Tuanku monorail station, making it easy for you to explore Bukit Bintang shopping strip anytime of the day.
To reach Jalan TAR, it will take a leisurely 10-minute walk.
The hotel has parking for visitors, but the number of bays are limited.
Hotel Premiera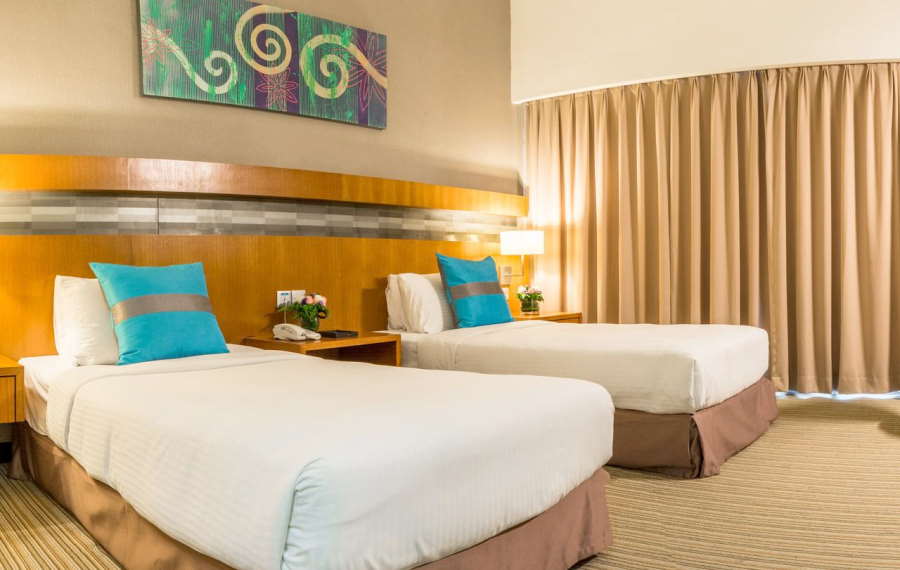 This 4-star hotel is conveniently located near Medan MARA and is adjacent to the Pertama Complex.
The spacious rooms make it an excellent option for families who are planning to shop for raya at SOGO, which is within walking distance.
However, it's important to note that the hotel's room rates are among the highest in the area.
Additionally, parking can be a challenge as guests will have to share parking bays with government servants who work in the Medan MARA building area.
In summary, whether you're traveling solo or with family, there's an option for everyone.
We highly recommend the Silka Maytower for those looking to shop during the fasting month. With its great facilities, location, and comfy rooms, it's a perfect choice for your shopping trip around Jalan Tunku Abdul Rahman.
What's your favorite hotel for shopping during Raya? Let us know!