Are you on the hunt for a fantastic hotel that's conveniently located near Jonker Walk in Melaka?
No worries. We are here to help.
Here's a list of the best Jonker Walk hotels that are suitable for all budgets.
Best Melaka Hotels Near the Jonker Walk
Timez Hotel
If you're looking for a contemporary, trendy, and cozy boutique hotel in the vicinity, Timez would likely be the perfect choice for you.
It is near the Jonker Walk. Thus, visiting the Mamee House and the Jonker Street night market would be a piece of cake.
Every room at Timez comes equipped with its very own coffee maker.
And to make your experience even more memorable, each hotel room boasts a unique theme and ambiance, with a touch of nostalgic charm blended in. It's a delightful way to ensure you'll want to return again and again!
Distance to Jonker Street: 0 m
Tips: Securing a parking spot in the Jonker area isn't a walk in the park. So, if you decide to stay at one of the hotels on our list, it's important to keep in mind that you might have to park on the roadside.
Casa Del Rio
Casa Del Rio hotel is hard to beat in terms of room comfort, location and the night view.
It is located at the side of the Melaka river. That means you can enjoy the view of the river cruise anytime you want.
If you're planning to check out the vibrant Jonker night market, you'll be delighted to know that it's just a short stroll away!
And let's not forget about the rooms! They offer a cozy, Bohemian-style ambiance that will transport you to a delightful Spanish-like holiday home.
Distance to Jonker Street: 300 m
Tips: Parking here is a breeze compared to other hotels near Jonker Walk.
If you prefer the Malay version of this guide you may find it here : 9 Hotel Berdekatan Jonker Walk Melaka (Jarak Jalan Kaki)
Puri Hotel
Love classic hotels? Check out Puri Hotel – its antique styled rooms have graced international magazine covers.
Here, your room is decorated with wooden and rattan furniture. And the interior is full of a rich baba and nyonya vibe.
Unfortunately, Malays and Muslims will find halal food difficult to find as it is situated right smack in the middle of a Chinese area.
Distance to Jonker Street: 200 m
Note: This hotel is opposite the historical Chee Mansion.
Courtyard @ Heeren
| Normal Price | RM 190 ++ |
| --- | --- |
| | Book |
This is another hotel in the historic city of ​​Melaka that comes with antique interiors.
The hotel is set in a baba and nyonya style but the rooms are well equipped with modern facilities.
The Jonker Street market is near.
But since your hotel is tucked away in an alley next to the market, you don't have to worry about any direct noise from the bustling market.
Distance to Jonker Street: 50 m
Tips: We don't recommend families with young children to stay here as the stairs can be risky for your tots.
Liu Men
The Liu Men is a small, luxurious, modern nyonya style hotel.
Your room is spacious and minimalist, but with a splash of tradition.
With a classy interior, we prefer to recommend it to couples on their honeymoon rather than to families with small children.
Walking to the night market? Easy, as this hotel is located just near its entrance.
Distance to Jonker Street: 200 m
Note: Parking is provided at the back of the hotel
Jonker Boutique Hotel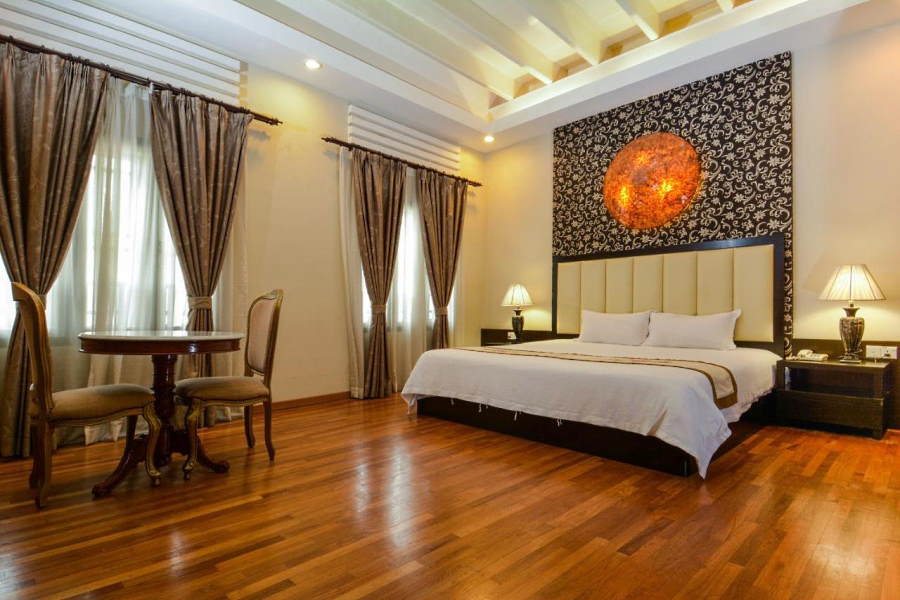 Want a cheaper boutique hotel than Liu Men? Worry not, this is another good classic style hotel around Jonker Street Melaka.
The best part? Their prices are only half of what Liu Men charges.
The Jonker Walk night market is right outside the hotel. And there is also a KKmart next door for late night snacking.
However, if you happen to be an early or light sleeper, it might be best to consider other options.
This hotel is in close proximity to the karaoke area, which typically operates until around midnight.
Distance to Jonker Street: 0 m
Aava Malacca
Aava is a beautiful Peranakan boutique hotel nearby Jonker Walk of ​​Melaka.
Staying here means you get to enjoy the best of both worlds!
Not only is the lively Jonker Walk just a short walk away, but the serene Melaka river is also located right behind the hotel.
You can even come back from the market and relax while taking in the tranquil river view until it's time for bed.
The Ghost Museum and Kg Hulu Mosque are also nearby.
Craving for cendol? Just walk to Makan Avenue as the famous Cendol Kg Hulu is in the premise.
Distance to Jonker Street: 250 m
906 Riverside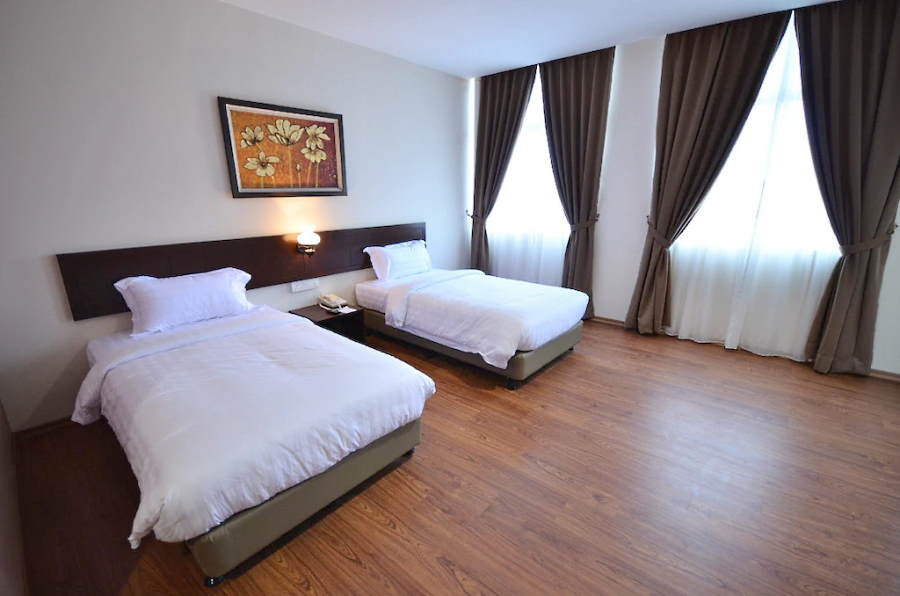 | Normal Price | RM 99 ++ |
| --- | --- |
| | Book |
Here is another affordable hotel near Jonker Walk and by the Melaka river. If you book a room facing the river, the night view would be spectacular.
The room is quite average. But the mamak restaurant and mosque are close to your hotel.
While it's still within walking distance to the Jonker night market, it's worth noting that this hotel is a bit further away compared to some of the other hotels on our list.
Distance to Jonker Street: 500 m
The Blanc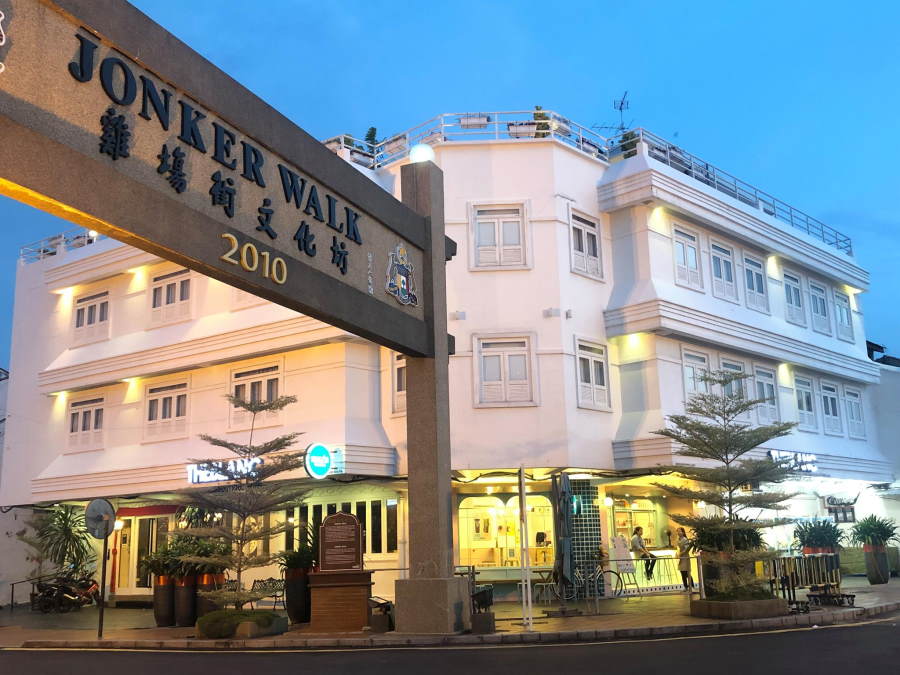 White, minimalist and classy – that's how you describe The Blanc.
Because it is located at the entrance of the night market, the surrounding area is pretty busy.
But the advantage is you don't have to walk far to enjoy the Jonker Street night market.
If you need any tidbits, the Family Mart and 7 Eleven are only a few minutes walk away.
Bear in mind that this is a Chinese area, so Malay or halal restaurants are going to be hard to find.
Distance to Jonker Street: 0 m
And that wraps up our list of the best hotels near Jonker Walk that you can book for your upcoming holiday.
Personally, we love Casa Del Rio for their view of the Melaka river and the historical, port like vibe.
But if you want to be as near to the Jonker night market as you can, boutique hotels like The Blanc and Liu Men are probably more suitable for you.
So which one is your pick?