These are the top hotels located near KL Sentral station and Nu Sentral mall.
All of them offer comfortable accommodations, and most are within walking distance.
Let's check them out.
Best Hotels Around the KL Sentral Station
Aloft Hotel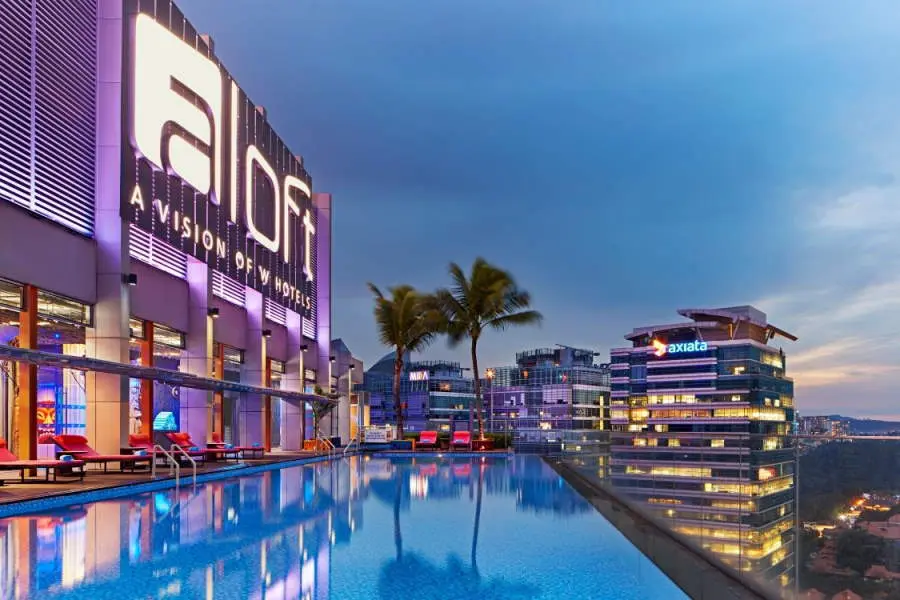 The Aloft is a modern, minimalist hotel near the KL Sentral Station.
The rate is affordable and getting to and fro the hotel from the KL Sentral is easy, as the Aloft is connected to the KL Sentral station via a connecting bridge.
And since the hotel is in the Nu Sentral mall, shopping and finding essentials become a piece of cake.
In short, if you want the nearest hotel to the KL Sentral that is well connected to the station, this is a fine hotel that is just within your walking distance.
Distance to KL Sentral : 70 meters
Le Meridien
Looking to indulge in a luxurious 5-star hotel near KL Sentral?
Well, look no further.
This hotel is located right by the KL Sentral.
From the KL Sentral exit, you only need to cross the road (there's a pedestrian crossing) to reach your hotel.
Yes, the room sizes here are moderate — but the service and breakfast buffet here will probably be the highlight of your stay.
Distance to KL Sentral : 80 meters
Tip: If you're traveling with a group and have heavy or multiple bags, remember to call the hotel ahead of time. While you may walk to your hotel, you may want to request for a convenient pickup service from the KL Sentral.
Hilton KL
Here's another 5-star hotel located by KL Sentral Station.
The rooms are luxurious, featuring open bathrooms that are perfect for couples or solo travelers.
The view from the higher floors, especially from rooms facing the lake, is truly beautiful.
From the KL Sentral to the Hilton KL is just as convenient as reaching Le Meridien as the two hotels are located right next to each other.
Distance to KL Sentral : 80 meters
St Regis
The St Regis is a luxurious hotel located in the vicinity of KL Sentral.
It boasts bathrooms with powerful views.
In addition to spacious rooms, this upscale hotel is known for its butler service.
Whether you need help with packing, unpacking, clothes pressing, shoe shining, or making any arrangements, just leave it to the dedicated butlers.
St Regis is conveniently situated just 800 meters away from KL Sentral.
Hence, it will only be a quick 5 minutes drive from KL Sentral station to the hotel.
Distance to KL Sentral : 800 meters
Tip: If you prefer walking, you can head towards Q Sentral from KL Sentral via the pedestrian bridge. St Regis is located in that building, and it takes about 15 – 25 minutes of walking.
Ascott Sentral
Are you here with your family?
Great! Ascott is a spacious apartment near KL Sentral that caters to everyone's needs.
The apartments are generously sized and come with well-equipped kitchens.
In other words, you'll feel like staying in a cozy home during your stay.
The downside is it is not within a walking distance to the KL Sentral.
But you'll be delighted to know that it's just a quick 5 to 8-minute car ride from Ascott to the KL Sentral.
Distance to KL Sentral : 1.3 kilometers
That wraps up the top 5 hotels near KL Sentral for a comfortable and relaxing getaway.
Our top pick for the best value is the Aloft.
It's conveniently located near KL Sentral and offers easy access to all your holiday essentials.
But if you're traveling solo, there are plenty of budgets hotels in the surrounding area.
So, which one catches your eye?