Looking for a good budget hotel in Penang?
Let us help you out.
Here's a list of the best 24 budget hotels on the island for your vacation.
The Best Cheap / Budget Hotels in Penang
In Georgetown
Staying at this city center of Penang means sightseeing and finding good food should be easy. Here are the best cheap hotels in Georgetown for your stay.
Chulia Heritage
The rooms in this budget hotel have a minimalist style, providing a refreshing stay.
Parking is free, and you can even rent bicycles for your convenience.
There are plenty of dining options nearby, with the famous Roti Canai Transfer Road, Nasi Kandar Line Clear, and Hameediyah, all within walking distance.
Important : Be careful when choosing a room because some rooms in this hotel have shared bathrooms.
Travelodge Georgetown
This Penang budget hotel is not only comfortable, but come with a modest size swimming pool.
The rooms are modern and breakfast is available.
If you're traveling with your family, they also have family rooms for a more comfortable stay.
From here to the Komtar mall is only a 5-minute drive away – making it cheap and hassle free to just hail a Grab car for your city excursion.
This is important since its parking bays are quite limited.
You certainly don't want to spend your whole afternoon looking for a parking spot after an exhausting city trip.
Apple Heritage
Apple Heritage is an affordable hotel in Penang that offers a surprisingly luxurious experience.
It exudes a colonial and European style, creating a charming atmosphere — simply perfect for honeymooners on a budget but still wanting a touch of elegance.
Exploring the town is a breeze from here.
Whether the Komtar, Padang Kota, Armenian Street, or other attractions, you just need a short drive away (around 2 km).
Heliconia Hotel
This is another good cheap hotel under RM100 in Georgetown, Penang.
The rooms here are well-insulated, ensuring a peaceful and sound sleep throughout the night.
On top of that, parking at Heliconia is free of charge.
Moreover, apart from being close to the Komtar, other Penang attractions such as the Upside Down Museum, Ghost Museum, or Street Art Trail, they are all within a 10-minute drive.
Kooning Hotel
Looking for a unique room experience?
This is a one hotel you can try.
The rooms here may not be spacious, but they come with seating areas, minimalist bathrooms, and bunk beds for two.
The location is strategic too.
The Komtar, Prangin Mall, or 1st Avenue is just a 5-minute drive away.
But note that parking is limited here, and halal food options around the hotel are pretty limited.
Armenian Street Heritage
If you're searching for a family-friendly budget hotel, this is a good option to consider.
The rooms here are generally spacious and suits a family with one or two small children on tow.
Located in the midst of Penang's historical buildings, it's easy to visit the Lebuh Acheh Mosque and Sun Yat Sen Museum from here.
The hotel also has a convenience store and restaurants should you feel like snacking in the middle of the night.
Grand Swiss Hotel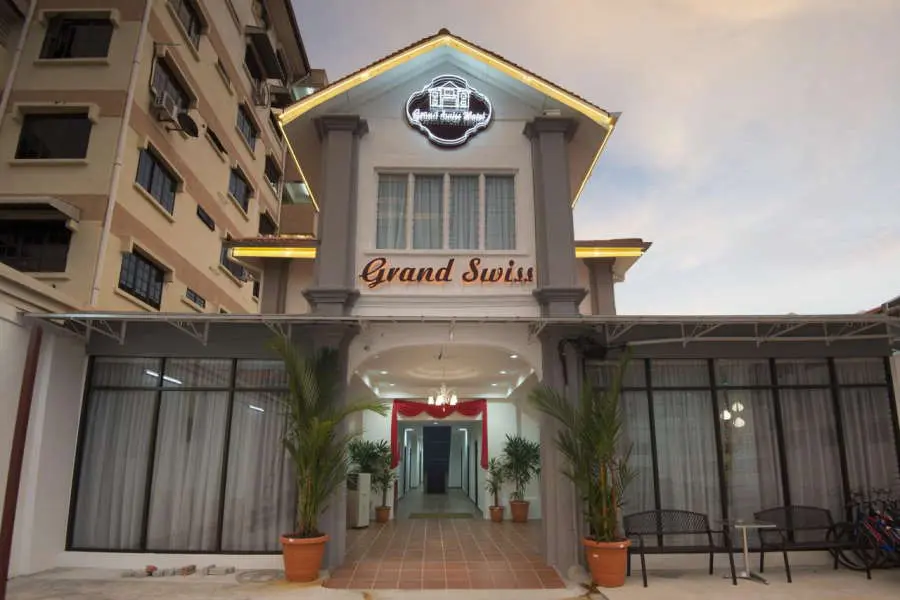 Love taking photos?
This budget hotel is located near the alley with murals of Marilyn Monroe and more.
Despite being in the heart of Georgetown, it's tucked away, offering a peaceful atmosphere.
If you're craving famous Penang dishes like Hameediyah and Line Clear's nasi kandar, they're just a 7-minute walk away.
Just note that parking space is limited if you're traveling by car.
B Street Hotel
The B Street is a small budget near the Street Art area.
It's perfect for a solo traveller's trip to Penang and looking to fill their Instagram with captivating mural photos around the area.
The rooms here are simple yet comfortable.
But it is more suited for those travelling using public transport, as parking can be challenging.
Le Embassy
This is a good budget hotel in Penang below RM 100 per night.
And despite the cheap price, it is styled like a boutique hotel.
The queen rooms here are spacious, and they offer free parking facilities.
The location is ideal too.
Penang's attractions like The Top's thrilling glass bridge or the Gravityz, can both can be enjoyed at Komtar, which is just a quick 5-minute drive away.
Loop on Leith
Despite being affordable, the Loop on Leith is known for its clean and comfortable rooms.
They have a sleek and minimalist design, with spacious bathrooms.
Plus, you'll have access to a wide selection of 20 TV channels for your entertainment.
Worried about a late-night snack craving?
No worries, a 7 Eleven is just a stone's throw away.
And when it's lunchtime, you're in for a treat!
Within a short 5-minute stroll, you'll find a delightful nasi kandar restaurant (just like Sup Hameed) where you can satisfy your cravings with delicious local cuisine.
Tune Hotel
The rooms at the Tune Hotel, Georgetown may not be spacious, but they are neat and comfortable.
If you're feeling hungry for a midnight snack, there's a 7 Eleven conveniently located below the hotel.
And unlike many budget hotels in Penang, Tune Hotel provides its own parking space (although it is subject to a fee).
Simply put, it is a reliable option for those seeking a cheap Penang hotel below RM 100 that is safe, clean and comfortable.
Wifi Boutique Hotel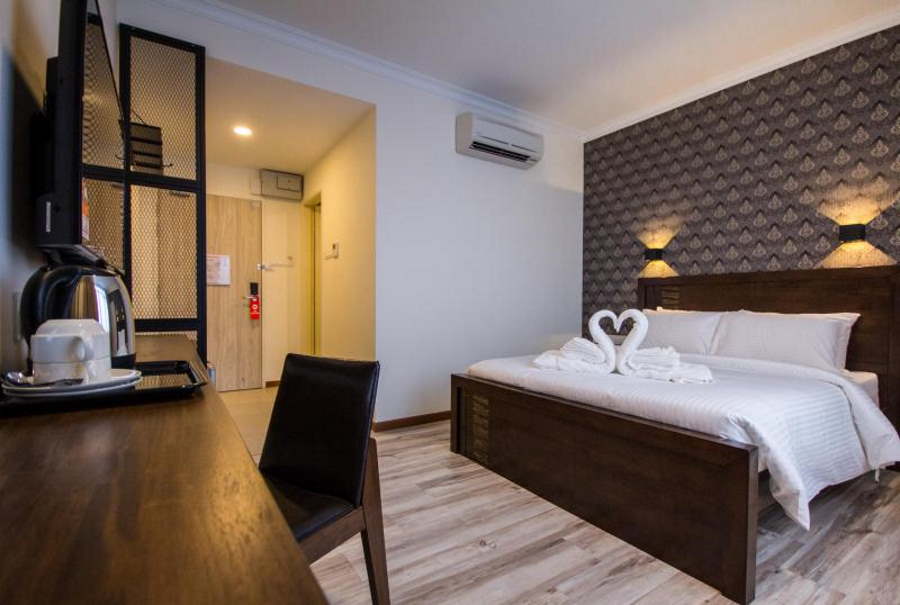 This affordable Penang boutique hotel comes with spacious rooms that are a blend of English and hipster styles.
Each room is uniquely decorated, but they all maintain a simple and clean aesthetic for your comfort.
When it comes to dining, it's incredibly convenient.
Famous Penang nasi kandar joints like the Line Clear and Deen Maju are just a 3-minute walk away – ensuring an easy access to breakfast right to supper anytime of the day.
Tip: If you're a fan of bicycles, you can explore the bicycle museum located on the upper floor of the hotel.
Brown Hotel
This recently opened budget hotel in Georgetown, Penang provides clean and cozy rooms that are moderately spacious.
It's also near Lorong Kulit — perfect if you are into pre-owned items and and the nostalgic ambiance of an old-school flea market
When it comes to dining options, you'll have the Padang Brown food court right nearby.
Once there, don't miss out on the local favourite — the famous Sup Al Bismi stall.
Tip: As far as we know, parking is available but it comes at a cost. Budget around RM 10 per day for parking expenses.
Southern Boutique Hotel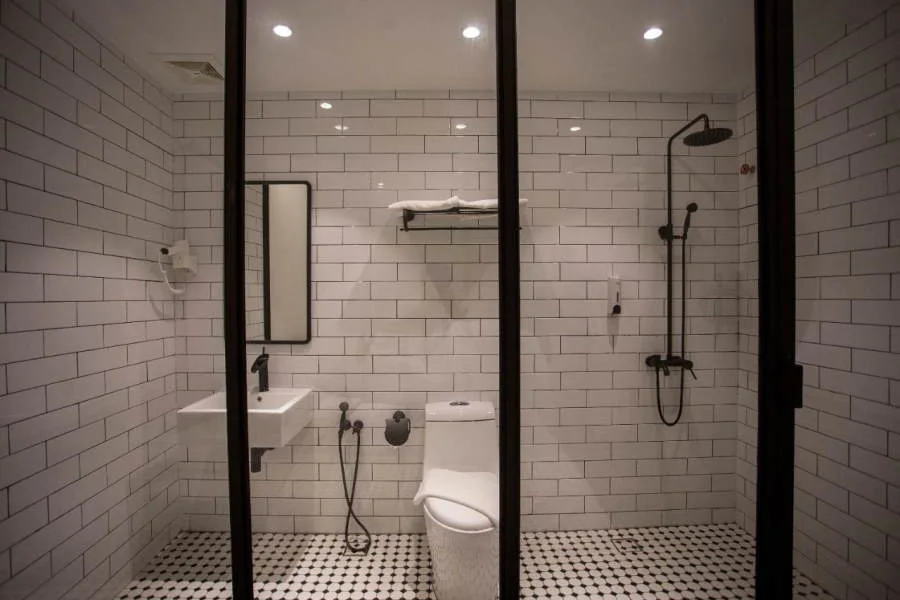 Hotel Southern Boutique is an ideal option for young couples or honeymooners on budget.
It comes with an open-concept bathroom with glass walls adding a modern touch.
But don't worry, there are curtains to close off the bathroom area.
For lunch and dinner, the Hameed's Mamak stall is near.
And if you're interested in Penang's attractions, the famous Cheong Fatt Tze Mansion is just a 3-minute walk away.
Summertree Hotel
This budget hotel is not only comfortable but also conveniently located near the Komtar Penang.
It has a hip and modern style.
And the room size is modest but suitable for the price.
One downside to the hotel is parking bay here are limited.
But if parking is not an issue, this hotel is worth considering because of its strategic location.
Kimberly Hotel
Here's another cheap, below RM 100 per night Penang hotel that is located near Komtar and within walking distance to Prangin Mall and Chowrasta Market.
That means you can get to attractions like The Top, shop for old books at the Chowrasta or hunt for local delicacies like pickles and rojak anytime of the day.
The room size may not be spacious, but you'll have the opportunity to unwind on the rooftop and take in the scenic city view during the evening.
In Batu Ferringghi
Here is a list of affordable hotels in the Batu Ferringhi area where you can enjoy the beach during your vacation. However, please note that the budget rooms in these hotels may not be suitable for families.
Feringghi Stay Inn
This Batu Ferringhi budget hotel is suitable for solo or couples on vacation.
The rooms are small and basic, but they do come with a shared balcony for guests to enjoy.
When it comes to food, you have plenty of options nearby.
The KFC and McDonald's to local favorites like nasi kandar, and even a 7 Eleven, are all within walking distance.
The famous Feringghi Beach and the night market are also just 5 minutes away.
Alia Express
| Normal Price | RM 75 ++ |
| --- | --- |
| | Book |
Here's another budget hotel under RM 100 per night in Batu Feringghi for solo travelers.
The rooms here are basic.
But there's an elevator for those staying in the upper floors.
Located in the Feringghi Stay Inn area, you'll find plenty of dining options and the night market within easy walking distance, making it incredibly convenient for you to explore and indulge in local cuisine.
Max Feringghi
If the two budget hotels mentioned above are not cheap enough for you, give this Max Feringghi a try.
The room size is small, but it matches its budget-friendly price.
You can easily find dining options and explore the night market or the beach within walking distance.
Note: There is no elevator in the hotel. If you have trouble with your knees, you can request a room on the lower floor if available.
Roomies Suite
| Normal Price | RM 115 ++ |
| --- | --- |
| | Book |
This hotel is slightly pricier compared to the other budget hotels we've listed in Batu Feringghi.
However, the rooms are more spacious and comfortable.
If you're traveling with a group of friends, they do rooms with loft beds for a dormitory-like experience.
The location is also ideal.
Exploring the nearby night market and the Ferringhi beach is a breeze as they are just a stone's throw away from the hotel.
And when it comes to food, there's a few eateries within the same building complex where the hotel is located.
In Bayan Lepas
Here are some good budget hotels in Bayan Lepas, Penang. They are near to the Penang airport and fishing village, but the room rates may be higher compared to ones in Georgetown.
Eureka Hotel
This Bayan Lepas budget hotel comes with an attractive, hipster vibe rooms.
Your room size is modest, but some rooms do come with mini fridges.
For us, the amenities in the hotel is ample for a one or two-night stay.
But the drawback here is the parking.
If you're driving, you need to park your on the public parking areas by the street and that means extra parking fee to be paid to the local council.
Pen Mutiara
| Normal Price | RM 120 ++ |
| --- | --- |
| | Book |
This Penang hotel is equipped with a mini pool for your kids to enjoy.
We also like the fact that the rooms are spacious and comfortable, albeit with a vintage decor.
As for parking, there is a free and guarded parking area available.
When it comes to dining you don't need to travel far.
In addition to the hotel's own famous restaurant (serving fish head curry), you can also try the D Seafood Paradise, just a 5-minute drive away.
Raia Inn
For those looking for a cheap Penang hotel with free parking, here's another good option.
The rooms here are spacious for its price and are equipped with a mini fridge.
When it comes to food, there's plenty of mamak eateries aroudn the area.
The Kapitan Tandoori, Restoran Bawal Goreng Pokok Ceri, and Nasi Dalcha & Biryani Khalis are within a 5-minute drive from the hotel.
Note: This hotel was formerly known as TH Hotel but has now been taken over by Raia, with all facilities renovated and improved.
U Hotel
We end this list with U Hotel, one of the affordable hotels in Penang that offers spacious and guarded parking.
The rooms are somewhat small for families but comfortable for couples.
When it comes to dining, you'll only need a 5-minute drive.
It's conveniently located for you to find popular local options such as Nasi Kandar Pelita or Subaidah, as well as fast food restaurants like McDonald's and Pizza Hut.
Alright guys, we've covered the best budget and cheap hotels in Penang, covering areas from Bayan Lepas to Batu Ferringhi and Georgetown.
Some are under RM 100 while others are still within the affordability range for families.
So from over 20 awesome hotels we've listed which one do you fancy?