Looking to treat your kids to a memorable school break in Penang?
Look no further!
We've compiled a list of 8 best hotels in Penang that are perfect for families with children.
The Best Penang Hotels for Kids and Families
Golden Sands Resort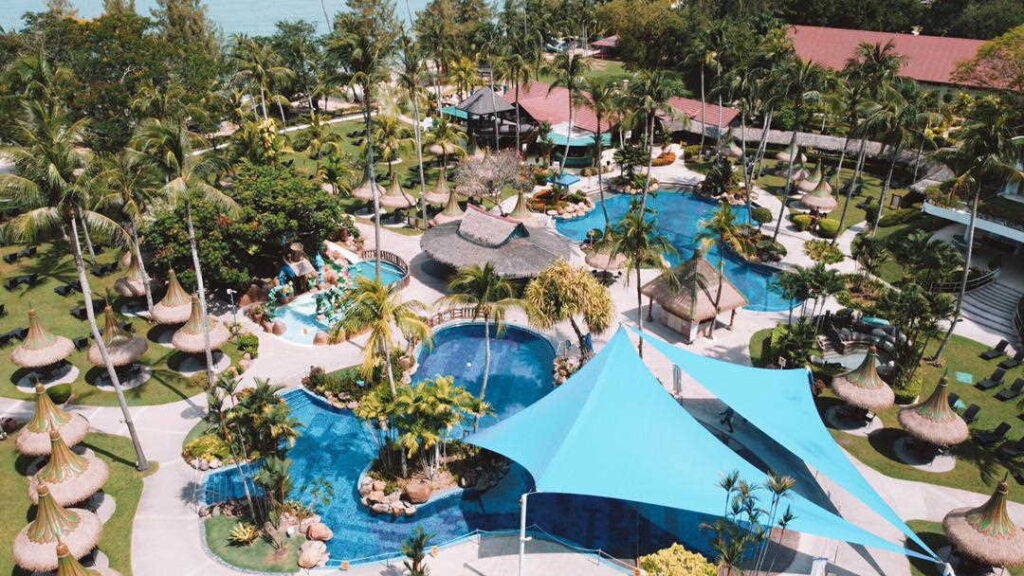 The Golden Sands Resort at Batu Ferringhi is undoubtedly one of the best hotels for kids in Penang.
This amazing hotel boasts not one, not two, but three swimming pools, with a special kids' pool designed to be like a mini water park.
But that's not all – the beach is right behind the hotel, and there's even an Adventure Zone indoor mini theme park for your little ones to enjoy.
And if your family wants even more excitement, the Escape theme park and the Entopia butterfly park are just a 10-minute drive away.
And if you're looking to explore Penang, the hotel offers free shuttles to Georgetown.
Hard Rock Hotel Penang
Don't be fooled by the name, the Hard Rock Penang hotel is not just for music lovers. In fact, it's a fantastic hotel for kids too!
Their Roxity Suite is a specially designed room with two separate areas – one for parents and one for kids. The kids' area is equipped with a TV playing cartoons, a PlayStation, and a small play area for two.
With three water slides, the hotel's pool area is the biggest in Penang. Plus, the adult pool is right next to the kids' area, so you can keep an eye on them while still enjoying yourself.
At noon, the hotel offers planned activities for your little ones – from sea scooter rides in the pool to sumo wrestling and even kite making.
Just like the Golden Sands hotel, it's easy to get to the Escape and Entopia parks from here as they are just a few minutes away.
If you prefer the Malay version of this article, you may read it at the 7 Hotel Terbaik di Penang Utk Kanak-Kanak ( Mahal Tapi Puas Hati).
Shang ri La Rasa Sayang
Located right next to Golden Sands hotel, this resort is among the few hotels built near the Batu Ferringhi beach in Penang.
The resort offers two different types of accommodations, one for guests with children and another for those without.
This means you don't have to worry about your kids making too much noise and disturbing other guests, as you'll be placed in the family-friendly Garden Wing.
Children under 12 can participate in daily activities from 9 am to 9 pm. These activities include kite making, mini golfing, nature walks, and painting.
If the weather is too hot, the hotel has a well-equipped Kids Club for indoor playtime.
Park Royal Penang Resort
This is another kids friendly hotel in the Batu Feringghi area.
The resort boasts a pool area that resembles a mini theme park, complete with two water slides. Your little ones will love the Amazonia play area, which features a variety of games to keep them entertained.
For even more fun, there's a Kids Club perfect for toddlers. And if you want to explore the Georgetown area or do some shopping, the hotel offers babysitting services to give you peace of mind.
After a long day of exploring or playing in the sun, you can take a leisurely stroll to the nearby night market to experience the local culture and food.
Lexis Suites
The Lexis Suite Penang is a great option for families with kids, although it's located in Bayan Lepas.
This area is ideal if you want to avoid the traffic and crowds of Batu Ferringhi or Georgetown, but it doesn't have a swimmable beach nearby.
The hotel offers a Kidz World, a kids' club for children under 12, as well as a Games Room for teenagers who want to play ping pong, congkak, or carrom.
The most exciting feature of this hotel is that each suite has its own private pool, although they may not be very large. This means that everyone in your family can take a dip whenever they like.
If you're looking for shopping, the Queensbay Mall is only a 12-minute drive away. And if you want to visit the Jerejak Island, the jetty is just 15 minutes away.
Bayview Beach Resort
This is another resort in Batu Ferringhi that is suitable for a kids friendly holiday.
It features two swimming pools perfect for your little ones – a shallow pool for babies and a larger one with slides for kids under 12. And if it happens to rain, there's a playland for them to enjoy indoors.
The resort is also very spacious and flat, making it easy for kids to run around and play all day long.
And if they want to switch things up, they can head to the beach located just behind the hotel.
Unlike the Hard Rock Hotel which plays loud music, this resort is more tranquil and suitable for older guests who want to enjoy the peace and quiet while taking in the sea breeze and views.
Doubletree by Hilton
This is the only hotel in Penang with a museum that kids will enjoy — the Teddy Ville that is filled with teddy bears, big and small.
Plus, the hotel's Kid's Club offers a different schedule of games every day, from morning paper crafts to lunchtime juggling and evening open-air movies.
And when it's time for a dip, the kids' pool is better than many other hotels in Penang, though not quite as amazing as the ones at Golden Sands or Hard Rock.
Breakfast is also a treat, with a special area for kids to dine with colorful plastic plates adding to the fun. For added privacy, consider booking a Family Suite, which gives the kids their own separate room from you.
While the hotel itself isn't located by the sea, there's a convenient flyover that will take you directly across the road to Miami Beach.
Bertam Resort
Let's wrap up this list with the newest resort in Penang, which just opened in 2023.
It is located adjacent to the Bertam Waterpark and features stunning Moroccan-inspired decor.
The rooms in this resort are spacious, and they have an amazing swimming pool that is perfect for your kids to enjoy.
Moreover, if they're itching to explore Penang's newest water-themed amusement park, it's just a stone's throw away!
In short, if budget is not a constraint, this is one of the best new hotels in Penang for children since its launch year.
There you have it, the top hotels for kids in Penang!
These hotels are all great options for families and have awesome pools to keep your kids entertained.
If you're still unsure which one to choose, you can't go wrong with the first hotel on the list — the Golden Sands.
With fantastic location, great facilities and a family-friendly atmosphere, your kids will beg you to return to the resort every single year.