Are you looking for a hotel in Langkawi that's near the beach?
Look no further!
Here's the best beachfront resorts and hotels in the island for your upcoming vacation.
Best Langkawi Hotels Near Beach Area
Near Pantai Cenang
Pantai Cenang beach area is teeming with plenty of dining options, shops, and vibrant nightlife. And here are the best hotels and resorts near the Cenang beach area.
Pelangi Beach Resort
This beachfront resort in Pantai Cenang, Langkawi showcases a Malay-inspired design.
The rooms are spacious, surrounded by lush greenery.
During the day, you can easily visit attractions like Underwater World and Laman Padi.
And in the evenings, you can take a leisurely stroll along the vibrant Cenang area.
But if you prefer some alone time, you can swim in the resort's large pool or take a dip in the inviting white sandy beach.
In short, the Meritus Pelangi is the perfect choice for a great resort near the Pantai Cenang, Langkawi — whether you're planning a romantic honeymoon or a memorable gateway with your family.
Casa Del Mar
This Spanish-style beachfront resort in Pantai Cenang may be small in size, but is often hailed as the best hotel in all of Malaysia.
Ideal for honeymooners, you'll be treated like royalty from the moment you arrive, with personalised service beyond most hotels in the country.
And if you're looking for a romantic picnic for two, they also have a secluded castaway island picnic trip for an unforgettable experience.
For us, when it comes to a romantic hotel near Pantai Cenang, this hotel is truly unbeatable.
Near Pantai Tengah
The resorts and hotels near Pantai Tengah offer a quieter beach experience, away from the crowds, yet still close enough to Cenang for dining and evening relaxation.
Dash Resort
This resort is perfect for young people.
Not only does it have a private beach, but it also boasts a large pool that's great for swimming or striking poses for your IG.
Some rooms even have a jacuzzi, and the funky decor adds to the vibrant atmosphere.
Every evening, there's a live DJ at this resort, creating a party-like atmosphere — perfect for music lovers.
However, if you're with family or prefer a quieter retreat, you may want to consider other hotels on our list.
Holiday Villa Resort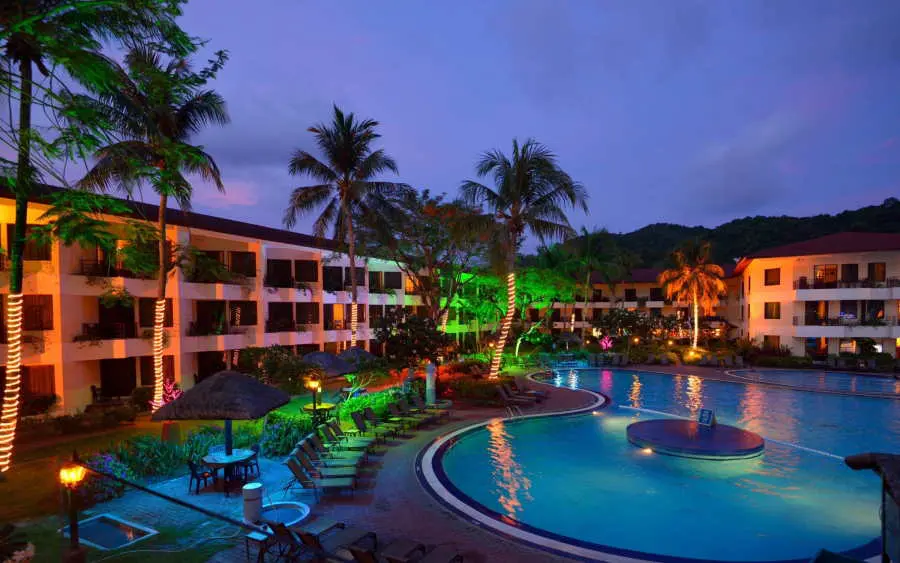 At the Holiday Villa Langkawi resort, you'll find a spacious infinity pool overlooking the white sandy beach and the Melaka Straits.
The rooms are a bit dated but spacious, and your accommodation comes with a balcony for you and your hubby to relax in the evening.
For families seeking an affordable beachfront hotel in Langkawi, Holiday Villa Langkawi is definitely one of the accommodations worth considering.
Frangipani Langkawi
Frangipani Hotel in Pantai Tengah Langkawi is a moderately priced hotel with a modest beach area.
Although the pool is small, you'll have the beach right in front of you to enjoy a refreshing swim whenever you like.
The facilities here are limited, but the rooms are all equpped with balconies — perfect for that evening tea or morning coffee.
And if you love listening to the waves and be greeted by the morning sea breeze, you can always book the beachfront villas during your stay here.
Near Tanjung Rhu
If you're looking for a tranquil resort near to a vast white sandy beach (known as one of the most beautiful beaches in the world) this is the perfect area for you.
Four Season Langkawi
This Langkawi resort offers a stunning mile-long private beach area located in the Tanjung Rhu Beach.
If that's not enough, the Morroccan and Eastern inspired decor will pamper you in luxury.
Since it is 48 acre large, the resort offers ample space for honeymoon getaways or family retreats, with rooms among the largest in their class.
Behind your villa, you'll discover majestic prehistoric limestone cliffs, while in front of your veranda stretches a pristine white sandy beach, offering awe-inspiring views.
While this is one of the most expensive hotels in Malaysia, the level of luxury you experience is well worth every penny spent.
Tanjung Rhu Resort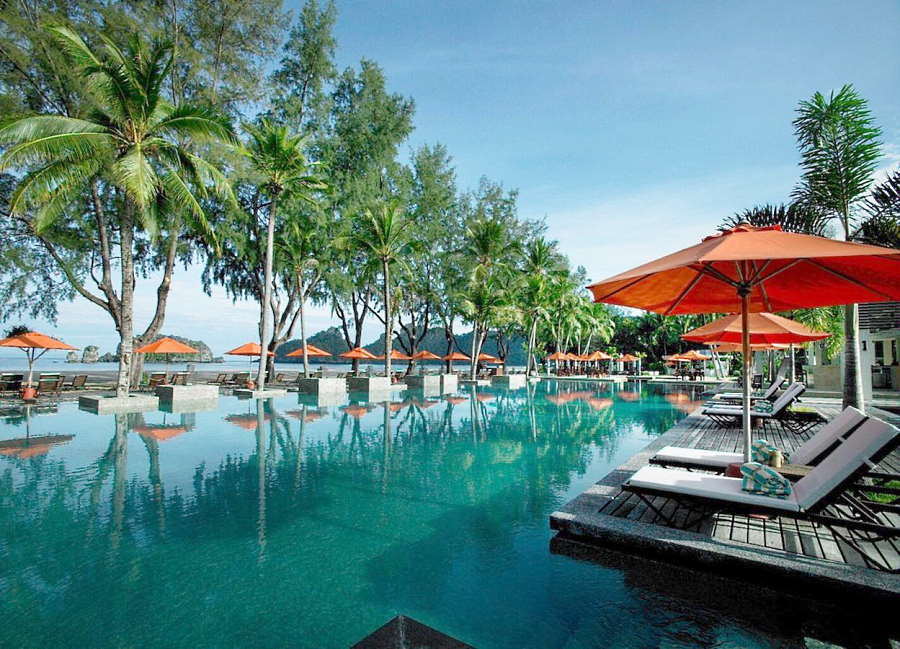 With its sprawling private beach stretching 2.5 km, this beachfront resort in Langkawi is perfect for those seeking stunning sunset views.
The resort boasts 3 swimming pools, 5 restaurants, and a spa, ensuring that all your vacation needs are met without having to leave the premises.
If you wish to explore the surrounding area, Kilim Geoforest is just a few minutes away, and for a glimpse of a world-class collection of gifts and souvenirs, Galeria Perdana is also nearby.
Near Teluk Datai
Here are the best hotels in Langkawi with private beach area — perfect for beach lovers seeking a relaxing getaway by the sea.
The Andaman
The Andaman is perfect for nature enthusiasts who enjoy the sound of birds and waves.
This luxurious hotel is also famous for its 3 km private beach where you can relax and unwind.
In addition to water activities, you can also explore the surrounding rainforest with a guide or participate in coral conservation at the on-site center.
Families will find the Young Explorer's Club perfect for their children, while mothers can enjoy the C Hair Saloon and V Spa.
Fathers, on the other hand, can indulge in a round of golf at the nearby ELF Club.
The Datai
This award winning resort is one of the most luxurious place to stay in Teluk Datai.
It is secluded and nestled within a 400-million-year-old virgin rainforest.
And if you're lucky, you may even encounter dolphins while swimming at the private beach.
The rooms are spacious, the restaurants offer international cuisine, and the resort's ambiance surpasses its stunning pictures.
In short, if you love both the jungle and the beach, and budget is not a concern, this beachfront resort is a must-visit accommodation in Malaysia.
Near Pantai Kok
This is a beach area in Langkawi that offers a view of private yachts and is located near the Langkawi Cable Car.
The Danna
This luxurious hotel features a colonial-style design.
The highlight of the hotel is its three-tiered swimming pool, which is also the largest on the island.
Each room here comes with a bathtub and a balcony.
The beachfront offers stunning views of two small islands and private yachts, creating an atmosphere that makes you feel like you're on vacation abroad.
The main attractions of Langkawi, such as the cable car, are just a 10-minute drive away from the hotel.
Berjaya Resort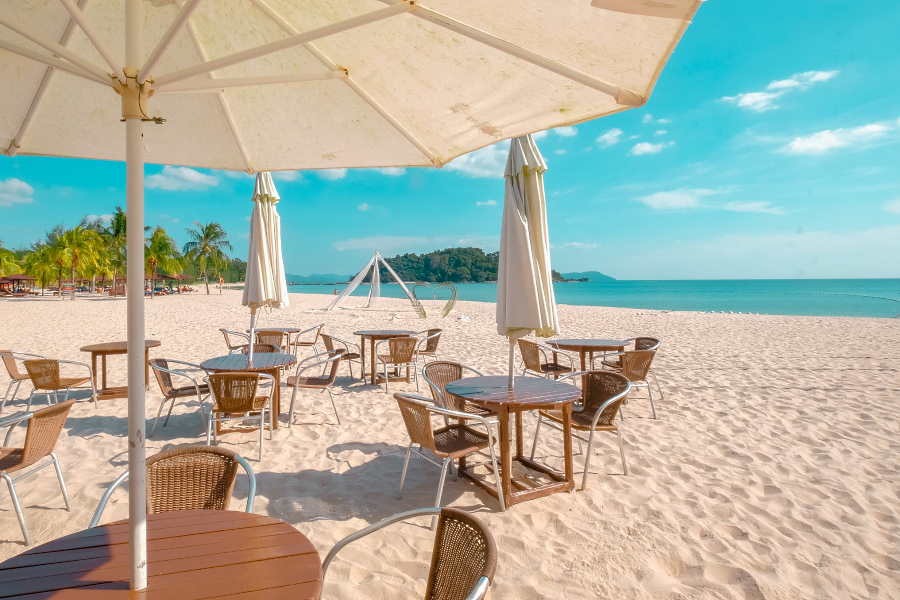 If you enjoy the sound of waves, this is one of the beachfront hotels in Langkawi that offers over-water villas for your future vacation.
The room decor may be simple, but they are spacious and comfortable.
Planning a honeymoon? Opt for the over-water chalet to indulge in the jacuzzi while enjoying the breathtaking sunset views.
The hotel's private beach is located adjacent to a large pool, making it perfect for family holidays or a romantic getaway with your spouse.
Ritz Carlton
The luxurious Ritz Carlton Langkawi is surrounded by a forest inhabited by lemurs and hornbills, creating a serene atmosphere for a relaxing vacation.
With its unique Malay-Siam design, the resort offers 90 spacious suites and 29 villas with private pools.
Whether you choose a room with a forest or ocean view, you'll enjoy the comfort of the well-appointed accommodations.
The resort features an infinity pool, a spa on a floating platform, and comfortable beds that are often praised.
While the hotel's private beach is beautiful, it may not be as expansive as other beachfront resorts in Langkawi on this list.
Pantai Rebak
For those wanting not only a private beach in Langkawi, but also a private island, this is the answer.
Rebak Island Resort
Ever dreamed of staying on your own private island during a vacation?
Well, look no further! This resort in Langkawi is the perfect choice for your getaway.
From Langkawi, you will take a boat ride from Cenang to reach this secluded paradise.
Once there, you'll be greeted by a serene atmosphere, perfect for a peaceful getaway.
The spacious rooms, romantic ambiance, and expansive beaches make it an ideal choice for honeymooners or those celebrating anniversaries.
And that wraps up our list of the top hotels in Langkawi near the beach!
Whether you're on a tight budget or looking for a luxurious experience, there's something for everyone.
So, which one would you go for?