Adventure Cove Singapore Ticket Price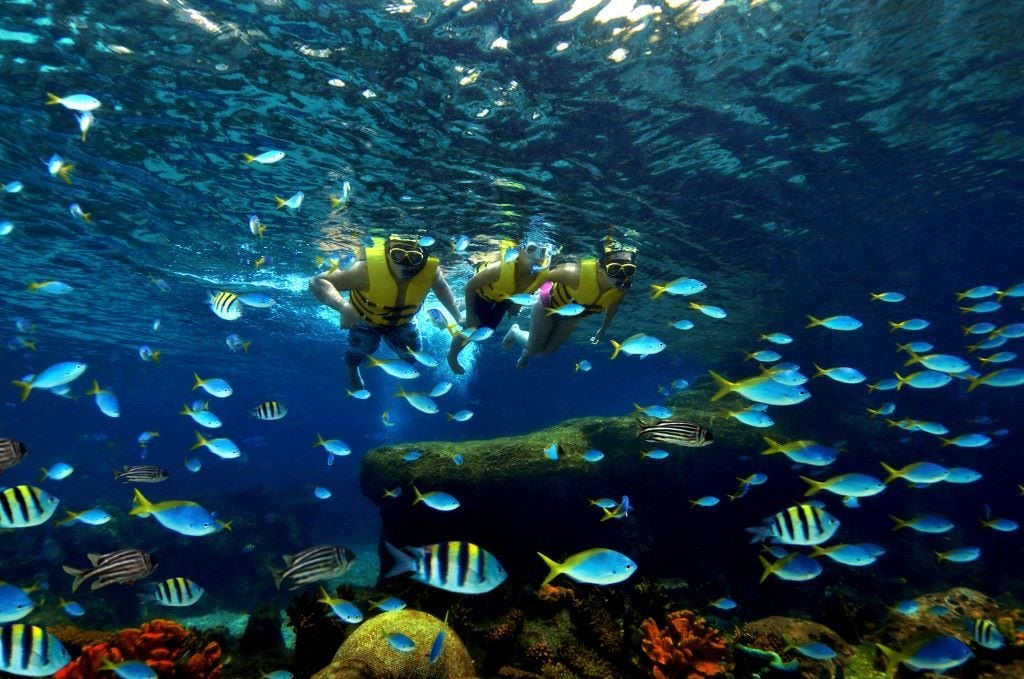 Embark on a bullet-speed water slides, drift leisurely on the lazy river or challenge your friends on the Dueling racer.
Escape the summer heat in the Adventure Cove's cabana and watch your kids enjoy the waves in the kid friendly wave pool.
Cool off with giant buckets of water at the Big Bucket Treehouse.
Snorkel with 20,000 tropical fish at the man made Rainbow Reef.
Optionally, wade amongst rays and even come face-to-face with sharks in Singapore with the Shark Dive (extra fee).
Want to splash in a waterpark – but cheaper? Try the Wild Wet World instead.
Have a question about this Singapore water theme park? Check the FAQ below.
What is the Adventure Cove's Dress Code?
The dress code is as follows (credit: rwsentosablog) :
Should I buy the tickets in advanced or at the counter?
You are advised to buy in advanced online to skip the queue and to enjoy your discount. If you buy on your entry day at the counter, take note that tickets are subject to availability (as the number of water park visitors are limited to a certain numbers daily).
Can I bring outside food to the Adventure Cove?
No, except for baby foods.
Is there any halal restaurant here?
No. There are only halal certified food carts in this waterpark, but there's no halal restaurants within Adventure Cove Singapore.
Yes, but only at designated areas.
Is the parking here free?
Yes, but only at designated areas.
Is the parking here free?
No. The parking charge starts from SGD 7 for the first hour and SG1 for each subsequent hours (accurate until March 2019).

You may check the updated parking fee here.
Do they provide towels here?
No. Like most water parks in the world, you need to bring your own towel.
Can I exit and re-enter the Adventure Cove on the same day with the same ticket?
Yes. Just get a hand stamp at the exit.
Can I swim with the dolphins here?
Yes, you may do so at the Dolphin Island but with additional fee.
Will the park still be opened if it rains?
Yes. But certain rides may be closed temporary for safety reasons. If there's lightning or severe weather, all outdoor attractions may be closed temporarily.
Do I need to know how to swim to snorkel in the Adventure Cove?
No. Although it is beneficial, you do not need to be a swimmer to enjoy snorkeling in the Adventure Cove.
From Singapore City Center