Description
Thailand Floating + Train Markets Day from Bangkok Tour Price
* Tour is only on Sat, Sun
Enjoy a new way of shopping — cruising on a boat in Saduak floating market, in hunt for souvenirs, food and fruits.
See for yourself how the Maeklong wet market briefly closes as a train runs through it.
Witness fireflies dancing at night from your boat ride down the river at Amphawa floating market.
Alternatively, you can also join the Damnoen Saduak or Amphawa floating markets tour without the other markets, if your time is limited.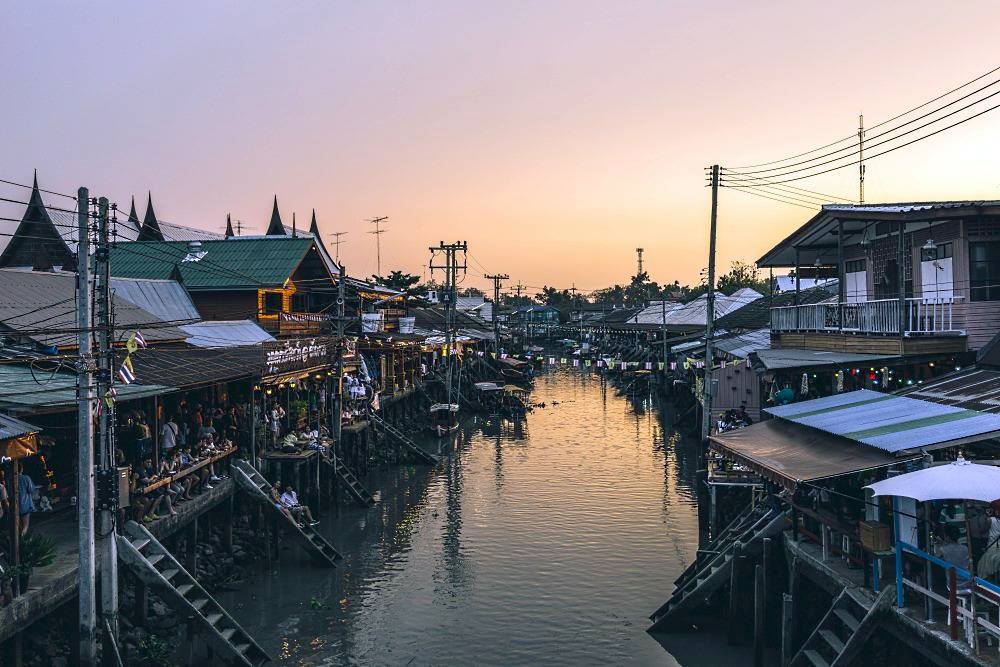 The Maeklong Railway Market
The Maeklong Railway market is 60km away from Bangkok.
This is a Thai wet market that is built atop the railway line.
The Maeklong Market was built 1905, and the railway line comes later, but despite the train going through the market, the sellers have adopted it as another vehicle passing through rather than relocating the market.
It is also called the Talat Rom Hoop or umbrella pull down market ( this is the action done by the sellers when a train cuts through the market).
The busy water market of Amphawa in Thailand is one of the most famous floating market in the country, at par with the morning market of Damnoen Saduak.
Located 90 km away from Bangkok ( 1 hour 30 minutes drive).
Although it is opened in the afternoon : from 1 pm – 11 pm, many comes early to avoid the 1 p.m crowd.
The market is only opened on Friday and during the weekend/ public holidays.
Seafood & Thai desserts is the main reason why Thais visit the Amphawa floating market.
Damnoen Saduak Floating Market
The Damnoen Saduak Floating Market, 95 km away from Bangkok is one of the oldest and iconic floating market in Thailand.
It is considered the most important floating market in Bangkok, although it is often criticized for losing its authenticity as it is catering more towards the overseas rather than the local market.
The 32-kilometre long Damnoen Saduak Canal was constructed in in 1868 to connect the Mae Klong and Tha Chin rivers.
The market is busiest in the morning, and is open until noon.
The floating market actually comprises of three smaller markets – Ton Khem, Hia Kui, and Khun Phitak,
Damnoen Saduak is especially noted for its fresh fruits from surrounding orchards.