Looking for the absolute best hotel in Penang to celebrate your honeymoon or anniversary?
Here's the most romantic hotels in the area, just for you.
So, let's dive in together and explore these delightful options.
Most Romantic Luxurious Hotels for Honeymoon in Penang
In Georgetown
Here's a list of romantic honeymoon hotels in Georgetown, Penang that are absolutely amazing. With nearby dining options, easy access to attractions, and exceptional hotels, your vacation will be memorable beyond words.
The Prestige
If you're looking for a modern, luxurious, and unique hotel that stands out from the rest, The Prestige is the perfect choice.
Every inch of the room is adorned in white and rose gold, creating a romantic ambiance that will captivate you.
The glass-walled bathroom adds a touch of playfulness to your stay.
Plus, having a coffee machine in the room will provide you with an extra boost of energy whenever you need it.
For a visual treat, the infinity swimming pool offers breathtaking views of the sea and sunset.
And when it comes to capturing stunning photos, the hotel provides plenty of opportunities in its picturesque surroundings.
88 Armenian
| Normal Price | RM 690 ++ |
| --- | --- |
| | Book |
The interior decor of 88 Armenian is truly surprising, especially if you judge the hotel solely based on its exterior.
Despite having only 6 rooms, each one is incredibly spacious, exuding a classy and minimalist design, complete with modern amenities controlled via an iPad on the work desk.
The bathroom is one of the most expansive you will ever experience.
The plush bed is imported from Simmons, the renowned mattress maker from America, ensuring a comfortable sleep.
The TV offers a wide range of entertainment options, including Amazon Prime, Netflix, and even Spotify.
In short, with such luxurious features, spending the day together in this setting is an absolute delight.
Jen Hotel
This hotel is perfect for those who want to indulge in a comfortable honeymoon room at an affordable price, while being close to shopping malls like Prangin, 1st Avenue, and Komtar.
Your room is moderately spacious and offers a city view.
The room decor is modern and chic, ideal for young couples.
If you want to enjoy the waves at Batu Ferringhi, no worries.
There's a free shuttle service to and from the Shangri-La Golden Sands Hotel every day.
Even though this hotel has its own pool, you can still swim in the Golden Sands pool at Batu Ferringhi as both properties are under the same company.
Note: The free shuttle service to Ferringhi has been temporarily suspended due to the Covid-19 pandemic.
The Edison
This 35 rooms boutique hotel will take you back to the nostalgic colonial British honeymoon era.
The lounge is open 24/7 in case you need complimentary food.
Earbuds are available by the bedside to keep your solitude undisturbed, and your bath experience is enhanced with Appelles toiletries from Australia.
Want to capture memories with photos?
The hotel premises offer ample opportunities to capture pictures that make it look like you're vacationing abroad.
Macalister Mansion
This is another unique heritage bungalow for your romantic honeymoon in Penang.
It has only 8 rooms, each adorned with its own unique decorations.
Not only is your bed spacious and comfortable, but you are also given a choice of 7 different types of pillows.
And every night, when you return from dinner, your room is neatly arranged, with a cake and bottled water provided.
For memorable moments, every corner of the hotel is perfect for capturing your honeymoon photos to share on Instagram.
And if you're craving some delicious Mamak cuisine, the Kapitan restaurant is just a short walk away, where you can enjoy some tasty biryani.
E & O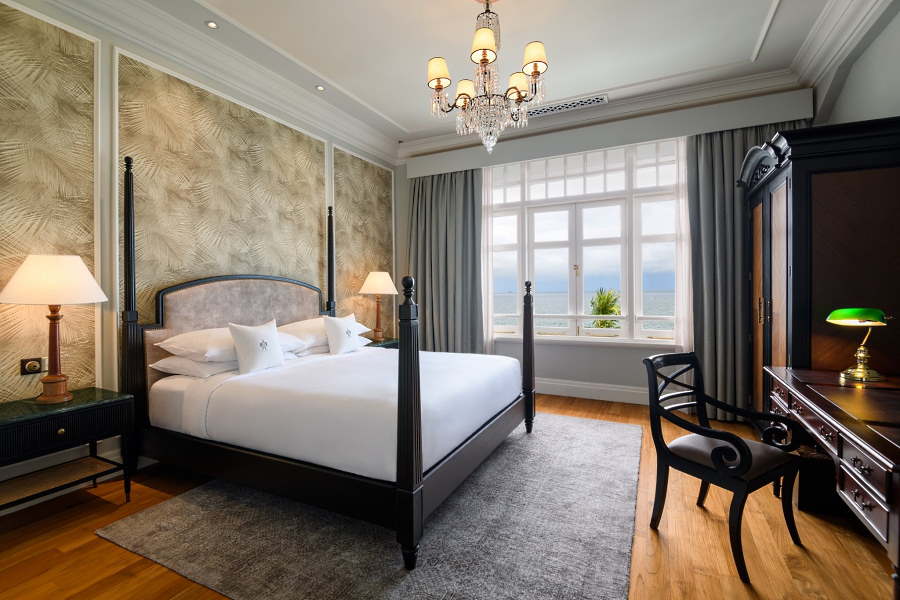 Renowned for its friendly and accommodating service, this colonial-style hotel will make you feel like a Indian Maharaja.
Each of its spacious room is equipped with a bathtub and an espresso machine, providing you with both relaxation and a daily caffeine boost.
Apart from a spa and 6 restaurants, it also provides services such as high-quality tailoring and hairstyling services for your holiday.
With such comprehensive amenities, you'll find yourself wanting to spend most of your time relaxing in your room.
Hence, even though Penang's attractions are nearby, the room itself is romantically cozy and comfortable that you may find it hard to leave.
In Batu Ferringhi
If your partner prefers a honeymoon with a seaside ambiance in Penang, not to worry. Here is a list of the best honeymon hotels in the Batu Ferringhi area for your romantic getaway.
Hard Rock Hotel
This hotel offers rooms with modern amenities, including a large TV and top-notch sound system.
You'll also have free access to the Hard Rock Cafe, where you can enjoy live band performances together.
If you're feeling musically inclined, you can even rent a guitar to showcase your skills in the comfort of your room.
The beach is just a short walk away, and the hotel boasts a spacious pool for you both to relax and enjoy.
For an extra special experience, consider booking the Lagoon Deluxe room, which offers direct access to the swimming pool from your doorstep.
Lone Pine
For a colonial ambiance during your honeymoon getaway, you may well consider the Lone Pine hotel.
The rooms here are spacious, and the upper-level rooms feature a bathtub on the balcony with a view of the surrounding sea.
It's a mini resort, and unlike the larger hotels you may have experienced before, creating a unique vibe reminiscent of an English setting.
Angsana Teluk Bahang
This newly completed hotel, finished in late 2020, offers perfect rooms for your honeymoon in a tranquil area away from the hustle and bustle of Penang town.
Each room here faces the sea — allowing you to enjoy romantic moments together while admiring the breathtaking sunset panorama.
The hotel also features an infinity swimming pool overlooking Feringghi Beach.
The beach is nearby, and if you're interested in visiting a theme park, the Escape Theme Park is just a 5-minute drive away.
Shangri la Rasa Sayang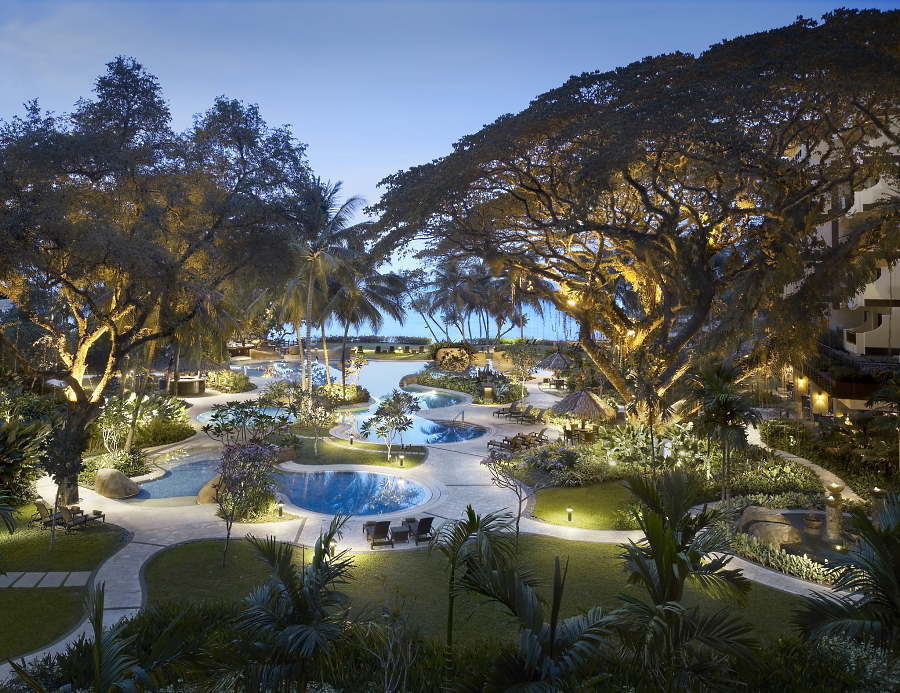 This 5-star hotel located on the shores of Batu Ferringhi is surrounded by 30 acres of lush green gardens.
Imagine having your honeymoon in a garden paradise, with the beach just steps away.
For this romantic getaway, we recommend booking a room in the Rasa Wing since each comes with a balcony and a luxurious bathtub.
The swimming pool in the Rasa Wing is also exclusively for adults, ensuring a peaceful and relaxing experience.
If you prefer dining in the comfort of your room, the hotel offers 24-hour room service.
And to pamper yourselves together, there's a spa within the hotel where you can enjoy couples' massages and treatments.
In Butterworth
For those seeking an escape from the crowded areas of the island, here's a hotel in Kepala Batas, Penang, perfect for your honeymoon.
Bertam Resort
For a room and resort with a Moroccan-style ambiance, choose this resort.
Not only do the spacious rooms exude Middle Eastern charm, but the resort itself is also newly opened in 2023.
With its 5-star status, the resort boasts a range of facilities including a spa, gym, and swimming pool.
What's even better is that it's conveniently located near Bertam Waterpark.
You can have a blast enjoying water slides with your partner.
Alright, we've completed the list of romantic honeymoon hotels in Penang if budget is not an issue.
We agree that these hotels are absolutely remarkable and choosing the best one can be difficult.
But out of all the options, have you made a decision on which hotel you would choose for your romantic getaway?