Thinking of celebrating your honeymoon, anniversary or birthday of your loved ones in Malacca?
Let us help.
Here are 13 fantastic honeymoon hotels in Malacca for lasting memories.
1825 Gallery Hotel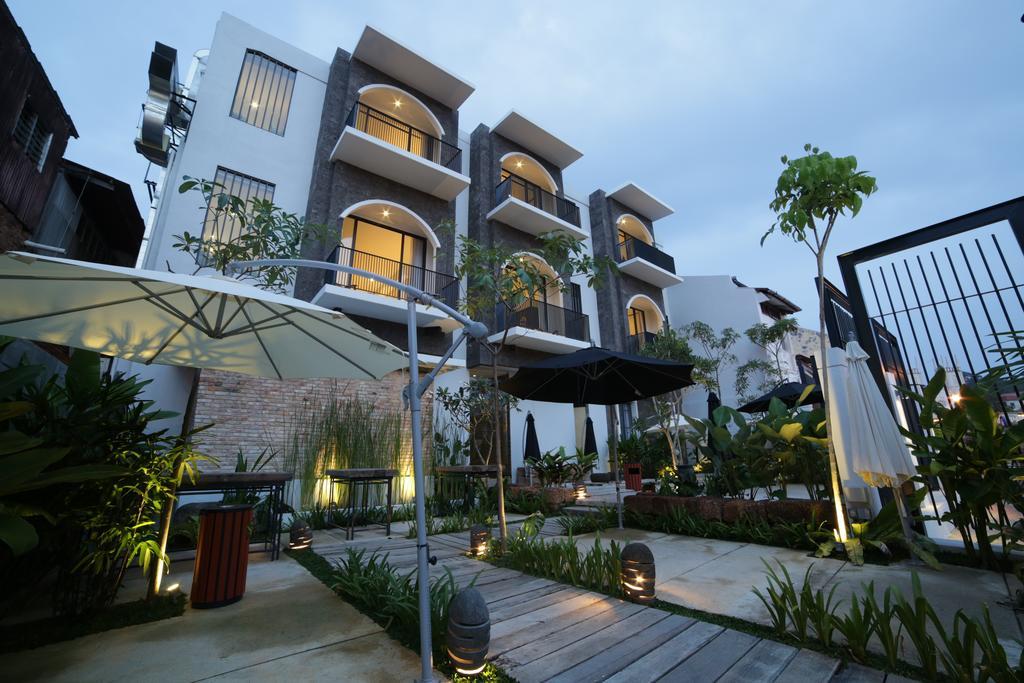 This small hotel is built by the bank of Melaka River and is surrounded by a serene, green garden.
For a romantic sunset view, you can book the River Suite room.
The suite is equipped with a verandah for you to enjoy the view of the Malacca river in the evening together.
From the hotel, Malacca town's attractions are just within your walking distance.
Stadthuys, and Mahkota Parade are just 5 minutes away.
The hotel's back area offers amazing photo opportunities that will elevate your feed to the next level.
Best of all, the price of this hotel is affordable, even for a young couple.
Ibis Melaka
The Australian hotel chain is among the hotels in Malacca that suits you if you prefer a hotel outskirt of the town area.
To get anywhere, you need to drive but unlike most Malacca hotels, the parking area here is plenty and free.
It has a large salt water pool and the room design that is modern and simple.
WIth modern facilities and gym, Ibis Malacca is ideal for honeymooners, whether you choose to just camp in your room or explore the Bandar Hilir area together.
Treasure Hotel and Suites
This boutique hotel comes with a mix of Chinese, Bali and Industrial style, making your honeymoon and anniversary in Malacca something you'll remember forever.
The location is strategic — as Kg Morten, Jonker Walk, and Sungai Melaka are just 5 minutes away.
It has a swimming pool at the hotel rooftop, breakfast in the courtyard and open air mingling areas around the hotel.
For great stays, almost every single of its rooms have a bath tub.
For those into coffee, you may opt to stay in the Premier Deluxe room.
Here, you can treat yourself to a delicious cup of espresso anytime you desire as the rooms are equipped with ARRISTO coffee makers.
Estadia Melaka
The Estadia Melaka is an affordable Peranakan boutique hotel that suits a honeymoon couple.
The rooms here are relatively small, but they are decorated with class and equipped with comfortable beds and facilities.
Melaka's town attractions, malls and 7 Eleven are just within walking distance.
And if you want to explore the Jonker Walk area, free shuttles are available.
In short, this is the kind of hotel where you can park your car in its free parking lot and explore the town area together without the hassle of driving.
Casa Del Rio
If money is not an issue, this is an amazing romantic hotel in Melaka for you.
Built by the bank of Malacca river, its captivating Spanish vibe will transport you into a world of romance during your honeymoon together.
Your room is spacious and faces the river.
And with Malacca's top attractions within walking distance, you'll find everything you need within 100 meters.
In short, the Casa Del Rio has the ultimate convenience and comfort for your honeymoon here.
Ames Melaka
This new hotel is in the Ayer Keroh area, ideal for you who are in your honeymoon and prefer a place away from the traffic jam and the congested alleys of Malacca.
The rooms are new, modern and hip, as does the swimming pool and the rest of the hotel areas.
If your honeymoon break is short and all you need is a comfortable room during your holiday in Melaka, you don't have to look further than Ames Malacca.
Rosa Melaka
For a young honeymoon couple who wants the vibe of holidaying in the USA but budget is tight and could only afford a trip to Malacca, try the Rosa.
With rooms decorated in the industrial and hipster style, your room will make you feel as if you are holidaying overseas.
The hotel is also perfect if you both are into IG and want a lot of pictures for memories as the hotel area offers plenty of photo opportunities.
The location is a bit off the town area.
The area is serene but you will need a car or Grab to explore the rest of the city.
Hatten Place
The Hatten Place is a special hotel for it has an infinity pool with the view of the Malacca Straits and a Skydeck at level 44 of the hotel.
So, not only is it easy to swim and enjoy the view of the city during the day but you could enjoy a romantic dinner at Skydeck without leaving the hotel area.
The rooms in Hatten are modern and comfortable.
With a sauna, gym and Element mall below your hotel, Hatten is easily one of the best, complete and best honeymoon hotels in Malacca.
Attractions such as the Stadthuys or Jonker Walk are also only 5ckm away from the hotel.
The Majestic Malacca
With a mix of Peranakan and colonial, this luxurious hotel is reserved for those who can spend during their holiday.
Your room comes with a bathtub, antique decor and 5 star bed that will make even the fussiest honeymooners feel at bliss.
The hotel area is also filled with a touch of traditional Malaccan and English luxury that will bring you back to the 50s.
For those looking for a hotel for honeymoon that is head and shoulder above the rest in Malacca, the Majestic is the answer.
Moty Hotel
With a large room equipped with bathtubs and built at the heart of the Malacca town, the Moty is one of the best hotels for young honeymoon couples under limited budget.
The swimming pool is small but is built indoor.
That means you can swim anytime of the day, rain or shine. 
Malacca's attractions such as Stadthuys or malls like the Mahkota Parade are just 6 minutes walking distance away.
In short, this is one of the best honeymoon hotels in Malacca for you if you are looking for a good, comfortable honey in the Bandar Hilir area at a rate that is friendly to your pocket.
Timez Hotel
If you're looking to experience a boutique hotel right in the heart of Jonker Walk, this is the perfect place for you.
What makes it special is that each room has a unique theme, so you can come back for anniversaries and enjoy a different experience every time.
And the best part? Every room is equipped with a coffee machine, so you can indulge in your daily dose of caffeine.
When it comes to exploring Jonker Walk night market or visiting Mamee House, it's super convenient.
Just keep in mind that parking can be a bit challenging, so it's something worth considering before making your reservation.
Liu Men
If you don't mind splurging a bit, this hotel in Jonker Walk is perfect for you.
It exudes a Nyonya-style charm and offers spacious, luxurious yet minimalist decor.
Simply perfect for a memorable, romantic stay in Malacca.
And since it is in the Jonker Walk, you can indulge in the night market experience to your heart's content.
The Nines
Let's wrap up this list with the last minimalist hotel, The Nines.
It's perfect for young people with its trendy Scandinavian-inspired design.
During off-peak seasons, you can snag a room for around RM 100 only.
Plus, it's conveniently located near popular dining spots in the city of Melaka.
Just keep in mind that having a car is still necessary to explore the area.
Alright, folks, that's our list of the best hotels for your honeymoon in Melaka.
While some may be higher in price, there are also affordable options available that cater to Malaysians seeking a memorable getaway.
So, which honeymoon hotel in Melaka do you prefer?