If you plan to go for a holiday in Melaka alone, or as a couple, there are actually many budget hotels in the Melaka that are good and comfortable.
Here we have gathered the affordable stays for you if you plan to enjoy the historical city and save while doing it.
All the hotels that we suggested here are in the town area (Bandar Hilir). We believe since budget is important, you need to be near the city so that the savings is real.
Okay, let us see the top 10 comfortable budget hotels you can get in Melaka for under RM 100.
1. EcoTree Hotel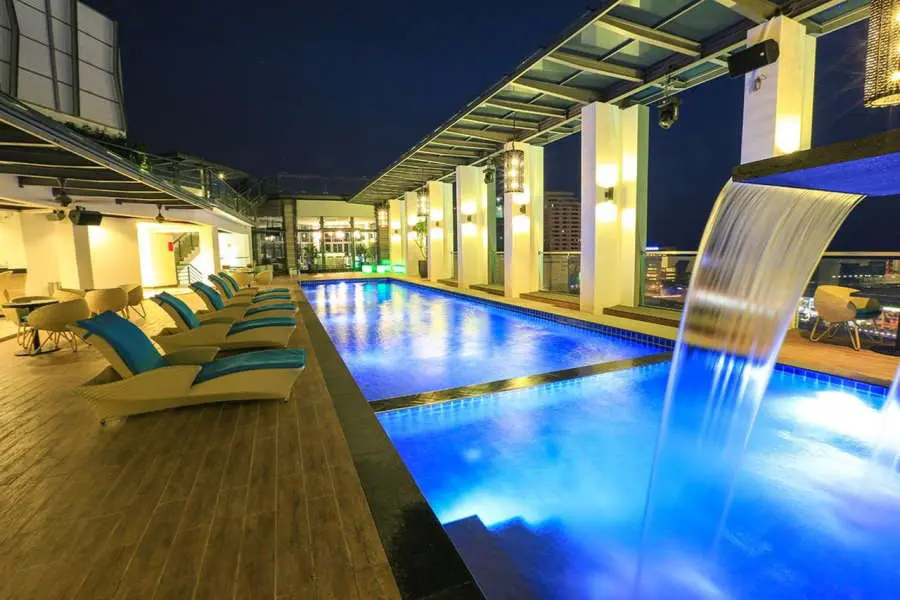 If you are here with your family members, or plan to honeymoon in Melaka, and you want a good stay with pools and room with wall to wall carpet, consider the EcoTree.
The rooms here are not only large, but you could relax in the pool or exercise at the gym.
Parking is not a problem. There's a huge car park by the side of the hotel.
This hotel is near to Malacca's attractions. Should you just want to go to the Mahkota Parade for shopping, it will just be a short 5 minutes drive away.
Price : RM 89++
2. Muk by Victoria Home
The Muk by Victoria Home in Melaka is built in a heritage building but is infused with some modern, minimalist elements. As a result, your rooms are large, sparkling clean, but simple.
Despite the rooms being under RM 100 a night, the bed quality is at par with a 3 star hotel. And Muk is suitable not only for a solo or couple, but also for families.
To get around,or do some sightseeing in Melaka is easy. You just need a 10 minute drive to get to most of the attractions in the city area. Parking here is also free, though limited.
For the price and comfort level, this is indeed one of the best budget accommodations that we recommend for those coming to Malacca.
Price : RM 85++
3. 906 Premier Hotel
This 906 Premier hotel is among the rare cheap hotels in Melaka that has a swimming pool.
The room is not large but adequate enough if you plan to take a break in Melaka with you little ones and a pool is something your kid needs.
To get anywhere, you'll need a car. But most attractions in Melaka are no further than 8km. And the other good thing is parking here is free.
Rooms, like most budget accommodations in Melaka that we list here, are simple and comfortable.
For a room under RM 100 with pool, the 906 Premier is one good option.
Price : RM 79++
4. The Explorer Hotel
The hotel built in the heart of the city (Bandar Hilir) is decorated sparsely. But the location is perfect because it is built right opposite the Dataran Pahlawan shopping area. Shopping any time of the day will not be a problem.
Parking your car here is free. Exploring Melaka is easy as you're right smack in the center of the action. You can opt to walk or hail a Grabcar for a short distance excursion.
To dine is easy. Fast food eateries like the McDonalds and Texas Chicken are within walking distance away.
In short, this is one of the best budget hotels within the Bandar Hilir Melaka for those who do not wish to drive during their vacation.
Price : RM 89++
5. JW Boutique
This hotel comes with a clean Scandinavian theme, and perfect for those who want a hotel not in the city, but nearby the Bandar Hilir area.
The rooms here are not only comfortable but also large for under RM100. Free parking is also plenty,
Nearby your hotel is the Aeon Mall. And to go for a boat cruise ride on the Melaka Boat Cruise, the jetty at the Taman Rempah is only 10 minutes away by car.
Unfortunately JW Boutique lacks a lift. While it is not a problem for the young, think twice before booking if you plan to come with your elderlies or those with disabilities.
Price : RM 79++
6. Fenix Inn Melaka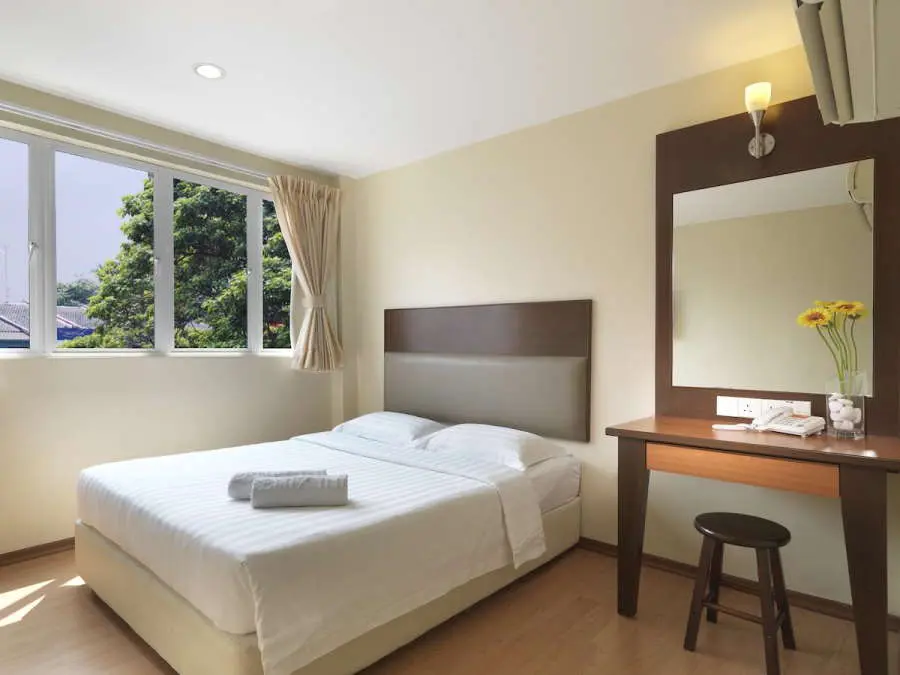 Any list of the best budget hotels in Malacca will not be complete without the Fenix Inn. This affordable hotel in the Bandar Hilir area has long been synonymous with giving you the best bang for your buck for under RM100.
The reason is simple. The rooms are clean and comfortable. And shopping areas like the Mahkota Parade and the Dataran Pahlawan Megamall are just within a short stroll away.
The only complaint for us is the lack of lift. Book it if you are young, but consider other alternatives on this page if you are here with your aging mom.
Price : RM 89++
7. Mercury Boutique Hotel
The rooms in this hotel are large — suitable for a small family on a budget holiday. The room decoration might feel a little glamorous or quirky for some, but interestingly all the electrical switches in this hotel are modern and uses touch screen panels.
But those are not the main advantages of this hotel. The strength of the hotel is the location. It is in Bandar Hilir, which is at the heart of the Melaka city. Sightseeing from here is a breeze.
Dataran Pahlawan, Stadthuys and other attractions are within walking distance. But if heat is a deterrence, you should be able to get anywhere cheaply via Grab.
Price : RM 95++
8. Hotel Arissa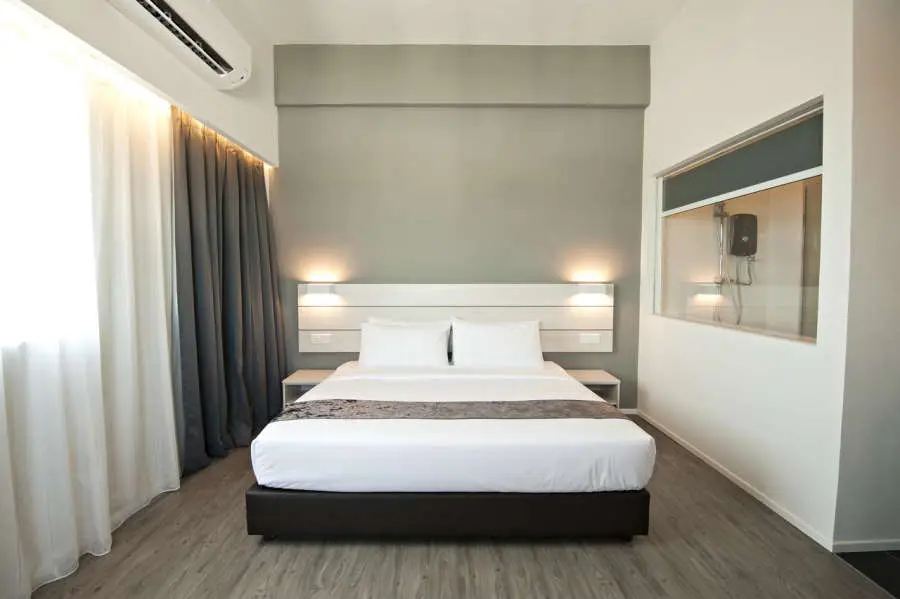 The Hotel Arissa is for those who are looking for budget accommodations in Melaka that is outside the busy and jam packed town area.
The hotel is decorated in minimalist and modern air. Your room, surprisingly, comes with a free breakfast and also a mini bar — not something we would expect from an under RM 100 hotel in Melaka.
Here, comfort and safety are one of their priorities. You can park your car in the hotel area and for security, the lifts use your keycard for access.
To see most of the attractions in the heart of Melaka, you just need to drive for around 10 minutes.
Price : RM 95++
9. M2 Boutique Hotel
This relatively new hotel is decorated with IKEA furniture. So you are guaranteed of a clean, comfortable and simple room to stay in.
To explore Melaka is only 10 minutes drive.
But there are 2 weaknesses of this hotel. Firstly, you have to park by the roadside. And secondly it lacks a lift. Definitely something to consider if you plan to stay here for vacation in Melaka with them.
Price : RM 115++
10. The Rucksack Caratel
This is a backpacker concept accommodation that is not only cheap but also comes with a swimming pool. And on top of that, the hotel is also instagrammable worthy.
This hipster hotel has a green surrounding, and your room is relatively large for the price. The deco of your room is also fun and trendy.
Because it is in Jonker Walk, browsing antiques or window shopping around the area is a breeze. The A Famosa is also within walking distance and the night market or the heritage mosques are just minutes away from your stay,
Unfortunately because it is in the Jonker Walk, the hotel only has 7 parking spaces. You may need to leave your car by the narrow road if it is full.
Price : RM 99++
Okay, so there you go. These are the top 10 best budget accommodations in Melaka city that you can pick during your holiday here. Most can be had for under RM 100, and are comfortable not only for solo travellers but families too.
Have you stayed in any of these hotels, or plan to do so? Which one is your pick?