Make your honeymoon in Langkawi truly unforgettable.
Here's our guide to the top 10 honeymoon hotels on the island.
From their indoor jacuzzis to private beach areas, these hotels will offer the perfect setting for your romantic getaway.
The Datai
Nestled amidst Southeast Asia's oldest virgin forests, this exquisite resort boasts a private beach area overlooking the Andaman Sea.
There is a bathtub in every room. And for those wanting more luxury and intimacy, there are villas with a private pool just for you and your loved one.
The 4 restaurants here are enough for everyone's taste buds.
From Malay to European cuisines right to seafood galore and Thai, every single restaurant is known for their tantalizing food and luxurious vibe.
Honeymooners can't stop raving about The Datai, claiming it's the one resort you must experience at least once in your lifetime.
In short, it is one of the default choices for a romantic honeymoon in Langkawi.
Tanjung Rhu Resort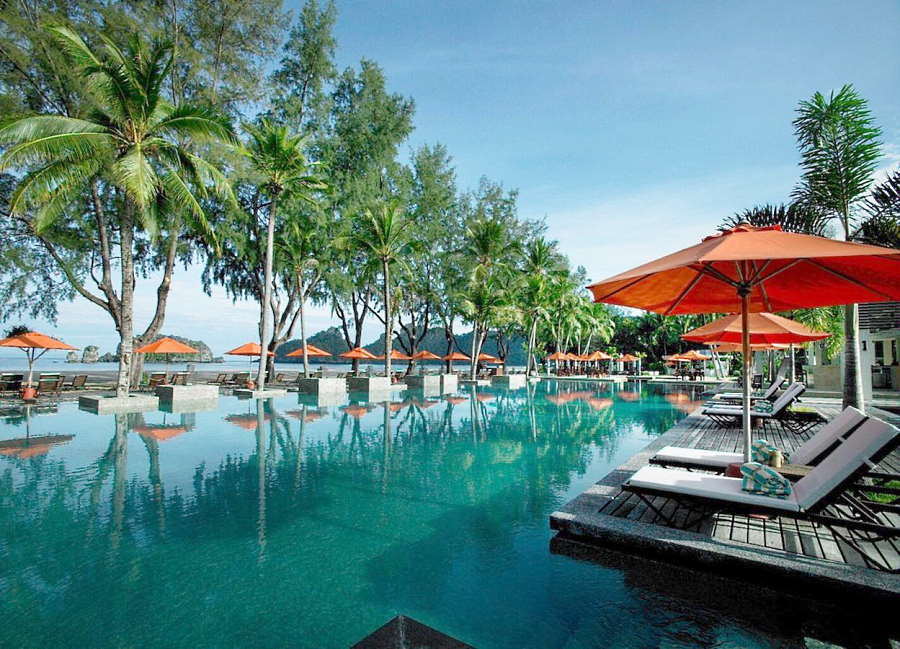 This is one of the most affordable honeymoon hotels in Langkawi in our list.
But don't let the price fool you.
Tucked away in the secluded Tanjung Rhu area, it boasts one of the best beaches in all of Langkawi.
Your rooms are decorated in a traditional royal Malay style — with rooms built on stilts and of timber.
Adding to the comfort of this 5 star resort is a sense of tranquility — from the garden view from your balcony right to the uninhabited beach area.
This resort offers you romantic, breathtaking scenery for your first holiday as married couples.
If all you want to do is enjoy your time together, this is one resort you should consider.
Meritus Pelangi
If you and your spouse are not a fan of a secluded resort during your honeymoon, the Meritus Pelangi in the Cenang beach area is one of our recommended hotels.
The resort with traditional Malay palace architecture has over 300 rooms, perfect for you couples who prefer the excitement of a bustling resort atmosphere.
In the evening you both may rest at your verandah looking at Langkawi sunsets.
And at night you may enjoy dinner in the resort's restaurants or browse the eateries around the Cenang beach area.
Attractions like the Underwater World and Laman Padi are near.
And if you happen to be here on the weekend, the night market is just a stone's throw away.
The Andaman
This is a honeymoon hotel for active nature lovers.
On top of holidaying in the resort, you can join the hotel's social activities and enjoy the interior jungle of Langkawi.
At this remarkable resort, you can get hands-on with coral care in the hotel pools or embark on exciting jungle treks with morning and dusk nature walks.
And if you simply want to relax and soak in the surroundings, your balcony offers a fantastic vantage point to spot lemurs monkeys and hornbills.
To dine, the 4 restaurants here should cater your taste buds as they offer options from Malay and Western food right to Japanese delicacies.
And if your husband is a cigar lover, the Jentayu lounge is the perfect place for him to relax with coffee and cigar, complete with the view of the sea.
To pamper yourself, you may visit the V Spa.
And if you're in the mood for a fresh new look during your honeymoon, look no further than V Salon.
Their expert hairstylists are ready to give your hair a fabulous makeover.
Westin Langkawi
The stunning Westin Langkawi resort offers honeymooners the best of both worlds.
During sunset, you can immerse yourselves in the romantic ambiance while enjoying the picturesque views.
And during the day you can indulge some duty-free shopping for an exciting getaway.
Since it is right in Kuah — Langkawi's duty free shopping area, the Westin Langkawi is not only ideal for honeymooners but also perfect for couples celebrating their anniversary with teenage kids in tow.
And if you plan to treat the family to the ultimate spa experience and emerge feeling like royalty, you'll find the Westin Heavenly Spa always ready.
Casa Del Mar
This small Casa Del Mar resort is a Mediterranean styled honeymoon destination in the Cenang beach area.
Although small in size with only 34 villas, this hotel has consistently ranked among the best in Malaysia since its inception.
What sets Casa Del Mar apart is the regal treatment you receive.
Imagine returning from breakfast to a pristine room, lounging by the pool while enjoying a delightful array of fruit juices, ice cream, and fresh fruits, and being greeted with aromatherapy oils and a personalized weather forecast as the sun sets.
Casa Del Mar can also arrange a private romantic picnic just for the two of you in a secluded island away from the rest of the crowds.
In short, for a memorable honeymoon resort in the middle of Cenang beach Langkawi, it is hard to beat what Casa Del Mar has to offer.
The Danna
The Danna is famous for its neck and shoulder massage during check in.
And the parting gift of chocolates when you check out.
Some of the rooms are also famous for their bathtubs — letting you enjoy the view of luxurious yacht berthing from your bathroom area.
If you want to swim outside, The Danna has the biggest infinity pool in the island.
But that's not all – just beyond the pool lies the Langkawi's Kok beach area.
To feast, you may enjoy fine dining at the Planters Langkawi — well known for its Malay, European and Mediterranean delicacies.
And just a quick drive of under 10 minutes will take you to the Langkawi cable car.
St Regis Langkawi
At St Regis, you'll stay like a maharajah, in a luxurious mansion surrounded by the virgin forest of Langkawi.
And the breathtaking views of sunset right from your room will adding to the enchantment of your stay.
If you come here from the airport, you will be driven in a gold Bentley, making you feel like an Arab prince or a celebrity.
To enjoy the sea, the St Regis Langkawi has a private, romantic beach area for you and your partner.
And for an amazing swim, there's the wonderful infinity pool overlooking the Andaman ocean.
When it comes to dining, there are 5 upscale restaurants in the resort, including the famous Kayu Puti for a memorable romantic dinner by the sea.
The Ritz Carlton
Tucked in a secluded virgin forest of Langkawi, Ritz Carlton has a nyonya element for newlyweds with a beach front overlooking the Adaman sea.
Here, the infinity pools are only for adults. And the spa experience is nothing short of fantastic.
You'll be pampered in a unique Malay fishtrap-inspired pavilion, overlooking the sea, where you'll enjoy your massage with the sea breeze caresses your skin.
Ritz Carlton is the place for you if you want a total luxury, Asian style.
Apart from Western food, you can still order your teh tarik and nasi lemak for breakfast. Or opt for the Chinese, Thai or Indian curry during dinner.
Exploring the island is a breeze.
Though secluded, the Langkawi cable car, mangrove tour and the night market is only 15 minutes away from this resort.
The Four Seasons Langkawi
The rooms in the Four Seasons Langkawi are simply massive for those on their honeymoon.
Built in the style of Moorish and Malay palaces, the resort overlooks the Tanjung Rhu sandy beach area, and is surrounded by virgin forest and limestone hills.
The cheaper rooms are built upstairs and each has a verandah overlooking the ocean for you to spend your time with your significant one.
If money is not an object, we suggest you the Beach Villa.
This is the perfect honeymoon beach stay as you can get a couple spa treatment, dine privately and enjoy your time in your own private pool — all without leaving your villa.
There's no need to go anywhere.
Okay, we have listed the 10 best resorts and hotels for honeymoon in Langkawi.
Some offer total luxury, others experience that you'll remember forever as your memory.
So, which Langkawi hotel would you choose for your first holiday as a married couple?