Looking for hotels near to the KLCC and Aquaria for your vacation or business trip?
Let us help!
Here are 13 hotels in Kuala Lumpur that are the closest to both attractions.
Best Hotels Near Aquaria and KLCC Towers
Within Walking Distance
The fantastic hotels are near to the Petronas Twin Towers / KLCC and Aquaria and are within walking distance to the KL icon.
Mandarin Oriental
This 5-star hotel is just a hop, skip, and a jump away from the famous mall Suria KLCC.
But wait, there's more!
This hotel has an awesome afternoon tea, a fabulous infinity pool, and a halal Chinese restaurant that's famous for its delicious food. Yum!
Plus, the hotel is located right in front of a beautiful fountain and park.
It's the perfect place to relax and take in the scenery. And if you're traveling with kids, there's a fun splash pad in the park that they're sure to love.
Oh, and did we mention that it is practically connected to the KLCC Twin Towers? Talk about convenience!
Walking Distance to KLCC: 1-2 min
Grand Hyatt Hotel
This 5-star hotel is famous for its delicious food, Barbie-themed rooms, and breathtaking views from its dining area.
In terms of luxurious rooms and excellent service, it's definitely one of the best hotels in KL.
Many of the rooms even offer a view of the iconic KLCC.
It's just a short walk to get to the KLCC Towers, but taking a Grab ride from the lobby might be more comfortable.
Walking Distance to KLCC: 10 min
Tips: The Pavillion Mall pedestrian bridge – KLCC Convention Center is just across the street.
Traders Hotel
This hotel is a go-to spot for businessmen visiting KLCC, and it happens to be the closest hotel to the Aquaria KLCC.
The rooms are modern and just the right size for a comfortable stay, and most of them come with a great view of KLCC.
And if you're headed to Suria KLCC mall, you don't even have to walk!
Just hop on the hotel's complimentary shuttle service.
Walking Distance to KLCC: 10 min
If you prefer the Malay version of this guide, you may read it here : Hotel Berdekatan Aquaria & KLCC ( 8 Darinya Boleh Jalan Kaki).
Four Seasons KLCC
This luxurious hotel is also one of the nearest hotel to the Kuala Lumpur Twin Towers.
The towers and the Suria KLCC mall is just a quick walk across the street.
One of the most talked-about features of this hotel is its breakfast buffet, which offers a wide selection of delicious options.
Some people say it's one of the best in the city!
Walking Distance to KLCC: 2 min
Impiana Hotel
This hotel is located within the KLCC area, and offers spacious rooms for its price.
From the Impiana, it's easy to walk to the KLCC or Bukit Bintang.
You can take the Pavilion-KLCC Convention Center pedestrian bridge, which is right next to the hotel.
Unfortunately, the hotel's parking is quite limited, so you might have to hunt for a spot.
Walking Distance to KLCC: 10 min
The Ascott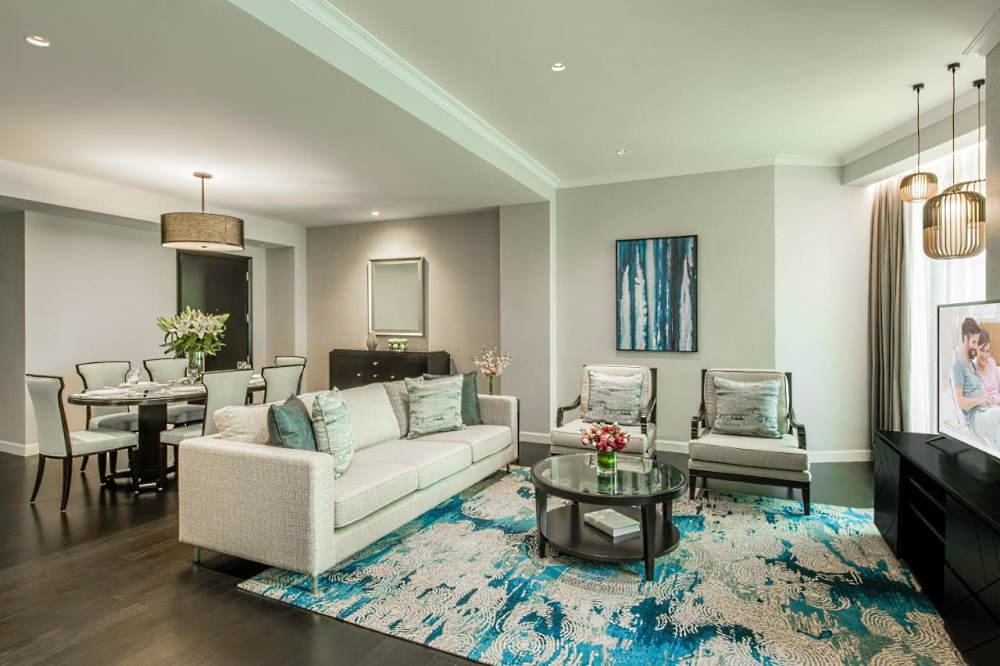 If you're traveling with your family and looking for an apartment, look no further than Ascott – the closest family apartment to the KLCC Towers.
The rooms are spacious and come with a fully equipped kitchen and a cozy living room, perfect for a comfortable family vacation.
Getting to Aquaria or Suria KLCC is a breeze, just cross the street from here and you'll be there in no time.
Walking Distance to KLCC: 7 min
De King Boutique Hotel
This is the only affordable hotel near the KLCC towers and mall area.
Its location is strategic, and its prices are reasonable for many.
Yes, the room decoration is simple, but you'll love the fact that it is right next to Avenue K mall.
Hungry? Food truck TAPAK is only 50m away.
And getting to KLCC is a easy – just cross the street and follow the main road!
Walking Distance to KLCC: 10 min
Note: This hotel has a limited parking area.
Corus Hotel KL
This 3-star hotel is located next to the De King hotel and is quite popular among Malaysians because of its affordable price.
The rooms and bathrooms are modestly sized, but the hotel has a pool for both adults and children.
It's still within walking distance to KLCC and the Suria mall, but it's a bit further than the other hotels on this list.
There's the TAPAK food truck site right next to this hotel, so you can easily grab a quick bite for dinner.
Walking Distance to KLCC: 13 min
W KL
This funky, young and fresh hotel is also within walking distance to the the KLCC Twin Tower area.
With glamorous rooms and common areas, the W KL is best for young couples looking for an instagrammable hotel on their holidays.
After a day of exploring the city, be sure to hit up the pool area at night.
The stunning view of the KLCC towers in the background is absolutely breathtaking!
Distance To KLCC: 7 min
Tips: Although it's possible to walk from the W hotel to the KLCC, we don't recommend it for families with little ones. The main road can be quite busy and it's just not worth the risk.
Around KLCC
The hotels listed below are near to the KLCC Twin Towers, but you might need a ride to get to and from the area. However, the trip shouldn't take more than 10 minutes.
Perdana KLCC Hotel
The Perdana KLCC offers studio rooms and apartments that are perfect for families or extended stays.
While the rooms may be a bit dated, they are spacious and comfortable.
In fact, their generous size is one of the reasons why the hotel is so popular among local families.
If you're a Muslim traveler, you'll be pleased to know that the As Syakirin KLCC mosque is just a 10-minute walk away.
Distance To KLCC: 900 m
Element by Westin Hotel
The Element hotel boasts rooms situated on the 39th to 53rd floors of its building, providing guests with a stunning panoramic view of Kuala Lumpur from their rooms.
Your room at this hotel is spacious and comfortable, with a decor and ambiance that is perfect for couples.
To reach the Twin Towers, you can easily book a Grab ride for a quick trip.
Alternatively, you can also take the LRT train at Ampang Park station to access the city's top attractions.
Distance To KLCC: 900 m
The RuMa
In addition to its luxurious yet understated design, The RuMa is known for its exceptional service and attention to detail.
The hotel features several dining options, including ATAS Modern Malaysian Eatery, which offers a contemporary take on traditional Malaysian cuisine.
Book this hotel if you want a luxurious, yet minimalist stay minutes away from the KLCC.
Distance To KLCC: 900 m
Intercontinental Hotel
Here's another hotel with spacious rooms that's conveniently located near the KLCC Twin Towers.
You'll be delighted by its extensive buffet breakfast options and the satisfying afternoon tea.
And if you plan to explore KL via public transport, do not worry.
The hotel is close to the Ampang Park LRT train station, making it easy to explore the city.
Distance To KLCC: 900 m
In summary, you'll find lots of fancy 4 and 5 star hotels near to the KLCC Towers and Aquaria, but if you're on a budget, De King or Corus Hotel might be right up your alley.
If you wanna be as close as possible to the action, we highly recommend the Mandarin Oriental or Four Seasons.
They are practically within shouting distance of the KLCC towers!
So, what's your pick? Ready, set, book!