Looking for a romantic honeymoon in Cameron Highlands?
Let us help.
Here are 7 of the best hotels in Cameron Highlands for your upcoming honeymoon getaway.
Top Romantic Honeymoon Hotels in Cameron Highlands
The Smokehouse Hotel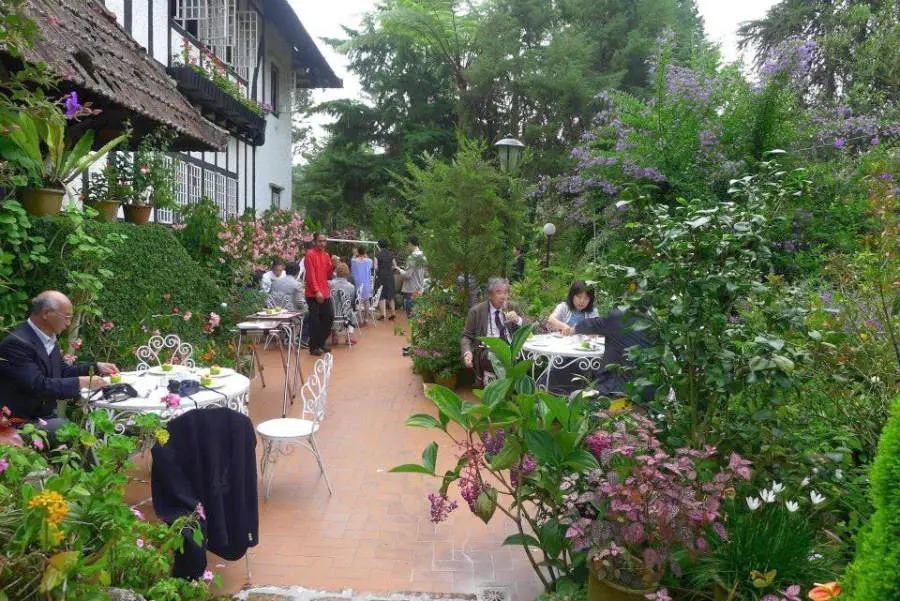 This small but luxurious boutique hotel is ideal for your honeymoon in Cameron Highlands.
It offers a tranquil escape from the bustling Brinchang area and is also near to attractions like the Golden Hill Night Market.
Your rooms here has a classic charm.
And the surrounding provides you with a romantic ambiance, transporting you both into a countryside cottage in England.
If overseas vibe is what you're looking for, this is the right hotel that will make your honeymoon in Cameron Highlands truly unforgettable.
Century Pines Resort
This is another great honeymoon hotel in Cameron Highlands.
The rooms are elegant and comfortable, providing you with a perfect setting for your romantic escape.
The peaceful ambiance of the hotel, surrounded by pine trees and with a jogging track nearby, adds to the charm.
And the best part?
The hotel's location is superb, just a short 5-minute drive from Tanah Rata, where you can find cozy cafes to enjoy a hot cup of morning coffee with your loved one.
Strawberry Park Resort
This is one of those romantic hotels perfect for a honeymoon in Cameron Highlands, tucked away from the busy main road.
The rooms here are spacious and super comfy, providing the ideal haven for couples.
And guess what? You can even chill out together on the verandah and soak in the breathtaking views.
The hotel is nestled in a tranquil setting, allowing you to relax and enjoy some quality time with your loved one.
If you're in the Brinchang area, this is definitely one of the most luxurious hotels you'll find.
The Lakehouse
If you're searching for a honeymoon hotel in Cameron Highlands that's away from the bustling town, then this is the one for you.
This hotel has a stunning British colonial style that exudes beauty and romance.
The surroundings are peaceful, with a charming English cottage-like atmosphere.
Picture yourselves sitting by the cozy fireplace, having heartfelt conversations.
During the afternoon, you can indulge in a delightful cup of tea, and at other times, enjoy quality moments together outside the hotel, capturing some memories for your Instagram feed or personal keepsakes.
Just a friendly tip: This hotel is more accessible if you take the Tapah-Cameron Road route. However, if you plan on exploring Cameron extensively, keep in mind that it might require a bit more driving to reach certain attractions.
Zenith Cameron
If you're looking for a modern romantic hotel for your honeymoon here, look no furher than the Zenith.
Set on a small hill, this 5 star hotels come with cozy, contemporary decor.
Unlike most hotels in Cameron Highlands, your rooms are equipped with a bathtub and air-conditioning, ensuring your utmost comfort throughout your stay.
Swimming pool, gym and sauna are also available should you find the time to use them.
And location wise, the Tanah Rata town is just 5 minutes away, making it a breeze to explore the area together.
Just a friendly tip: For the best view, ask for rooms on higher floors, and overlooking the Tanah Rata town area.
De la Ferns Hotel
When you're on your honeymoon at this hotel, you'll have easy access to nearby attractions because it's located right by the main road, just a few minutes away from Taman Sedia.
The rooms are cozy and comfortable, even though the decor and facilities have an old-school vibe.
And here's a bonus: the hotel's food has received halal certification from Jakim.
So, whether you want to have a romantic candlelight dinner or enjoy a peaceful afternoon tea, you can do so with complete peace of mind.
Cameron Highlands Resort
Let's wrap up this list with the best hotel for a luxurious honeymoon in Cameron Highlands.
The rooms, breakfast, and overall atmosphere of this hotel are elegantly designed to provide you with a truly indulgent experience.
From the delightful breakfast spread to the enchanting evening ambiance and the impeccable service, everything about this hotel is worthy of 5 stars.
Want an extra touch of romance?
Go ahead and book the Signature Picnic Experience.
This is where you both can enjoy a private picnic on a hill with breathtaking views of the tea valley.
So, we've covered the best and most romantic hotels in Cameron Highlands for your honeymoon.
Now, all you need to consider is your budget and which area suits you both better – Brinchang or Tanah Rata.
Out of all the amazing hotels we've mentioned, which one do your prefer?