Looking for the best hotels in Tanah Rata, Cameron Highlands for your upcoming vacation?
Let us help.
Here is a list of the best hotels in this area, whether you're traveling solo or with your family.
Best Budget Hotels
Here are the best budget hotels in Tanah Rata for under RM 150.
Gerard's Place
This budget guest house is perfect for couples or those who don't mind sharing a bathroom with other guests.
While the room size is modest, it is comfortable and some rooms even come with a verandah for relaxing together.
The are is peaceful as it is not located on a busy street.
Parking is also convenient.
However, please note that there are only 8 rooms available, so it might be challenging to secure a room without prior booking.
Tip: There is one double room available with a private bathroom.
Father's Guesthouse
This is another good budget hotels in Tanah Rata.
Your room will be in a large villa; comfortable and reasonably sized for the price.
But if you're traveling with a group of friends, you can book a dormitory room.
It features bunk beds and shared bathrooms.
For families, you can opt for the bungalow area, which offers rooms with en-suite bathrooms for added privacy.
Hillview Inn
This accommodation is within walking distance to eateries and the Cameron Fair mall.
And because it's built on a hill, you'll enjoy a peaceful escape from the busy town area.
The rooms are compact but comfortable, suitable for both families and couples.
For those traveling by bus, this budget hotel is close to the bus station in Tanah Rata (1 km).
Unfortunately, just like other accommodations in Cameron Highlands, due to its prime location, the prices can skyrockets during public holidays.
3 Stars Hotel
If you're traveling with your family and seeking a comfortable yet affordable hotel, here is a list of the best 3-star hotels in Tanah Rata.
Avillion Cameron Highlands
Avillion is a good family hotel in the Cameron Highlands.
The room here is modern and among the most spacious in Cameron.
And in terms of location, it is indeed ideal.
There are eateries, banks, and pharmacies within walking distance.
If you need to find anything, you'll be glad to know that Cameron Fair, the largest mall in Cameron, is conveniently located right in the same building.
Century Pines Resort
This Cameron Highlands resort is always fully booked due to its serene atmosphere and comfortable rooms.
The location of the hotel is also strategic.
There's a park in front of the hotel for jogging or children to play.
And because it's close to the Tanah Rata town, restaurants, Starbucks, and ATMs are all within a 5-minute drive.
If you're brave enough to take a dip in the cold water, this is one of the rare hotels in Cameron Highlands that comes with a swimming pool.
Casa Loma
The rooms at Casa Loma may be a bit old-fashioned.
But considering the price and the peaceful atmosphere away from the main road, it's one of the best hotels in the Cameron Highlands for families on a moderate budget.
The surrounding garden area is safe and secure.
And it's only a 5 to 10-minute drive from the hotel to Tanah Rata town.
If you're tired of the hustle and bustle of Cameron Highlands, Casa Loma is the perfect getaway for you.
Heritage Hotel
This is one of the most popular hotels in Tanah Rata, Cameron Highlands.
One of the reasons it is popular is because it provides excellent value for its location, situated just off the main road yet only a 5-minute drive from the town area.
The facilities and rooms may be a bit old-fashioned, but the rooms are spacious.
Most of the rooms also come with a bathtub — making it perfect for a relaxing holiday or for children to enjoy a soak.
Parking at the hotel is also easy, and you dont have to worry about parking your car around the street.
Planters Country Hotel (Bala)
If you want to experience the vibe of an overseas bungalow, here's another popular hotel in the Tanah Rata.
The room sizes are moderate, but they exude a colonial style.
It gives you the feeling of being in pre-Independence England.
Although it's popular, there's a concern that the hotel's style may not resonate with everyone's taste.
If you're in your 20s, you might find the interior a bit cringe-worthy, but if you're in your 40s or above, it could be an awesome weekend hideout that you'll want to revisit often.
Casadela Rosa
If you're traveling with your family and looking for spacious rooms by the main road, consider Casadela Rosa.
The rooms and building have a charming old-world vibe, yet they are comfortable.
Some even offer views of the golf course.
When it comes to location it's easy to get around from here as it's located by the main road.
Just keep in mind that having a car is necessary as it's situated between Brinchang and Tanah Rata.
Tip: This hotel is conveniently close to the Cameron Night Market (750m).
The Best Tanah Rata Hotels
For total comfort, here are the best hotels in Tanah Rata, Cameron Highlands.
De'la Ferns
Here's another fantastic Tudor-style hotel in Tanah Rata.
If you're traveling as a duo, you'll find that the rooms here are spacious.
The hotel is also a certified halal Jakim hotel, making it perfect for muslim travellers.
And because De la Ferns right on the main road, it's super easy to find and get to.
When you're in the mood for some strawberry indulgence, it's just a 5-minute drive to the Taman Sedia strawberry plantations area.
The Smokehouse Hotel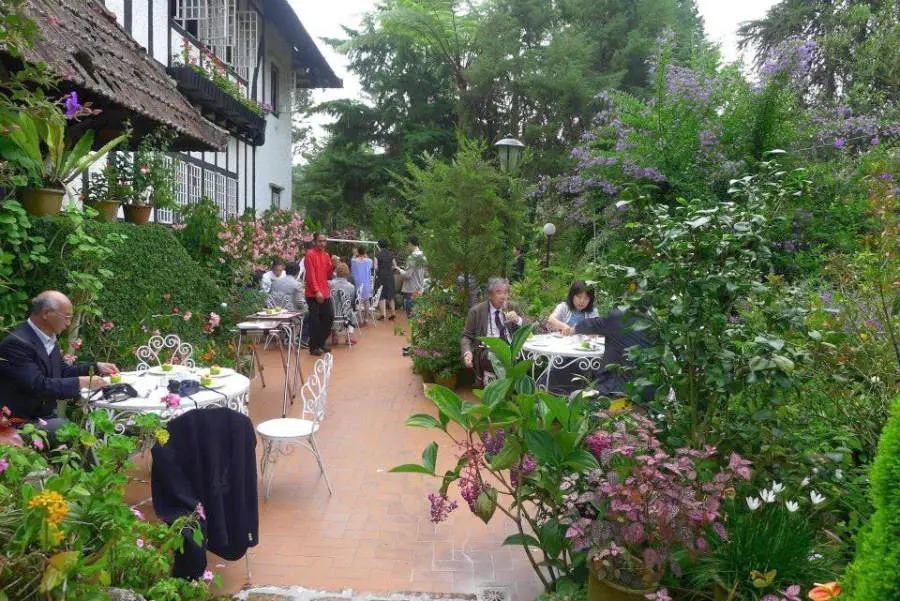 This hotel is rated as a 3-star accommodation.
However, the room rates are a bit on the higher side here because it's really popular all across Cameron Highlands.
With its classic room style and a lovely garden surrounding it, you'll wake up feeling like you're in England.
If you're on the hunt for a hotel for your honeymoon, this one should definitely make it to your shortlist.
Tip: It's also close to the Cameron Night Market (850m).
Cameron Highlands Resort
If you want to feel like an aristocratic gang chilling in England, then this is the one for you.
The decoration and service are tailored to the most refined tastes.
There are 56 luxurious and spacious rooms here, complete with a fireplace in the lounge area.
For some pampering, they have a spa. And if you're into swinging, there's an 18-hole golf course to enjoy together.
This location is also great because it's right on the main road, making it super easy to come and go whenever you want during your vacation.
Zenith Cameron Highlands (NEW)
Let's conclude our the list of the best hotels in Tanah Rata, Cameron Highlands, with this new hotel.
It's a 5-star hotel, and was just opened after the Covid-19 pandemic.
The rooms in this hotel are spacious and feature balconies, with some of them even equipped with bathtub facilities.
The bathrooms have glass walls, but don't worry, curtains are provided for privacy, especially if you're traveling with family.
If you want to enjoy the pool and gym, no problem at all.
They are available and often underutilized by guests.
And for dining, if you don't feel like eating at the hotel, Tanah Rata town is just a short drive away.
That wraps up our list of the finest hotels in Tanah Rata, Cameron Highlands.
Room prices in Cameron Highlands are generally higher compared to KL or Penang.
But for that overseas-like experience, it's worth spending a little extra during your holiday.
So, out of all these options, which Cameron Highlands hotel has won your heart?