Are you searching for the absolute best hotels in Batu Ferringhi for your upcoming vacation in Penang?
We've got a fantastic list of top-notch hotels in that area.
Let's check them out together!
Hard Rock
This is one of the absolute best hotels in Batu Ferringhi.
The pool at Hard Rock is top-notch, with an incredible 26,000 square feet area that includes slides for both kids and adults.
It's the most modern hotel in Penang too!
The flat screen is a huge 50 inches and comes with an awesome BOSE sound system, plus you get to enjoy free Blockbuster movies.
And guess what?
You can totally jump into the pool right from your room! Go for the Lagoon Deluxe room for that amazing experience.
The swimming pool is just a few steps away from your comfy bed.
Shangri La Golden Sands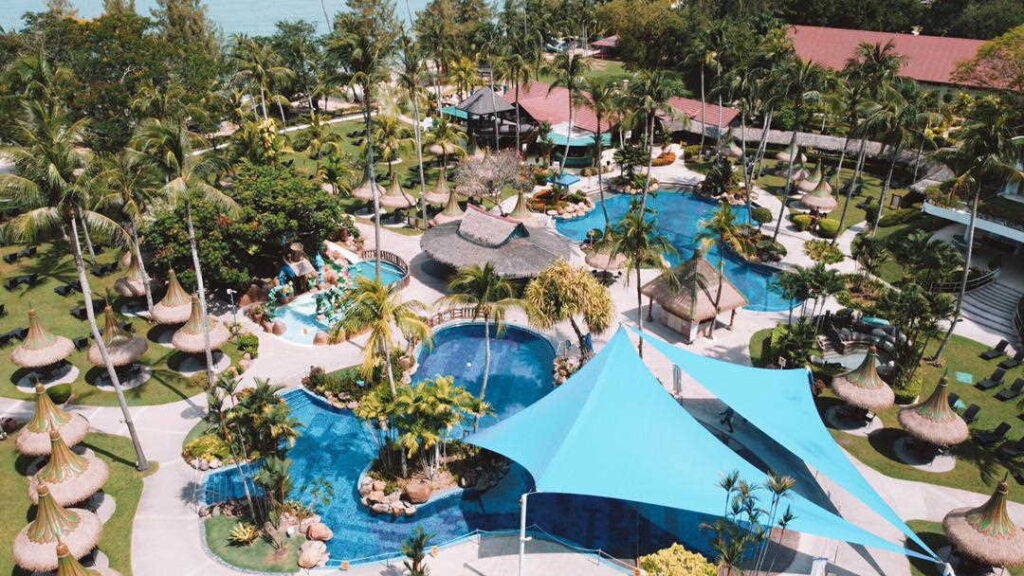 Shangri-La has 2 amazing resorts in the Batu Ferringhi area.
And the Golden Sands Resort is an absolute gem for families, especially if you have kids under 10.
This hotel not only has a fantastic Kids Club but also boasts its own themed park called Adventure Zone.
There are exciting activities for children every day, ensuring they never get bored.
These activities run from morning till night, so the fun never stops!
Shangri La Rasa Sayang
This particular Shangri-La Hotel is a fantastic resort in Batu Ferringhi, perfect for couples celebrating their anniversary or honeymoon together.
The resort area is lush green, providing a serene ambiance with tall trees and beautiful landscapes for relaxation together.
If you want to unwind and enjoy the sunset, simply head to the beach at the back.
And if you're in the mood for some shopping in Georgetown, there's a complimentary shuttle available.
Angsana Teluk Bahang
This hotel has just opened in late 2020 and boasts a 5-star rating.
It is also the closest hotel to the Escape Penang theme park (which features the world's longest water slide) and the Entopia butterfly park.
The hotel offers an infinity swimming pool with a breathtaking ocean view, as well as a beach area for your relaxation.
The best part is that all rooms face the sea, ensuring a stunning view for every guest.
There are plenty of room options available, ranging from superior rooms for couples to family suites, and even suites with a private pool for a refreshing dip anytime you like.
Lone Pine Hotel
This small hotel on the shores of Batu Feringghi is the only luxury boutique hotel in the area.
It's perfect for couples seeking a romantic and peaceful getaway.
The rooms here are spacious, complete with large balconies offering views of the garden for your enjoyment.
And when evening comes, if you feel like exploring, you can take a stroll to the nearby night market.
It's just outside the hotel.
Park Royal Penang
Park Royal Batu Feringghi is also one of the most popular hotels in the area.
Since 2018, its facilities have been upgraded, and its style has undergone a transformation.
If you want a sea view, opt for the rooms with balconies overlooking the ocean.
The pool here is spacious, and if you're traveling with young children, there's a dedicated pool area with a mini theme park just for them.
Bayview Beach Resort
This hotel next to Hard Rock is one of the family-friendly hotels located on the shores of Feringghi Beach.
The room decor may be a bit dated, but the rooms are spacious.
Each room comes with a balcony where you can enjoy the breeze while sipping your evening or nighttime drink.
For those traveling with young children, the beds are extra comfortable as they are larger than usual.
Your room also features a bathtub, so if your little ones haven't had enough of swimming in the sea or the pool, they can continue their water adventures with a relaxing soak in the room.
Double Tree Hilton
This international hotel is one of the most affordable options in the Feringghi Beach area.
It offers a range of facilities, from a pool to a Kids Club for your children's enjoyment.
However, it's important to note that the hotel is not located directly on the beach.
If you wish to swim in the sea, you can easily cross the street using the overhead bridge and head to Miami Beach.
On those lazy days when you don't feel like going out, the hotel also features a Teddy Bear museum, perfect for bringing joy to your children and spouse.
Boulder Valley
Bored with regular hotel rooms?
Let's wrap up our list of the best hotels and resorts in Batu Ferringhi with Boulder Valley.
It's the only glamping option in the area, perfect for those seeking to wake up to the sounds of birds and crickets.
The rooms here are spacious, surrounded by lush forests.
With the tent's glass windows, you'll have a 360-degree view of the surrounding forest.
This is not a hotel for everyone, but if you're looking for a safe and comfortable stay amidst nature for your Penang vacation, it's a great choice.
Alright everyone, we've covered the 9 best hotels in Batu Ferringhi, whether you're planning a family trip or a romantic honeymoon.
If budget isn't a concern, the first 5 hotels on our list are excellent options to consider.
But now, it's your turn to decide.
Which one captures your heart?