Depending on what country you're in, going to the zoo to see the pandas can either cost next to nothing, or it can burn a real hole in your pocket.
JOMJALAN gathered the list of zoos with pandas in the world, then used the current exchange rate to see what an entry cost in US dollars.
Keep scrolling to see which zoo has pandas and what will the entrance ticket cost you. Or pick a country below :
In the USA, there are 4 zoos with pandas costing anywhere from free to USD 54.
There are 4 zoos with pandas in the USA. You can fork USD 54 a ticket or you can see them for free.
If you want to save, go to the Smithsonian Zoo in Washington DC. Opened for 364 days a year, the oldest zoo in the country has been keeping pandas since 1972 and lets you in for free.
You can also see the pandas in the San Diego Zoo, but prepare to pay one of the most expensive fee in the planet. A family with 2 kids will have to fork out near USD 200 to get into the zoo to see the beast.
A cheaper alternative would be the Memphis and Atlanta Zoo at USD 15 and USD 25.99 a ticket.
In South Korea, there's only 1 place to see the pandas
In Korea, you can't find the pandas in the zoo. Because they live in a theme park.
Here, you need to spend more than USD 45 bucks to see a panda.
But apart from the access to panda and other wildlife, the ticket also gets you to enjoy the unique wooden roller coaster and other attractions in the enormous Everland park.
And while the ticket is around what you pay for a monthly travel pass in Seoul, the location means you can get to enjoy 2 things at one price.
A panda in Indonesia lives in the Safari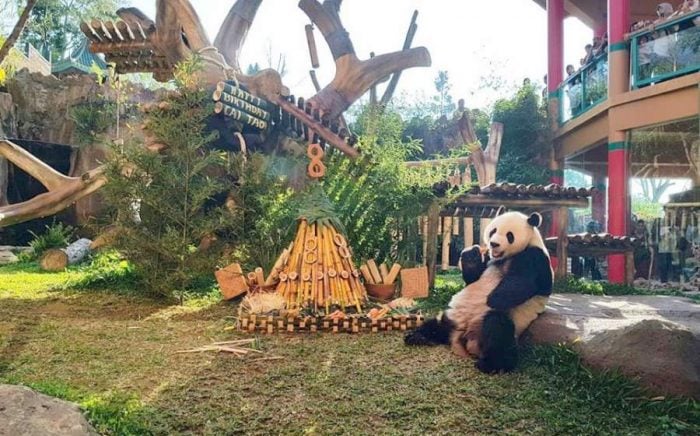 Indonesia's panda is kept in the Taman Bogor Safari. And the ticket price to see a panda in the Istana Panda (Panda Palace) for an international tourist is near double what the locals pay.
But even at that cheaper price, in a country where the average salary is USD 280 a month, going to this safari to see a panda is a luxury.
If you are a worker living in Indonesia, you need to save 1.5 days of your wage to buy a ticket. But that does not mean that you could. Your rent alone will eat more than 80% of your wages, which means spending money to see a panda is a something you probably won't do.
In Russia & India, you can't see the giant panda in person, at any price.
Having the Panda rented to your country is entirely up to China.
So while it is a privilege for an Indonesian to see a panda, it is impossible for you to see them in India or Russia.
Despite the political relation between China and Russia being better than before, China has yet to send a Panda to Moscow. And while India has the rare Asiatic lions (which is more endangered that the panda), China has yet to see the need for a swap.
Japan has a few zoos with panda. And the entries are cheap
While India and Russia are deprived from getting a panda, Japan is home to 8 of China's valued beast. On top of that, going to the zoo that has pandas in Japan is cheap.
The Kobe Zoo and Ueno Zoological Gardens charges only USD 5.33 – which is the same price as buying a McDonald's Big Mac burger in the country.
And if your kids study in Tokyo's public school, they can get into the Ueno zoo for free.
The Adventure World Japan has 5 pandas. But to cover the astronomical panda keeping cost, you need to pay a whooping USD 40 to enter.
In Mexico, the Chapultepec is the zoo with pandas and entry is free!
If you're a Mexicans, consider yourself lucky. The Chapultepec Zoo lets you see them for free.
On top of that, the Mexicans know how to care for their panda — with the bears living until record breaking old age.
And panda breeding? Yes, the Mexicans know how to get it done.
While most countries struggle to get a baby from their panda pairs, the Chapultepec Zoo has successfully breed 8 pandas in captivity.
Singapore's panda is not kept in the zoo
The Singaporeans don't keep their panda in the Singapore zoo.
The highly treasured bear is actually kept in Asia's first and only River Safari. But unlike Mexico, Singapore has repeatedly fail to get a baby out of their pair.
To see the pandas here, you need to spend USD 25.70. This is not cheap and is equivalent to buying 5 Mcdonalds meal set in this Asian city.
But unlike most panda enclosures worldwide, the Singapore River Safari is almost entirely indoor. That means you can see the panda and most of the animals here even if it rains.
In Germany, the Berlin zoo is the zoo with pandas
If you want to see a panda in Germany, the Berlin zoo is the place to go.
And despite the astronomical cost of keeping the pandas and 20,000 other animals, the Berlin Zoo charges you only USD 17.50 for a ticket.
That is cheaper than renting a tennis court for 1 hour in the city.
Unfortunately, like Singapore, Germany's technological advancement means nothing when it comes to panda breeding. So far Germany had failed to get a panda baby born in it's enclosure. In fact, its panda died in 2012.
Since then, it took Berlin 5 years before China agreed to send a replacement pair, Mei Mei and Jiao Qing to the Berlin Zoo.
Malaysians keep their pandas in the Zoo Negara
In Malaysia, you can see the pandas in the Zoo Negara but the zoo charges international tourists almost double the price paid by the locals.
A foreign tourist needs to pay USD 19.50 to see a panda in the National Zoo ( Zoo Negara) while a local pays USD 10.60.
Even though the ticket is cheaper than the neighboring Indonesia and Singapore, the zoo's ticket price has increased steadily since 2012.
At the price of 3 Mcdonalds meal sets, most Malaysians find the tickets too expensive. And the arrival of the 2 celebrity pandas are not enough to bring big crowds to the cash-strapped zoo.
Thailand keeps their pandas in the safari, and entrance is cheap
If you love panda and you plan to go to Chiang Mai Thailand, add the Chiang Mai zoo in your bucket list.
This country has the cheapest panda ticket in the whole of Southeast Asia.
At USD 7.60, the cost to see a panda in the Chiang Mai zoo is similar to the price of buying a movie ticket in Thailand.
While a day trip to the Thailand's elephant sanctuary is expensive, seeing a Chinese panda is not.
The Netherlands keep their panda in the world's most beautiful panda enclosure at the Ouwehand Zoo.
If you want to visit the most beautiful panda enclosure in the world, go to the Pandasia in the Netherlands.
Located in the Ouwehand Zoo, it charges a similar rate to the panda enclosure in Indonesia. But instead of a normal panda enclosure, pandas in this zoo live in a massive indoor and outdoor enclosure.
The panda temple is built lavishly, complete with a panda clinic and a restaurant.
At USD 27.10 for an adult ticket, the amount you pay is is similar to enjoying 3 Mcdonalds meals in this country.
The France keeps their pandas in a private zoo.
The Beauval zoo in France lets you in to see the pandas for USD 34.99.
Managed by the Delord family, this private zoo has a pair of the giant panda and a baby, born in 2017.
This is the same as having 3 Mcdonalds combo meal in the country.
And if you need to stay a night here, there are 2 beautiful hotels within walking distance to the animal enclosures.
The world's oldest and most beautiful zoo Austria has pandas too!
The Tiergarten Schönbrunn in Austria charges you USD 22.60 to enter and visit its pandas. While it is not the cheapest, this is the same price you pay to buy 2 cinema tickets in Austria.
The plus is you will not only see the lovable bears, but also a piece of history.
Opened in 1752, the oldest zoo in the planet not only is home to the endangered species, but is also an breathtaking place for you to see.
The zoo lies in the middle of the Schönbrunner Schlosspark (Palace Gardens). And together with the Palace of Schönbrunn and its gardens, the zoo actually is considered a UNESCO World Heritage Site.
The Taipei Zoo is the zoo with pandas in Taiwan
The Taiwanese and tourists visiting the Taipei Zoo here need only to pay USD 1.96 to see a panda.
That's cheaper than what you pay to see a movie in Taipei ( ~ USD 9).
Unlike most countries that begged for a panda and not getting one, Taiwan actually rejected China's offer in 2005. At the time the president correctly claimed that the panda is a propaganda tool.
China however managed to get their panda pair into Taiwan in 2008 after a new president was installed.
NOTE: China regards Taiwan as one of its province, and not a country.
This private zoo in Belgium has the country's pandas
If you plan to see the panda in Belgium, the Pairi Daiza is the place to go.
This Belgium zoo has 3 giant pandas — 2 rented from China and 1 as a baby born in 2016.
Rated the best zoo in Europe for 2018, this zoo charges you USD 42.90 to see the pandas and experience the intricate Chinese and Indonesian garden around the zoo compound.
At the cost of 4 Mcdonalds meals in Belgium, not only will you get to access to see the panda, you'll also get to enjoy the best garden in Belgium.
At USD 61.30 per ticket , the costliest place to see a Panda in the planet is in Hong Kong
In a place where half of the population lives in cramped, government owned flats, going to see a Panda is a luxury. The price of 1 adult ticket can buy you 13 Mcdonalds meal sets in Hong Kong.
Luckily, the Ocean World Hong Kong that houses the country's Panda is also a theme park with rollercoasters and an oceanarium.
It is also the country's second largest park after the Hong Kong Disneyland.
And unlike most panda enclosure elsewhere, you can be an Honorary Panda keeper.
But getting that privilege of preparing the panda's food is not free. Get ready to pay another USD 46 on top of your the entrance fee.
NOTE : Hong Kong is a Chinese city. But since it has its own currency, laws and immigration we regard it as a place outside the China.
If you are curious, here's the full list of zoos with pandas + their ticket prices in USD
* Price is true to Nov 2018. Rate shown is the rate for foreign travellers (for countries with dual ticket pricing)
| Zoo Name | Country | Adult | Child |
| --- | --- | --- | --- |
| Atlanta Zoo | USA | 25.99 | 17.99 |
| Smithsonian National Zoo | USA | 0 (Free) | 0 (Free) |
| Memphis Zoo | USA | 15.00 | 10.00 |
| San Diego Zoo | USA | 54.00 | 44.00 |
| Calgary Zoo | Canada | 22.70 | 15.10 |
| Chapultepec Zoo | Mexico | 0 (Free) | 0 (Free) |
| Adelaide Zoo | Australia | 26.00 | 14.30 |
| River Safari | Singapore | 25.70 | 16.70 |
| Chiang Mai Zoo | Thailand | 7.60 | 3.60 |
| Taman Safari Bogor | Indonesia | 27.00 | 23.70 |
| Zoo Negara | Malaysia | 17.80 | 9.30 |
| Taipei Zoo | Taiwan | 1.96 | 0.99 |
| Everland | South Korea | 47.70 | 38.00 |
| Ocean Park | Hong Kong | 61.30 | 30.60 |
| Adventure World Japan | Japan | 40.00 | 22.20 |
| Ueno Zoological Gardens | Japan | 5.30 | 1.80 |
| Kobe Oji Zoo | Japan | 5.33 | 0 (Free) |
| Tiergarten Schönbrunn | Austria | 22.60 | 11.30 |
| Madrid Zoo Aquarium | Spain | 26.60 | 21.50 |
| RZSS Edinburgh Zoo | United Kingdom | 21.50 | 11.30 |
| Ouwehands Zoo | Netherlands | 27.10 | 24.90 |
| Zoo Berlin | Germany | 17.50 | 9.00 |
| ZooParc de Beauval | France | 34.99 | 28.20 |
| Ähtäri Zoo | Finland | 44.00 | 27.00 |
| Pairi Daiza | Belgium | 42.90 | 37.20 |
So what about the price of seeing a panda in the Chinese mainland?
Glad you ask.
The cost to see a panda in China is cheaper if they are in the zoo. The cost to see one in the Beijing zoo is around 15 yuan (~USD 2.20) while it costs you 40 yuan (~USD 5.80) in the Shanghai zoo.
But be prepared to pay more at any of the 40 the panda conservation centers in the country.
The Bifengxia panda conservation center for example, charges you from 105 yuan for entrance (~ USD 15.30).
In short, seeing a panda is not cheap. But with careful planning, you may be able to see one for under USD 10 or even for free during your holiday and cross that "see a panda" goal off your bucket list.